Home -> Property Intro -> Section 9 -> Next Section | Previous Section
Numbers 98 - 114 High Street, New Brentford
This section on the south side of the High Street runs between Catherine Wheel Yard & Plough Yard, opposite the stretch from the Market Place to the Half Acre. It contained several long-standing businesses including a printing business and bookshop that the Norbury family ran for over a century, a Bank and New Brentford's Post Office.
Numbers 102, 103, 104, 105, 106 & 107 are listed in a 1920 street directory but not 1928. 102 & 103 re-appear in 1933, 104 & 105 in 1940.
In a 'Guide to Brentford High Street', 1997, numbers 100, 102 - 106 & 111 - 114 existed, presumably rebuilds using the same sites as their predecessors.
In 2021 the development of Block D for Hounslow Borough Council commenced on the site of numbers 98 to 109 High Street; Photos, ephemera and maps has a link charting the progress of this develepment.
Properties
Notes prepared for numbers Barleycorn Beerhouse (98), 99, 100, Bank (101), 102, 103, 104, 105, 106, 107, 108, 109, 110, 111, 112, 113 and 114; also a list of photos, ephemera and maps
Barleycorn Beerhouse (98)
The tithe map (1838) shows the property had a small back yard and was situated on the western corner of Catherine Wheel Yard. An early 1900s photo (S51) shows numbers 98 and 99 as matching properties, no. 98 having signage 'The Barley Corn'. Below follows a summary of the occupants and a description of the property from the early 1900s, but see Vic Rosewarne's research into the Barleycorn, which has much more detail about the various beerhouse keepers who lived here.
There is no indication that no. 98 was a beerhouse in the 1841 census. William Burrows probably ran a beerhouse from here in 1851 as he is listed as a beer retailer in 1845 and is in the right place in the 1851 census, although he gave his occupation as carpenter. Jayne Todd has provided more information about her Burrows ancestry.
William Burrows' son in law, John Plastine, was running the beerhouse in the 1861 - 1891 censuses; John's death is registered at Brentford in 1892 and his wife Rosina's death in 1897. Jayne Todd says the Barleycorn was then run by John Plastine's grandson William T Small (William T was living at the Barleycorn in 1881, age 13; he was born in Poplar).
By the time of the 1901 census the Barleycorn was run by Joseph J Small, a younger brother to William T Small: he too was born in Poplar; they were the eldest sons of John Small and Ann (nee Plastine). Joseph J was living in Poplar in 1891 with his parents, who were both born in Brentford. See the Small family notes provided by Paul Burton, descendant.
In 1907 a trade directory records Percy Libby, beer retailer at no. 98. However a photo of the Barleycorn taken in 1907 ('Brentford & Chiswick Pubs', Gillian Clegg, Y65) shows the name 'C. Pearce' over the door. There is a note to say the Barley Corn closed in 1908.
The 1911 census describes no. 98 as a lock-up shop not used as a dwelling.
In 1913 the Misses J & S Baxter, confectioners were using the premises.
The property was a normal sized house: the 1909/10 Valuation (which took place in May 1915) records frontage to the High Street as 12'. The accommodation comprised 2 rooms on each of the second and first floors, on the ground floor a fruit shop, kitchen & WC. There was a basement with a cellar and scullery in it.
At the time of the Valuation it was occupied by John Powell, who paid rent (all inclusive) of 15 shillings a week. There is an update to the original valuation saying the property was sold in 1920 for £250 and in 1922 for £550 (this sounds quite a hike in price). It had a timber front and brick back. A 1920 trade directory lists 'John Powell fruiterer' at no. 98.
No. 98 is not listed in 1928 and in 1933 was a café run by William George Ward. In 1940 it was 'Quick Service Dyeing & Cleaning Co.'.
Stephen Privett wrote in 2012 'Mum worked for Sketchley`s in the late 60`s early 70`s' on the corner of Catherine Wheel Yard.
Number 99
The 1839 Pigot's trade directory includes reference to James Sanders, cooper and brush dealer and he is recorded in the 1841, 1851 and 1861 censuses (by which time he was 72). In 1861 he is recorded next door to the beerhouse which puts him in no. 99.
In 1871 this property was uninhabited. By 1881 Susannah Reed, a widow born in Kent, was running a stationers shop from no.99; she lived here with her six children and a servant. By 1890 Ernest W Bridg(e)man lived here and ran the stationers. In 1901 Edward C Jones from Birmingham is recorded here, with his wife and four children, running the stationery business. Edward C Jones later founded E.C. Jones & Son (Brentford) Ltd, which built boats in Brentford from the early 1920s. Find out more about the Jones family or their boat building business.
An early 1900s photo (S51) shows numbers 98 and 99 as matching properties.
The 1909/10 Valuation for no. 99 took place in May 1915. The property was of timber and tile construction, with a 12' frontage to the High Street. On the ground floor was a shop and sitting room, there were two rooms on the first and top floors, the latter 'lately used as a store - now unused'. There was a basement containing the kitchen and scullery, WC and store. The property was sold on 9 December 1920 for £200; previously it was owned by Edward C Jones and occupied by Mrs E C Jones.
Later trade directories list Edward C Jones, stationer (1913); Henry P Sheppard, draper (1920-1); Winnie Cowell, draper (1933).
Number 100
Number 100 was occupied by chemists and druggists for over 60 years: Joseph Tubb in 1841 (he left a PCC will in 1844); John Gatchell Farrant (1845, 1851 & 1861);then John Morris, family & dispensing chemist (1874); in 1881 a nurse was part of his household. In an 1890 directory, William Thomas Coombs, chemist & Edwin Maurice Ellis, surgeon dentist were listed at no. 100. In 1891 Frederick H Freeson, chemist lived here, then Archibald Hawthorn from Stafford.
At the time of the 1911 census Archibald ('pharmacist or chemist & druggist') and Maud Hawthorne were 40 and had been married 15 years, no children. Their home had 8 rooms.
The 1909/10 Valuation notes the occupier was A Hawthorne, now Purcell and describes 100 as a brick and tile wardrobe shop and back room on ground floor; basement with kitchen and cellar; kitchen and two rooms and WC on first floor and four rooms on second floor. It had been sold for £800 in October 1899 and was on a 21 year lease from 24 June 1892.
In a 1914 directory no. 100 was not listed and it appears to have been incorporated into the bank - either when it was rebuilt in 1929 (C21) or possibly earlier.
Number 101
The 1792 Survey of New Brentford shows a 37' wide property ('37' as rebuilt') with an 11' gap to the east, between it and its neighbour at no. 100. The Rose and Crown alehouse is marked in this area and this may explain why no. 101 had cellars, a coach house and 2 stall stable over a 100 years later.
The tithe map shows a large property (ref 59) with a gap to the east, a garden or yard around 10' long (ref 59) and another plot or yard behind that which extended behind the neighbour to the west, no. 102 (ref 59a).
Moses Banks lived here with two companions and three female servants in 1841, occupation 'Independent'. He is listed as the Rev. Moses Banks in the 1845 trade directory. In 1851 a Marc Combaz, annuitant, born Switzerland lived here.
Number 101 later became a bank:
London & County Bank 1874 & 1881
London & County Banking Co Ltd 1890, 1907
London County & Westminster Bank Ltd 1911, 1914
London County Westminster & Parrs Bank 1920
it was rebuilt in 1929 (C21)
Westminster Bank Ltd 1926 - 1940
NatWest 1997
Managers were: Robert Cuff Tate (1874), William R Deane (1881), Alfred James Selfe from Aston Clinton, Bucks (1890, 1891, 1901), Edwin Wright (1907), Frederick William Clarke (1911, 1913, 1914).

At the time of the 1911 census no. 101 was occupied by Frederick William Clarke, bank manager, 59 (born Punjab, India), his wife Laura Louisa (also 59) and their widowed servant, Celia Emily Humphrys, 50. They rattled around in the 11 room property, which was described a few years later:

In May 1915 (the 1909/10 Valuation), no. 101 was described as being of brick and tile construction. It had been sold on 13 Oct 1899 for £2530.

The Bank had a main banking office, manager's room, lavatory and WC, grill (or strong room) and book store in basement.

The house was occupied by W.H. Martin and had 4 rooms on the top floor; 5 rooms, bathroom with lavatory, WC and hand washbasin sink on the first floor; a dining room, hall, kitchen, scullery and larder on the ground floor. There were 2 cellars in the basement, a brick and slate coach house and 2 stall stable (not used), with 2 rooms over. Also a laundry with drying place over - with sink and copper (not used). No. 101 had a good garden. 'Adjoining premises come over gateway'. High Street frontage: 47' 6".

Later managers of the bank: William H Millington (1921), George Herbert Dunkerton (1926, 1928), Sidney Edward Stapley (1933 & 1940).
Number 102
The tithe enumeration includes a reference to James Upjohn owning and occupying this property (tithe ref 58). He also occupied ground (58a) owned by Robert Paddon: this ran behind the gardens or yards of numbers 103 to 107.
No. 102 was occupied by watchmakers by 1839 and then until at least 1920: James Upjohn & Son, watchmakers & jewellers 1839 - 1851; Edwin Gaydon 1861 - 1920; an advert for E Gaydon from 1907 describes the business as 'Established as a Watch Makers' over 300 Years' and mentions 'many noble and distinguished patrons'.
The 1861 census shows Edwin Gaydon and Henry Gaydon, each with a young family, sharing no. 102, both watchmakers. They were born in Swimbridge, Devon and judging by the ages of their children had lived in Brentford since the mid 1850s.
By 1871 Edwin's family had expanded and Henry was living in Richmond. An 1874 directory includes 'Henry & Edwin Gaydon, watchmakers' in Brentford so presumably the brothers worked together.
Edwin Gaydon's household included two servants in 1881 and he employed 1 man and 1 boy; George Lock from Barnstaple, Devon, a journeyman watchmaker, was boarding with the family and two of Edwin's sons were assistants.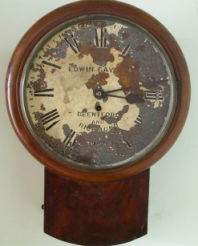 Around this period a Gaydon clock was built which is now in Reg Harris's home: Reg has kindly sent a photo showing this clock; he says 'It dates to c.1885. Has a good quality fusee movement (which I've had cleaned) and it runs fine'.
By 1891 one of Edwin's sons, Ernest, had married and was living in Ealing, working as a watch & clock maker.
In 1901, at the age of 70, Edwin continued his business. A daughter Maude, aged 33, was working as his assistant. In the three censuses from 1881 to 1901 Lydia Sweet was a family servant.
The 1909/10 Valuation, which took place in August 1913, describes no. 102 as a 'cement faced from first floor to eaves with tiled roof', set back 4' 6" from the road. It had an extension at the back, wood sheds and a 2 storey workshop and wood outhouse. The owner was Edwin Gaydon 'now deceased', Miss Maude Gaydon and W H Mills (William Henry Mills lived at no. 103) were executors. Edwin's death was registered in Brentford in the first quarter of 1913.
Miss Elsie Gaydon of this address, presumably a daughter of Edwin, was a volunteer at Syon Hospital Brentford during WW1, putting in 211 hours between 1915 and 1917 (Red Cross website).
So, was the 1907 advert claiming the watchmakers business had been running for over 300 years correct? Helen Hickman has sent details of the Gaydon family and its 300 year claim.
Following the death of Edwin Gaydon, in the 1920/1 directory E & M Gaydon, watchmakers, are recorded at 102; there is no reference to 102 in a 1928 directory. By 1933 George Venus ran his fried fish shop from no. 102.
Brentford's main Post Office moved to numbers 102/3 in 1992 and remained here in 2003 (L).
Number 103
Next door to the long-standing Upjohn family, helping pin down the location.
In 1841 Alfred Burton, tea dealer, 27, lived here with two journeymen, an apprentice and male and female servants.
By 1851 Ruth Goring, widowed butcher employing 2 mwn lived her. In 1841 she and her husband Robert were at 155 High Street. The 1851 census showed they were in Brentford for over 20 years. Ruth's son Harry, who was 24, in 1851, had married and taken over running of the business ('master butcher') by 1861, employing one man.
In 1871 Charles Stock, butcher born Turnham Green lived and worked here, he had a wife Mary A and two small children. A live-in shopman, William Dickinson, and servant, Louisa Saunders, completed the household.
By 1878 William Shute, boot and shoemaker traded from no. 103 and the 1881 census shows he lived here with his wife Elizabeth and eight children, aged 1 to 14: all but the youngest child was born in March, Cambridgeshire, as was Elizabeth.
Ebenezer Baddock, boot and shoemaker, traded from no. 103 by 1890 and the 1891 census shows he and wife Martha as sole occupants. Both were born in Cambridgeshire, there may have been a family connection with the Shute family?
Another boot maker had moved in by 1901: William H Mills (born Rye Sussex) and wife Annie M (another Cambridgeshire person). In 1911 the family (William Henry and Annie Maud) included a niece Annie Maud Taffing?, age 20, born Ely. The Mills couple had been married 17 years and the property contained 8 rooms - larger than average.
The 1909/10 Valuation description was prepared in May 1915 'house, shop and premises, over 400 years old. Timber back and small p't brick & tile, brick front, boot shop. Back room, outside washhouse, coals and dusthole, kitchens and scullery and WC, Dining room. Lobby. First floor: front room (bad floor) and three other rooms. 2 attics (in bad repair) . Cellars. Frontage 20' 3". A pencil note added 'Sold for £380 / 15'. The owner was Mrs Hannah Mills (widow), Hibernia Road, Hounslow (WHM's mother?) and the occupier's term was 21 years from 29 Sep 1902, annual rent £40.
1913 trade directory for no. 103: 'William Henry Mills, boot warehouse; Brentford Road Traffic Protection Association; W H Mills, hon sec'. He appears in other directories up to 1926 inclusive, but not in 1928.
In 1933: Douglas Arthur Makey solicitor and 1940: H M Customs & Excise Office (A J S Welch, officer for Brentford district)
Number 104
Joseph Ellis, tailor lived here from 1841 (possibly earlier - he was recorded in Pigot's 1839 directory in Brentford) until 1881, at which time the number of the property was confirmed as 104.
In 1841 he was a tailor, age 30, with wife Louisa (30). son George (5) and Ellen Johnson (15) a female servant.
Ten years later Louisa had died and he was married to Mary, 43 and he employed 2 men. George was an apprentice and 'mother' (mother in law?) Mary Chalk, 76 lived with the family.
By 1861 Joseph J was widowed, employed 3 men and had a house servant, Mary A Annand.
By 1871 he had married for a third time (Mary A, Bristol born and 16 years younger than her husband). They had a daughter Marian E aged 7.
Ten years on the couple and their daughter remained at no. 104, the daughter being a 'fancy repository keeper'.
An 1890 trade directory records Miss Alice Barlow, greengrocer at 104. She married Charles Watkins later in the year and the couple were running the greengrocery business at no. 104 in the 1891 census. Alice was 33 when she married Charles, who was 20, at the nearby church of St Lawrence.
The house was full in 1901, occupied by Charles Gudgeon, widowed boat builder, his daughter Maude M, a dairykeeper, aged 23, who worked from home, daughter Kate (13), son William J (traveller in mineral water) and his wife Ellen Martha, their two young children and a boarder, Ellis John Hall, a brewers traveller.
Winifred Gudgeon was running a dairy from no. 104 by 1906 (a photo in Brentford As It Was shows the frontage, with a sign 'Alderney Dairy') and is included in a 1907 trade directory.
There is no reference to no. 1911 in a street directory for Brentford and in the census Ethel Mary Stidolph, age 18, was living on her own in the 6 room house at the time of the census, although she records herself as 'daughter'. The summary describes 104 as a private house whereas its neighbours were shops.
In May 1915 the 1909/10 Valuation describes no. 104 as an old plastered and t(imbered/iled) (property) in moderate repair. On the ground floor it had a shop and 1 room, on the first floor 2 rooms. It had 2 attics and an outside scullery, with a frontage to the High Street of 9': tiny. The owner was Mrs L Stidolph, the 'transee' was Ethel M Stidolph.
In 1915 Ethel Mary Stidolph married Thomas Chambers at St Lawrence, New Brentford (the ceremony was conducted by the George Tuohy, the vicar of St Faith's, Old Brentford) and a 1920 trade directory shows Mrs EM Chambers at this address.
No reference to no. 104 in directories in 1928 and 1933, in 1940: Oliver's (London) Ltd, bakers.
Number 105
A bakery for over 80 years and possible to trace back to 1841 as two families had long occupancies.
The tithe enumeration shows this property was owned by Benjamin Paddon and occupied by John Dexter.
In 1841 John Dexter, 34, baker lived here with Rebecca his wife and Elizabeth, daughter. Two younger journeymen bakers completed the household: Henry Bennett, 21 and John Seares, 18. A John Dexter, baker, New Brentford, was recorded in Pigot's 1839 directory for New Brentford, presumably same man, same address. In the 1844 Poor Rate the property was noted as a house and shop, occupied by Dexter, owned by Paddon.
By 1851 Emma Lightfoot, newly widowed baker born Bristol, lived here with her three young sons (youngest 1 month old), widowed father Benjamin Saunders (61, a carpenter, also from Bristol), sister Mary Ann and a baker's assistant and baker's servant (William Stockwood and Henry Batchelor). The latter are presumably the '2 men' employed by Emma. The house was shared with Rowland J Williams, french & mathematical teacher, born France, and family.
In 1861 Emma employed 1 man and 2 boys and shared her home with her two sons, Frederick and Joseph, at 12 and 10 still at school, her sister Mary Ann - dressmaker, niece Sarah A Higson (from Bristol) and baker and baker's boy, John Marshall and Thomas Hambly, both Plymouth born.
Emma Lightfoot died in 1867 at the age of 53 and in 1871, aged 22, Frederick Lightfoot was running the bakery, married to Lydia (from Bristol) and had an 11 month daughter. His elder brother William, a clerk, lived with them, plus two servants. The 1874 directory lists 'Frederick Lightfoot, baker', by 1878 it was 'Lightfoot Brothers, bakers'.
In 1881 Frederick was a 'master baker', he had 4 children aged 1 to 9, two young female servants and two journeymen bakers lived in (William Gosling and William Greaves or Green) and Elizabeth Bentley, an 80 year old widow, boarder completed the household. His brother Joseph was not living with the family.
In 1890 George Parsons, baker, is recorded at this address in a trade directory. The 1891 census shows a reduced household compared with previous censuses: just George T R Parsons (28), wife Mary E (29) and assistants John Brooks and Alfred Taylor.
In 1901 George TR described his occupation as 'confectioner', he had three children, aged 1 to 9, and a live-in general domestic servant. Lilian Priest, 20, born Reading.
A 1906 photo (C20) shows no. 105 with an advert for 'Hovis Bread' in its window and signs 'Refreshment Room' and 'Liptons Teas'.
The 1911 census gives George's full name: George Thomas Robert. His three children remained at home his oldest child, Olive Mary, an insurance clerk, his elder son, George Hinton, an auctioneer's clerk and youngest son Robert Cecil a scholar. The house had 8 rooms: enough to accommodate more than one family.
The 1909/10 Valuation includes details of a sale as late as 1920 (£200). It describes 105 as a three storey shop and premises, upper part stuccoed with a flat roof, ordinary wood and glazed shop front, built up to roadway, occupied by bakers
Ground floor: shop with small extension: tea room; kitchen; scullery; living room; washhouse. Cemented bakehouse with oven and old storerooms at rear; WC in garden
First floor: 2 good rooms
Top floor: 2 small rooms
Fair condition only. A plan showing numbers 105 and 106/7 shows the bakehouse was a single storey building adjoined the rear of 105, and a 'stable and coals' adjoined the rear of the bakehouse.

George Parsons, baker, was recorded at 105 in a 1914 trade directory. Mrs Alice Jackson of 105 High Street volunteered from Aug 1918 to the end of 1919 at the Percy House Auxiliary Military Hospital Isleworth, putting in 201 hours (Red Cross website). In the 1920/21 edition Harry Mercado, baker was at no. 105, then in 1926 Browning's, baker.

I could find no reference to 105 in trade directories for 1933 and 1940, although in 1940 Oliver's (London) Ltd, bakers were recorded at no. 104, it is possible following building works in this area this was the same building.
Number 106
In 1811 (see New Brentford census) 'A Napper' lived here or nearby. Two households occupied the property comprising three females and one male. The 1817 and 1825 land tax shows Mrs Napper at the same location and earlier land tax records show the Nappers (occasionally Knapper) were originally tenants of Robert Paddon (d. 1800) then his son Benjamin Paddon.
By 1829 'Jones' was recorded at this location and the poor rate for 1836 suggests Howard, a fruiterer and grocer.
It is possible the Napper family had moved to Old Brentford as Joseph Napper was recorded at around 4 High Street in 1836 & 1841. Research recorded with his will of 1847 links him to a baptism in New Brentford in 1782.
In the 1844 Poor Rate, numbers 106-108 were owned by Paddon, numbers 106 and 107 being described as 'house and shop'. No. 106 was occupied by 'Shipley', however in 1841 the occupant appears to be James Kidd, independent, and in 1851 Michael T Brown, lighterman.
Michael Thomas Brown married Sarah Elizabeth Kebble at St Lawrence's Church in 1847; Michael was born in Brentford, son of John Brown, builder; Sarah was a servant born in Hurley, Berkshire.
In 1861 Thomas Woolmore (born Bermondsey) and wife Eliza (born Brentford) ran a confectionery shop. A Thomas Woolmore married Eliza Logsdell in Lambeth in 1856, Eliza's father was Joseph Logsdell, licensed victualler. Joseph Logsdell ran the Barge Aground at 361 High Street in the 1855.
The 1866 Post Office directory does not include Woolmore, but does include a George Scott, tobacconist, High Street, New Brentford. In 1871 George Scott, grocers shopman, age 29 lived here with his wife Mary A, who was a tobacconist and two young daughters. George was born in Gainsborough, Lincolnshire. Henry W Cox, a 'traveller corn', age 25, born Birmingham was boarding with the family.
By 1878 a trade directory records John Abbott, tobacconist at 106 High Street, then in the 1881 census Hilton J Saunders, tobacconist & clerk (solicitors). He was born in Eaton Bray, Bedfordshire and was married with two small children and a servant Eliza Bradbury, who may be related to the Bradbury family who lived at 108. The 1890 trade directory includes: 'Hilton Jameson Saunders, tobacconist & registrar of marriages' at 106 High Street.
In 1891 Hilton was a 'law clerk & tobacconist' and headed a household of 12 including 9 children aged 11 or under. They had a servant Annie Langston, 16, to help. The family had moved away by 1901 (Hilton J Saunders' death was registered at Staines in 1941, age 88): no. 106 was occupied by locally born William P Barker, wood working machinist, his wife Alice, daughter Mildred (age 5), housemaid Hetty Butcher and visitor Archibald Hyde, a butcher born in Handsworth, Staffordshire.
'William Philip Barker, tobacconist, 106 High Street': 1907 & 1911 trade directories.
The 1909/10 Valuation describes 106 & 107 together: 'a pair small cemented & slated shops with ordinary wood shop fronts. Small woodframed bays to first floor. Confectioners & news. Good frontage but narrows to the rear & rather shallow.
Ground floor: 2 small communicating shops; good parlour at back of both shops; scullery; outside WC and washhouse.
First floor: 3 rooms
Top floor: 4 attics
In fair repair only. 20' frontage A sketch plan is included showing numbers 105-107.

The 1911 census notes no. 106 as a 'shop lock-up', and 'building not used as dwelling'.

By 1914 numbers 106 & 107 were both occupied by Joseph Heusch, confectioner & tobacconist: see notes for no. 107 for further details.

See 1906 photo in 'Brentford As It Was'.
Number 107
Names of tenants are more certain from 1878, when the High Street was numbered, but can be inferred for earlier years too as next door was no.108, a grocery business from 1851.
This was one of a pair houses owned by the Paddon family and the western half was occupied by Joseph Quinion from around 1810 to 1829 (land tax records). A marriage between Joseph Quinion and Ann Napper (presumably his next door neighbour at number 106) took place at New Brentford in 1804. Quinion, a collar maker, remained here in 1829 but later the family settled in Old Brentford on the north side of High Street.
The 1836 Poor Rate records 'Simpson' at around this location, and in 1841 the property was occupied by George Simpson, cutler. The 1844 Poor Rate confirms his occupancy of this 'house & shop'. In 1851 the property was shared: George Simpson, cutler and Miss Maria Bradshaw, milliner & dressmaker - part of the Bradshaw family next door at no. 108?
By 1861 James Holley, plumber & painter (master) employing 1 boy headed the household; he was born in Milford Hants and the household included Jane Holley, 65, a monthly nurse (born Christchurch Hants) and Mary Nichols, 41, dressmaker, married, (born Milford Hants) Although the two ladies are noted as 'visitors' it seems likely they are related to James. James and wife Anne (from Somerset) had one son age 9.
In 1871 William J Morris, stationer & reporter etc, 27, lived here with his wife and sister. He was born in Wisbech, Cambridgeshire.
An 1878 trade directory records Thomas Frost, saddler at this address. The 1881 census shows he was 54, born in Newport Pagnell Bucks, had a wife Eleanor (58, born Marylebone) and daughter Rachel (23, born Gravesend Kent). An 1890 directory records a Nelson Frost, saddler, at this address. The 1891 census records 107 High Street as 'uninhabited' and in 1901 as 'uninhabited' and 'in occupation'. A 1906 photo shows no. 107 with a boarded up front, used by Frederick Symons, an unredeemed pledge shop (C20). Charles William Brown, greengrocer, was trading from no.107 in 1907.
Described with no. 106 in the 1909/10 Valuation.
The 1911 census shows Joseph Heusch, confectioner and shopkeeper, born Germany (age 67) running his business from no. 107. He had been married for 19 years to Ellen, who was from Somerset, and they had one son Walter, age 17, born Brentford, insurance clerk. The property had 6 rooms. Joseph had previously lived at no. 135 (1901 census).
1913 and 1914 trade directories show numbers 106 & 107 bracketed together: Joseph Heusch, confectioner & tobacconist. Joseph Heusch's death was registered in Brentford in 1915 age 71. A 1920 trade directory shows his wife Ellen Heusch running the business. A 1926 directory is more specific 'Mrs Joseph Heusch, tobacconist 106, & confectioner 107, High Street'.
There are no references to nos. 106/107 in directories from 1928 - 1940.
Number 108
William Flower, butcher is listed here in 1839; the 1844 poor rate describes the premises as a house, shop, slaughterhouse, stable & meadow; in 1845 William Flower is a 'grocer & cheesemonger'; Thomas Bradbury a grocer born in London, employing 4 men, is listed here in 1851 and 1861; he was succeeded by his widow, Mrs Harriet Bradbury in 1871, then their son James Bradbury (1874, 1881). In 1881 James had a nephew and two nieces living with him, teenage children of his elder brother William; presumably they helped run the business although no occupation is given for them in this census. By 1890 Bradburys were using number 109 too and their property had a frontage of 90'.
In 1901 William Phelps, grocers' manager was living at number 108 with his wife and 5 children. According to his grandson Ron Phelps, William was presented with a silver bowl after 55 years service (1866 - 1921) with James Bradbury. The family remained at no. 108 until at least 1918, when his son Arthur married.
'James Bradbury, wholesale grocer' is recorded at numbers 108/9 in trade directories for 1913 and 1920; then 'James Bradbury & Son' in 1928, 1933 & 1940. There is a 1960s photo showing the shop with the name 'Bradbury' (L).
Number 109
John Smith was recorded as the owner and occupier of this property in the tithe enumeration, 1838/9.
Number 109 was described as a 'house shop shed pits & drying ground' in the 1844 Poor Rate, owned and occupied by John Smith. John Smith is listed in the 1841 census as a wool stapler, a rope maker in 1851 & 1861. Mason's 1853 directory includes 'John Smith, hide and skin salesman, rope and twine manufacturer, High street'. By 1871 Martin Band, parchment maker, lived and worked here, he remained here in 1881 but in 1890 Bradbury's were using the premises (see 108). An unusual wall plaque on Brent Way, dated 1891, may mark the expansion into no. 109 (thanks to Diane Newman for this image).
Number 110: printers and booksellers
Land Tax records for New Brentford show 'Norbury' at this location in 1780, renting a property from Mrs Bethune for £18, and the Norbury family remained here for over 100 years.
The family ran a printing business: Philip Norbury, bookseller & stationer, also ran New Brentford PO from no. 110 in 1823 (Q43) and on the 1838 tithe map this property is marked 'Post Office' (owned and occupied by Philip Norbury).
Philip Norbury, printer, is recorded in the census and trade directory for 1841 and1844; then Mary Ann Norbury 1851 - 1861; finally William P Norbury 1871 - 1890.
Three Norburys left wills (1828, 1830, 1845) which provide more details about the family: view a sketch Norbury tree.
An article by Fred Turner for Middlesex & Hertfordshire Notes & Queries in 1896:
At number 110, High Street, Brentford, there was a circulating library kept by a Mr. Norbury who was a publisher of many books in the early part of the century. The house in which Mr. Norbury kept his circulating library remains practically unchanged and is now occupied as a stationer's and printing works, kept by Mr. Stutter
Cornelius Stutter printer was recorded here in censuses and trade directories 1891 - 1920. During his tenure the 1909/10 Valuation (May 1915) described no. 110:
Owner E J Gough and William Ruston (as 111 High Street). C Stutter held a 21-year lease from Christmas Day 1890, rent £50. Painted and plastered front and timber back.
Ground floor: stationer's shop & good sitting room
Basement: with kitchen, lobby, scullery and coal cellar
First floor: 2 good rooms
2nd floor: 2 good rooms
Brick-built large printer's workshop - 2 floors (3 stores on 1st floor). Lobby - brick and tile and tiled second workshop - not so large. Stores. Brick and slate washhouse, Good garden with brick and tile potting shed. Dry. Good inside repair.

William J Benge, stationer, was at this address in 1928.
Number 111
Owned by Deavin (1844 Poor Rate) and occupied by Stephenson. Pigot's 1839 direcotry includes George Stephenson & Son, ironmongers and in 1841 the property was occupied by George Stephenson, 49, ironmonger, wife Sarah, son George and daughter Sarah, plus two female servants. By 1851 Samuel Stephenson, ironmonger, lived her. He was 26 and born in Brentford (possibly a son of George who was serving his apprenticeship in 1841?) and he had a 17 year old apprentice, William Humphries and servant, Sarah Watkins, 60.
By 1861 the property was used as a drapers, run by George James in 1861 (household of 13) and John Sowerby in 1871.
Henry Robinson, tailor, is recorded in 1874 and 1878 directories: the later directory included the new house numbers for High Street. The 1881 census shows he was a tailor hatter & hosier, born in Cavan Ireland and employed John Hallam, draper's servant born Sheffield, and widowed housekeeper Susan Ede, 40, born Marden Kent, who lived-in.
An 1890 directory records Robt William Robinson, tailor, hosier & hatter at no. 111. The 1891 census shows he was born in Ireland (so presumably related to Henry Robinson) and the birthplaces of children (assuming they are his) show the family moved to Brentford within the previous 5 years from London.
In 1901 Henry Robinson, tailor and his widowed housekeeper Caroline Gordon lived here. He was 57 and it seems probable he is the person who was at this address 20 years previously.
The 1909/10 Valuation noted in May 1915 'a fire has occurred since 1909 but the damage has been made good and it did not affect the front, only the centre part'. The property, along with no. 110, was owned by Eliza J Gough and William Ruston. A lease for 63 years from 25 Dec 1867 applied. The property had recently been re-pointed, back and front and consisted of a double-fronted large shop, kitchen and scullery. On the first floor a good sitting room & kitchen. On the second floor 3 rooms, bathroom & WC (ibd) - (no bath fixed). There was an old brick and tile shed down the garden. Two good size dilapidated brick and tile workshops were at the bottom of the plot, adjoining the tannery. The High Street frontage was 20'. Henry Robinson was the occupier.
The 1911 census describes 111 as 'shop lock-up' and 'building not used as dwelling'.
It is not included in a 1914 trade directory. The Middlesex Chronicle, 27 March 1920, carries an advertisement for the French Paperstock Co. Ltd., 111 High Street, Brentford, Head Office 24-39, Bermondsey Wall, London.
The next sightings are in 1933 and 1940: Christopher Mackinus Stone, clothier. Stone's Menswear in Brentford High Street was destroyed in a gas explosion in 1977.
Number 112
In the 1844 Poor Rate the premises were described as 'house shop & drying house & cart house stable & warehouse' owned and occupied by J Haynes. This was a cheesemongers for several decades: Jacob Haynes 1839 - 1861, Mrs Elizabeth Haynes 1871 - 1881, Arthur Richard Lloyd 1890-1; then grocers: Arthur Colley 1901, Titus Ward 1913 - 1940; in 1997 The Yard (Youth Advice).
Number 113
Hairdressers: Henry Hutchings 1861 - 1891; Harry E Day from Buckingham 1901.
Number 114
Grocers/tea dealers: John Coles 1839 - 1871; Frank Trussell 1881; later : butchers Edward Jones 1901; S Bishop & sons 1913; then the Maypole Dairy 1920 - 1940.
Photos/Ephemera/Maps
Links are included below to some photos, ephemera or maps accessible on this site. There may be additional photos on the site - suggest you check the Properties - photos link (the navigation area to the left).
References such as '1899 (X11)' indicate the date of a photo (1899) and where it is published (X11). Details of 'X' are available: see Mainly paper sources page; '11' refers to the page no, or photo no. in the publication.
Photos
Block D, Ballymore Brentford Project, 2022
98 Barley Corn beerhouse, 1907, also (Y65)
98-101 early 1900s (C21) & (S51); around 1905; 2006 (S51)
102 1907 advert for E Gaydon
102+ postcard 1920s?
103-106 1906 (C20)
107-110 early 1950s (S52); 2006 (S52)
County Parade (111+) early 1950s (S52); 2006 (S52)
107-114 1960s (L)
108-109 Bradburys, early 1900s (A55) & (S52); 2006 (S52)
110-112 Early 1900s (C19)
Plough Yard and Bands tannery ca 1900 (D4)
Maps
1838 Tithe map modern numbers 98 to 114 are tithe property refs 62 to 46
1894 Ordnance Survey Map annotated with house numbers
Roads Off
Catherine Wheel Yard between numbers 97 & 98; (now named Catherine Wheel Road)
Plough Yard between numbers 114 & 115
Published 2005; last updated May 2023