The Croxford family - a tale of four brothers
Author
Janet McNamara undertook this research. In August 2010 a direct descendant of William Croxford, Neil Croxford, wrote with details from his research and Janet's research has been updated with additions noted (NC). In 2019 Colin Croxford, added a note within the text that follows.
Four brothers are born
It seems that Henry Newman, Thomas, Charles and William CROXFORD were brothers, the sons of Newman and Maria CROXFORD who were all born in Hammersmith but eventually lived, and with their children worked, in Brentford.
Newman CROXFORD was born in 1791 and married Maria WRIGHT in 1815 (NC).
In the 1841 census, Thomas aged 20 was living in King Street, Hammersmith with his parents, Newman, a baker and Maria, 2 other brothers and a sister Maria.
That year William and Charles were assistants to a hosier in Oxford Street (Marylebone). He was Samuel CASTLE with a son Samuel and a daughter Ann (all young people shown as aged 15).
Charles CROXFORD married Ann CASTLE at St Mary Ealing in 1849 and they have Samuel CASTLE jnr and Agnes CASTLE, living with them at the Brewery on High Street, Brentford by 1851. Two years later William CROXFORD married Agnes CASTLE, younger sister to Ann, making a second link between the two families.
HENRY NEWMAN CROXFORD 1817 - 1885
Henry was baptised in Hammersmith on June 22nd 1817.
I can't find him in the 1841 census. He appears to have married Elizabeth SWAINSON (St George Hanover Square Registration District) in 1843. By 1851 he was 33 and living in Norwich with his wife, Elizabeth (27) born in the city of London and their daughter, Elizabeth aged 7. He is described as a Publisher's Agent in the census and 'book seller' when he baptised two of his children at Norwick St Saviour in 1851 and 1854.
In 1861 the family were living in Islington with their children Elizabeth (17), Henry N (9), scholar, Thomas S (7) scholar and Mary M (2). All the children had been born in Norfolk and Henry was shown as Proprietor of Freehold property. (In 1891 Elizabeth is shown as born in Islington).
In the 1867 and 1870 directories he is a private resident in Boston Park Road.
By 1871 the family were at Park Road, Brentford (likely to be Boston Park Road now). Henry senior was a Traveller and his son, Henry aged 19 a Paintseller.
Other residents of the house were daughter Maud aged 12 and brother in law Richard WAINSON age 38 (this should have been SWAINSON) and sister in law Mary (43) and one servant.
1881 26, High Street, Brentford (next door to the Royal Hotel) were Henry (63), manager of Greeves c6, Pall Mall, Elizabeth (57) and Thomas S (27) artist in oil - Marine and a maid, Alice CLAPSHAW (20) born in Farnham.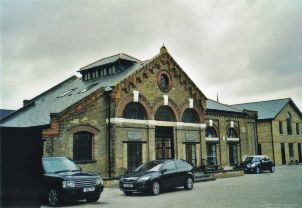 At some time Henry was elected to the Brentford Local Board and his name is on the inscription dated 1883 at the Sewage Pumping Station. 14.6.1884 the Middlesex Independent advertised that Henry CROXFORD was chairing a meeting of the Brentford Conservative Association.
He died in May 1885 at his home Elthorne, The Butts after a long and painful illness according to the Middlesex Independent. A report of the death and the funeral show he was buried in South Ealing Cemetery to the right of the gate on to South Ealing Road.
In 1891 Elizabeth was living at Holly House, Brentford with her daughter, Elizabeth and son in law, Charles BRADEN (61), a miller born in St Andrew's Holborn. There were 6 children, a niece and a servant.
The grave stone at South Ealing Cemetery shows that Elizabeth died on January 30th 1900.
In 1891 Henry and Elizabeth's son Thomas (37) was at 4, The Terrace, The Butts with his wife Caroline, 3 year old son and a servant. Thomas was shown as 'Artist Fine Art' and a note 'sculp' added later (sculptor?).
Google "Thomas Swainson CROXFORD" to find images of some of his paintings. In March 2009 four of these were in Australia with one each in Canada, US, UK and Austria.
THOMAS CROXFORD 1819 - 1883
Thomas was baptised in Hammersmith on April 6th 1819 and on April 16th 1862 married Martha DAWSON at St Martin in the Fields.
The Directory of 1859 shows him as a Commercial Traveller and 1862 as a private resident.
He appears on the 1861 census aged 42 living with his brother Charles at the Brewery, High Street. He is described as Brewers Collector.
In the 1867 directory he was a private resident in the High Street, in 1870 in Boston Park Road and 1878 at 2, Percy Villas.
In the 1881 census he and Martha are at 2, Percy Villas, Windmill Road with 4 daughters and 2 sons. Stanley was a scholar aged 6 and George (16) was a clerk at the Brewery. Thomas was Cashier at the Brewery.
He died aged 64 and his death was registered in the June quarter of 1883.
His widow moved back to Essex and in 1891 was living in Romford as Annuitant with her daughters Christiana and Mabel Maria.
Son Stanley was a pupil in an orphan home Hextable, Sutton at Hone, Kent but by 1901 was a confectioner sweets at 81, Portland Road, Kensington with a wife Louisa (24) born in London and a daughter Louisa born in N Kensington.
CHARLES CROXFORD 1822 - 1873
Directories for 1852, 1855 and 1859 show Charles as agent to Phoenix fire and European Assurance Soc..
The 1851 directory shows him as cashier to brewery. He married Ann CASTLE in 1849, St Mary Ealing.
In the 1861 census he was 28 living in the High Street with his wife Ann who had been born in Marylebone. The children are copied on the ancestry website as Chadlee Hocais son (10) (this should be Charles Howis - see 1871), William Edward (9), Maria (5), John Thomas (1).
His brother Thomas was living with them and 2 servants. Charles is shown as Brewers Clerk.
1867 directory private resident - High Street and in 1870 Boston Road.
1871 he is 48 and shown as a Brewer with Ann (47), son Charles (20), William (19) and Samuel (16) all shown as Brewery Clerk. Maria was 14 and John Thomas 11.
All the children had been born in Brentford.
The next property on the schedule was the Royal Brewery then the Gas works and a flour wharf.
He died aged 50 and his death was registered in the March quarter of 1873
The 1881 census shows Anne as a widow aged 57 living at Mona Lodge, The Butts with 3 sons - William E (29) Artist Painter, Samuel (26) Brewer unemployed and John T (21), clerk at Brentford Gas Coy. All had been born in Brentford.
Next generation
By 1891 son, Charles Howis CROXFORD (40) lived at Ivy Dene, Boston Road with his wife Agnes (40) Born Taunton, daughter Mary 15, James W 9, Gordon R 5 and Dora 4 plus 1 servant. All the children were born in Brentford. The next door neighbour was Auguste BALLIN the artist and his family. Charles was Auctioneer - Sherriff's Officer.
William Edward CROXFORD (39) was an arts painter (note added 'sculp') living at Hastings, Sussex with his wife Emma M and Grace, a five year old daughter. He painted sea scenes - Google on "William Edward Croxford" for examples.
In 2019 Colin Croxford sent more information about William Edward's wife: Emma Marina McIntyre was born in 1855 on Brunel's steamship Great Western on a return voyage from the USA. Hence the name Marina.
The address of Samuel CROXFORD aged 36 was the Brewery Office, Bedminster, Bristol. He was a widower with a daughter, Doris aged 2months and 2 servants.
John S CROXFORD aged 31 was at 14, Grosvenor Road, Chiswick with his wife Lizzie (29) who was born in Hammersmith, daughter Irene (3) born Gunnersbury and 2 servants born in Chiswick. He was clerk gas company. I think this is the same person in spite of a different initial.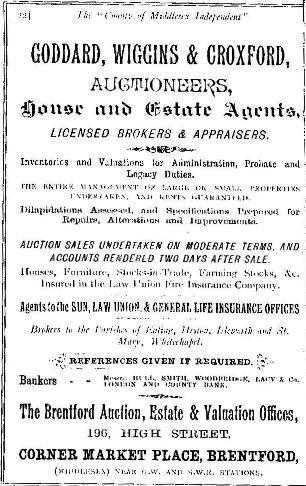 1888 and 1890 directories shows GODDARD, CROXFORD and FURNESS auctioneers, land, house and estate agents and valuers at 196, High Street (this advert is from an 1888 Middlesex Independent directory).
This looks likely to be Charles Jnr and his son James W.
The A2A website mentions a lease at the LMA dated 25.12.1875 for a garden on the north side of Brentford High Street formerly in the occupation of Charles CROXFORD the younger. Rent £27pa.
Charles jnr died in 1894 - registered in the June quarter.
1901 J Thos CROXFORD (42) assistant (Gas Company) at 14, Grosvenor Rd Chiswick. Wife L Florence (39), son, daughter (Irene) and 2 servants.
1901 Agnes (widow of Charles H) was in the same house as 1891. By this time it was numbered 77, Boston Road. Two sons and 2 daughters were resident. Daughter Agnes (23) 'Portrait Painter', Son James W (19) Surveyors Assistant and Gordon (15) Timber Merchants Clerk.
WILLIAM CROXFORD 1825 - 1901
William was baptised on January 26th 1825. He married Agnes CASTLE in Brentford Registration District in 1853.
In 1861 he was 36 and a Collector the Brentford Gas Coy. His wife Agnes (27) was born St Marylebone and they had 3 daughters 6, 4 and 1 who were all born in Brentford. There were 2 visitors and 1 servant. From the census it would appear the family lived near 309/310 High Street.
In 1862 the directory shows him as collector for Gas Coy,in 1867 as a private resident living in Windmill Lane and 1870 and 1878 at 4, Trimmer Villas.
In 1871 the family was in Windmill Lane (now Road) with only 1 daughter who was 11 and 2 sons William 8 and Frank 5 and 1 servant.
By 1881 he was Secretary of Brentford Gas Company at Hawthorns, The Butts with his eldest daughter, Agnes and 1 servant. Frank was at a boarding school in Richmond. No trace of William.
In 1891 his wife is still at Hawthornes with daughter Agnes, widowed daughter Amy and 25 year old son who was a clerk Brentford Gas Coy. William is a visitor at a house in The Butts and is a Student of Medicine.
William CROXFORD died in 1901. His son, Frank CROXFORD, is the great grandfather to Neil CROXFORD and he married Mary ROWELL (born 1873), a servant to the CROXFORD family. Frank CROXFORD died in 1931 (NC).
A couple of puzzles
Who is the JW CROXFORD CE on the Brentford Monument?
The A2A website shows 'Royal Brewery, 23, High Street, Old Brentford, Red Lion Brewery in Brentford in 18c owned by Felix BOOTH by 1830 and name changed to Royal Brewery in consequence of visit by William IV & Booth's baronetcy. Owned by CARRINGTON & WHITEHEAD 1850 - 1875 and GIBBON & CROXFORD to 1880 (or 1890). Bought by Montague BALLARD and became limited liability company 1890'. Who was this 'CROXFORD'? (Perhaps Henry CROXFORD (1817-1885), whose address was Upton House, 26 High Street (a brewery property) in an 1882 directory?).
Page published May 2010; last updated May 2019