Basics
Home and Search
Site Guide
Brentford Basics
Privacy Policy
Contact
People
Families
Photos of people
Name indexes incl WW1
Memories
Lists, Documents, News
Occupations
Properties
Properties: High Street
Properties: non-High Street
Photos
Maps
1909/10 Valuation Index
Pub Hub
Can You Help?
Seeking...
Mystery photos
Roads Off
A-Z list
Janet's Research
History
Beach's Jam
Nowell Parr
Turner the Artist
Queen Victoria 1840
Brentford Market
80 High Street
Clitherow of Boston House
Four Croxford Brothers
Sources & More
They Said
Books etc.
Web Links
Next
Site Technology
Author
Home and Search
Not Brentford
Brentford Families - Burrows
Jayne Todd writes:
My interests lay in the Burrows family. Until yesterday I had no idea my great great great grandfather William Burrows ran The Barleycorn beerhouse. As you state, all the censuses record him being a carpenter along with his son Henry ( b. 1832) and his son William Henry ( b. 1862).

I have found out that after William Burrows dies the Barleycorn beerhouse at no. 98 is taken over by his daughter Rosina (b. 1820-1897)and her husband John Plastine (1821-1892) until her death in 1897. Previous to that John is a waterman born in Brentford. The surname is unusual and other than his father Thomas Plastine, born 1790 marries Susannah Atkins (1798-1875), the info is sketchy. One interesting snippet is a John Plastine ( waterman) of Brentford testifying at the Old Bailey in 1801. However sorry I digress.

The Burrows : William Burrows born 1796 marries Elizabeth Children:
William b. 1822 ( carpenter) in Hanwell
Rosina b. 1821 (marries John Plastine in 1841 and lives at 'The Barleycorn')
George b. 1826
Thomas b. 1829 (gardener)
Henry b. 1831 (gg grandfather carpenter) **
James b.1833 (waterman)
Frederick b.1840
** Henry marries Mary and moves to Forest Hill where my great grandfather William Henry Burrows is born 1862. He is also a carpenter though in 1891 census is described as a tram conductor. He marries Sarah Elizabeth Manders in 1885.
In between 1891 and 1901 they had lived in Brighton ( my grandmother was born there) and Scarborough where their son was born. The family legend goes that William and a relative (who??) went into business and they worked on the construction of Marine Drive in Scarborough. The business failed which is why they ended up in Margrove Park, Cleveland in 1901 (the name was spelt incorrectly: Borrows). William is described as an ironstone miner. Later they lived in Skinningrove, north Yorks. I know my great grandmother kept a shop there. They moved to Doncaster to live with my grandparents and end their days there.
Burrows photos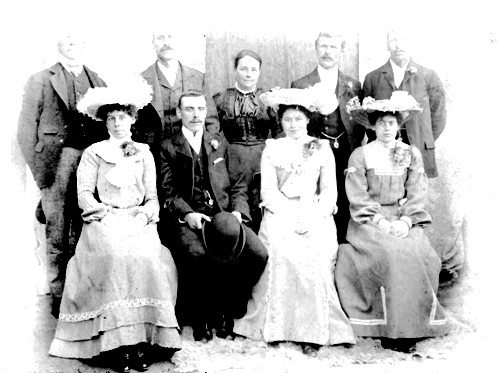 Henry Burrows is first on left back row. Next to him is William Henry Burrows and Sarah. Does anyone recognise the other people? I think this is a wedding group from the early 1900s: dating is based on the style of hats. If so William Henry and his wife Sarah would be in their later 30s / early 40s.

Jayne writes 'William and Sarah were married in 1885 and left London about 1893 so I feel it was taken within that period of time. I say that also because there seems to have been some dispute between Henry and William. I also think Henry died in 1909.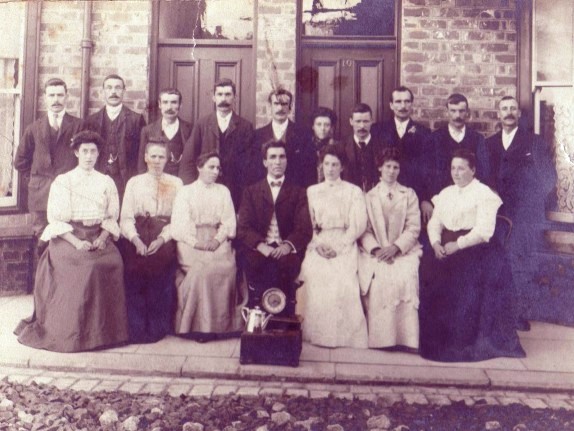 William Henry Burrows back row last on right stood behind his wife Sarah. Does anyone recognise the other people? The houses, pavement and road surface look new. The house no. is 10, the road name is not known. The event? I think there would be more hats if this was a wedding group but the box of gifts in the foreground suggests a wedding or award from work? The date of the photo? I'm guessing the photo dates from around 1910.

Jayne suggests: I noticed the number 10 on the door. I realised that according to the census 1901 they lived at 10 Margrove Park. Could this be the house in the picture? It's just 100 houses built by the Stanghow Ironstone company for its workers.
Other findings
William Burrows was living in Catherine Wheel Yard in 1841, not far from where he is recorded in 1851.

There are a couple of refs. on the A2A website (this is accessible through the 'Web Links' section of the website - try a search on 'Burrows NEAR10 Brentford). For example:

Reference: ACC/1285/003

Abstract of title of William Burrows of New Brentford, carpenter to premises, 28-29 July 1851, with opinion of solicitor

Creation dates: 1853 Mar

Other High Street Burrows references found whilst researching the High Street Project:
William B Burrows, coach leader, aged 58 lived at no. 285 in 1871 (Jayne does not believe he is part of her Burrows family)
William Burrows (born in Ireland about 1780/1) and Samuel Burrows (born Ealing around 1826/7), both labourers, living at no. 374. There were several households sharing this property in 1851, I cannot see a link to Jayne's family
April 2007