Drum Lane, Ealing Lane, now Ealing Road
Location and name changes
Runs north off the High Street, between numbers 318 and 319 High Street. Drum Lane was named after the Drum public house on the corner at 319 High Street.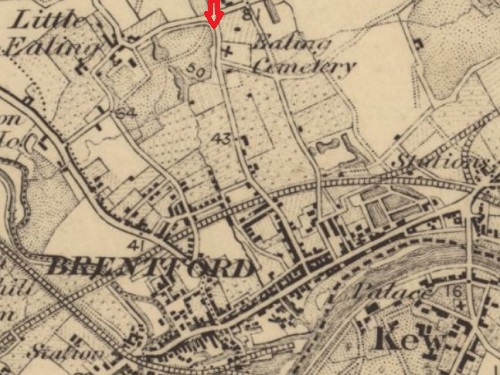 This one inch to a mile OS map, published in 1876 from a survey taken at some point between 1861 and 1871, is freely available on the National Library of Scotland website. The pointer marks the northern end of the road.
Working north up Ealing Lane from the High Street, the map shows the section to Back Lane and beyond has properties on either side, with some gaps on the eastern side approaching the railway bridge. North of this there were market gardens on both sides of the road, then the Ealing and Old Brentford Cemetery (now South Ealing Cemetery) off the eastern side.
Changes of the road's name can be charted from maps and census returns
John Rocque's map of Brentford, 1741-45, labels Drum Lane running up to the crossroads with Little Ealing Lane, near the red pointer (left). The OS map of 1805 labels Drum Lane half way between Ealing and Brentford.
An OS town plan for Brentford, dating from the late 1860s to early 1870s, shows Drum Lane was the southern section between the High Street and Back Lane (later Albany Road); further north it was Ealing Lane. This is consistent with the 1871 census, in which 16 households were recorded at Drum Lane and another 108 at Ealing Lane Brentford, plus 5 in Ealing parish.
In the 1881 census, 11 households were recorded at Ealing Lane and 132 households at Ealing Road: no reference to Drum Lane.
In the 1891 census 12 households were recorded at numbers 1 to 23 Ealing Lane (odd numbers) between the Albany Arms, Albany Road and Back Lane. In addition, two sets of households were recorded with Ealing Road addresses: 59 occupied numbers 33 to 153 (odds) and 88 households occupied 2 to 140 (evens), including a handful with house names rather than numbers. These properties were in Brentford. Further north, Ealing Road South had 44 households in Ealing parish.
In the 1901 census 149 households were recorded in Ealing Road and a further 61 in Ealing Road South.
The censuses suggest that Drum Lane was the name for the southern section of the road, further north it was Ealing Lane. In the 1881 census Ealing Lane continued to be used for just the southern end of the road, then for the west side only in 1891 (this may be down to a personal quirk of some census enumerators). By 1891 Ealing Lane/Road had been numbered. The 1901 census shows the Brentford part of the road was named Ealing Road.
Buildings
The Royal Horseguardsman (or Royal Horse Guardsman) at 23 Ealing Road; Bricklayers' Arms at number 67/69; the Princes Royal at 107; Ealing Road Primary School (opened 1903-4); Ealing Road Baptish Church (1914) at no.126.
Roads off
Based on OS 25 inch to mile maps published in the 1890s and 1915 (survey 1912), and working northwards from the High Street junction:
Walnut Road (eastern side)
Albany Road (west)
Cressage Road (E)
Kenley Road (E)
Netley Road West (E)
Braemar Road (W); this originally stopped short of Ealing Road; numbers 101, 103 and 105 Ealing Road were demolished to create a junction by 1912
Starnage Road West (E); this had been renamed George Road by 1912 (OS map published 1915)
Greet Road (E) (built between 1890s and 1912)
Burford Road (E) (built between 1890s and 1912)
New Road (W)
The railway crosses Ealing Road shortly after New Road
Layton Road (W)
The boundary with Ealing is north of Layton Road
The town plan from the late 1860s/early 1870s shows ten properties - apparently a terrace of three and of seven - on the eastern side of Drum Lane and running south from Back Lane, were known as Waltham Place. Many other properties were named according to the 1871 census (but not marked as such on the town plan), see link below for some examples.
Photos/Maps/Links
Ca 1913 postcard showing numbers 27 onwards, looking north (Howard Webb
Bricklayers Arms pub, around 1970 at 67 & 69: Stephen Reed.
Further up, the Princess Royal at 107, mid-late 1960s (from Howard Webb).
VE Day celebrations, 1945, Diane Elphick (Gardner).
The site also has several photos of Ealing Road School pupils: see the School Photos section.
The southern end of Drum Lane is shown in the tithe map, 1839/1841.
Jim Storrar sent the 1893 OS map annotated with pub names, the top map on this page shows the High Street end, this one is further north and includes the Bricklayers Arms and Princess Royal.
Poor rate records for Drum Lane, 1836.
Some house names recorded on Ealing Lane in 1871.
More about the National Library of Scotland website, includes link.
Published January 2023