Boston (Manor) Road, Brentford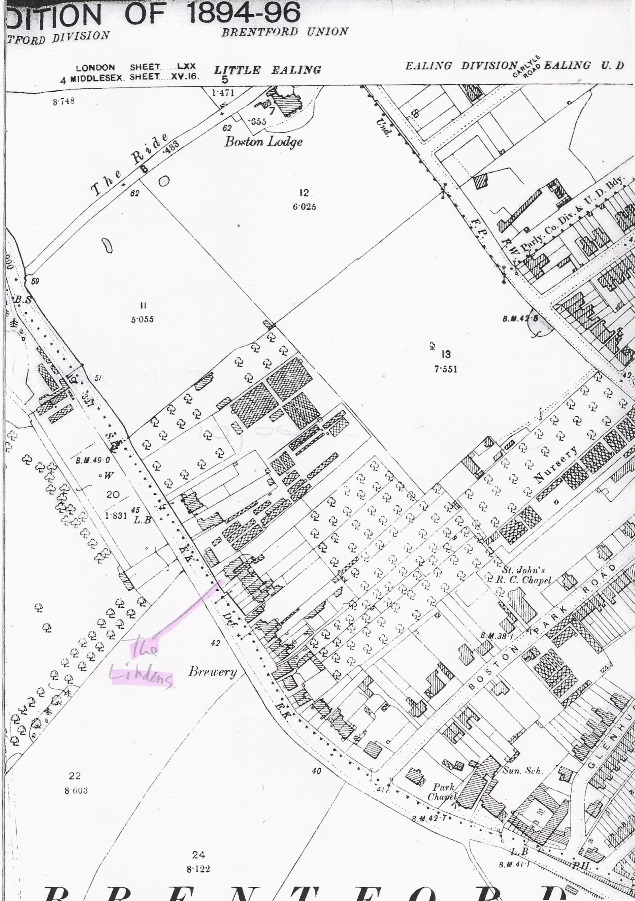 Boston Road runs from Half Acre to the north west out of Brentford and formed the parish boundary between Hanwell (later New Brentford) and Ealing (later Old Brentford), shown as a dotted line on the 1894-6 OS map.
Although marked as 'Boston Road', by 1935 it was known as 'Boston Manor Road' and previously (OS map published 1869) was 'Boston Lane'. Lindens is marked at no. 73 (thanks to Janet McNamara, Carolyn Hammond and Vin Miles) - see links below for a postcard view of this house.
The 1894-6 OS map includes a wealth of detail, marking letter boxes, chapels, a Sunday School and larger houses such as Boston House by name. Nearer town, the map shows development on both sides of the road as far as Inverness Lodge, but after that the west side of the road remained fields. The map shows a Public House at the town end: this was the King's Arms at no. 19. The Brewery marked further north was between numbers 53 and 55, originally the Star Brewery but named the Boston Brewery by the time the 1894 street directory was compiled.
Thanks to contributors the site has material about several properties and also some postcards. Starting from the southern end near the town and working northwards into the open countryside:
Other photos of Boston Road appear in:
Archive Photograph Series Brentford: Boston Manor Road entrance to Beldam's Packing and Rubber Company, 1960s (A91), which was built at the southern end of field 13 in the map; Brentford Past has a brief history of Beldam Tyres (Q115) (Julie Jakeway has provided a photo of the workforce around 1912)
Archive Photograph Series Brentford: the above postcard image (A92)
Archive Photograph Series Brentford: similar view to the postcard but taken in the 1930s, by which time houses lined both sides (A92)
Archive Photograph Series Brentford:entrance gates to Boston Manor House 1918 (A94)
Brentford As It Was: view taken around 1900 looking south towards Park Baptist Chapel (C37)
Brentford As It Was: winter scene with the gates to Boston Manor House, around 1900 (C38)
Brentford & Chiswick As It Was: winter scene pre 1905, same view as postcard (D16)
Then & Now Brentford: view north from near the junction with Boston Park Road, around 1905 (S45)
Then & Now Brentford: modern view from similar point to the above (S45)
See 'Books etc.' for details of local history books referenced above.
Published April 2016; last updated January 2023