Basics
Home and Search
Site Guide
Brentford Basics
Privacy Policy
Contact
People
Families
Photos of people
Name indexes incl WW1
Memories
Lists, Documents, News
Occupations
Properties
Properties: High Street
Properties: non-High Street
Photos
Maps
1909/10 Valuation Index
Pub Hub
Can You Help?
Seeking...
Mystery photos
Roads Off
A-Z list
Janet's Research
History
Beach's Jam
Nowell Parr
Turner the Artist
Queen Victoria 1840
Brentford Market
80 High Street
Clitherow of Boston House
Four Croxford Brothers
Sources & More
They Said
Books etc.
Web Links
Next
Site Technology
Author
Home and Search
Not Brentford
Post Office, St Paul's Road, Brentford
Howard Webb provided this black and white Bell's Series postcard of the Post Office dating from 1908/10. Benjamin Maddern Harris was the Postmaster in Kelly's Ealing, Acton, Hanwell, Brentford, Gunnersbury and Chiswick Directory ("Buff Book") for 1911. He lived at 8 Whitestile Road in 1911, his son Reginald Benjamin Harris, age 31, was a Post Office Clerk. He does not appear in the photo, but 6 young male post office workers do.

The Post Office was built on open ground next to St Paul's Church in 1908. Previous Post Office sites include 110 High Street, 127 High Street, 327 High Street, 390 High Street. More recently 102 High Street was Brentford's main PO. A 1925 map of Brentford also shows a Post Office on the eastern side of Market Place.

See 'Brentford Past' by Gillian Clegg for more about the history of postal deliveries in Brentford.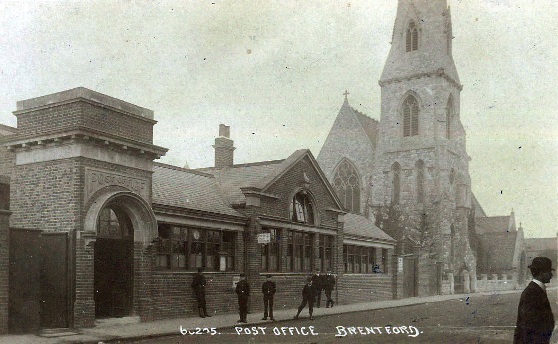 The card has a Brentford postmark, 7pm April 26 1910, and was sent to:
Miss N Belcher
"The Willowbys"
Upper Richmond Road
Mortlake
SW
and the text ' Dear N, Just a card to let you know I have not quite forgotten your birthday. I wish you very many happy returns of today although a little late and many brighter ones in store. With fond love from Maude'
Howard provided a high resolution scan which provides details of the post boys: enlargements showing five of the six are below (the boy far left was not so clear and is not included). They all look under 18 and I hoped to find them in the 1911 census: but although findmypast website allows searches by occupation, a search for occupation with no forename or surname was too much for it. But if you happen to have a postal worker in your family, born mid 1890s and living in Brentford, he may be captured on this postcard.
Ancestry website includes records of Post Office appointments up to 1969 and a search for appointments to work at Brentford a few years before 1910 brought up three names, all were appointed as Sorting Clerks and Telegraphists:
Philip H Croxford, appointed 1906 (age 23 in the 1911 census, working as a gas office clerk)
Harold C J Martin, appointed January 1907 (age 23 in the 1911 census, 'S C &T' at the post office, son of Charles Martin, 50, Head Postman)
Stanley J Morcombe, appointed 1908 (age 27 in 1911, sorting clerk and telegraphist at the post office)
These boys were age 20 or over in 1908, the earliest date the photo could be. 'Archive Photo Series Brentford' (Carolyn & Peter Hammond) includes a Post Office staff photo taken outside their previous Market Place site in 1904 (page 61). Seven small boys wearing the same uniform as the two in the photo below left are identified as 'telegraph boys'.

Published February 2012; updated March 2012