Brentford Councillors - Christopher Ernest Saunders
Introduction
Janet McNamara has researched details of the men who served as Brentford Local Board Members and Councillors, see intro page for more details of early local government structure. Also see a family photo provided by relative, Vicki Powys and newspaper accounts provided by Janet and transcribed by Vicki.
Christopher Ernest Saunders
Mr Saunders was a member of the local Council and his name is on the Monument, originally erected at the river end of Ferry lane but now in the High Street outside the County Court. He is on the photograph of the 1909/10 Councillors.

The local directory shows his address in 1909 as 27, Brandeburg Road, Chiswick.

See other research into the Saunders family.

The 1871 census shows him aged 3 months with his parents William (46 born Berks) and Kate (24 born in Brentford) and an older brother and sister at Hythe Farm, Egham. His father was an employer farming 250 acres.

In 1881 his acreage was shown as 235 and he employed 5 men, 2 boys and 2 women.
The farm was in Thorpe Road.
The family were still at the farm in 1891 with Christopher aged 20 employed as an auctioneer's clerk. The census entry shows he had one older sister resident and three younger ones. There were two servants.

Top

He had moved to London by the time of his marriage at St Mary's Church, Ealing which took place on July 20th 1897.
He was shown as aged 26 and an Auctioneer of 16, Venetia Road, Ealing. His father was William Christopher Saunders.
The bride was Maud Meyers (23) the daughter of John Meyers of The Lindens Boston Road. Both fathers were shown as 'Gentleman'.
(John Meyers was also a local Councillor and the report of his funeral describes floral tributes from 'Maud and Ernest, Chiswick').

The 1896 Brentford directory shows his business (Saunders & Taylor) at 207, High Street and transferring to 115, High Street by 1908/9.

Top

In the 1901 census Ernest and Maud are living at 112, Wellesley Road , Chiswick with their 1year old son Norman. They had a visitor and 2 servants.
Ernest was an employer described as 'Auctioneer and Estate Agent'.

His brother Harold Saunders drowned in an accident whilst canoeing in 1900.

The company seems to have advertised nearly every week in the Middlesex Independent newspaper and one in December 1921 shows Saunders & Taylor as Auctioneers, Surveyors, Valuers, & Estate Agents with premises at 115, High Street and 32, Ealing Road.

Mr Saunders died in a road accident at Gunnersbury Lane while on his way home to 27, Burlington Road on March 11th 1924 – see the report in the Middlesex Independent and record of the inquest. (Brentford March quarter 3a 290).
The record of his funeral shows his wide connections with other local families.

Christopher Ernest Saunders of 27, Burlington Road Chiswick died March 11th 1924 in the High Road, Chiswick. Administration with Will London 5th April to Maud Saunders widow. Effects £13,020.10.3d
Other material
Janet has also provided newspaper reports of the death, the business arrangements following his death, the coroner's inquest and funeral (all 1924), a photo from 1909/10 and an advert for Saunders & Taylor from 1921. Vicki Powys has transcribed these allowing them to be searched by name.
Family photo
Vicki Powys provided three family group photos dating from 1916 which include Christopher Ernest Saunders in uniform: one shows his sleeves with stripes: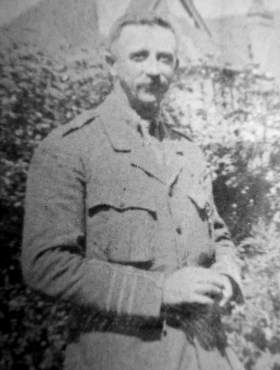 Vicki researched the uniform and added

'I think CES's uniform is WW1 British Army Major.

The double scalloped top pockets seem to indicate officer or higher rank, ordinary soldiers had straight edged pockets. There is also a double-scallop on the lower sleeve. The number of stripes on the lower sleeve denote rank, 3 stripes being a Major, plus a single crown in the panel.

Can't find the metal lapel badges anywhere and only a blurry outline to go by.'

The links Vicki used to identify his uniform are in the Web Links section.
Newspaper Account: Death
Wednesday, March 12, 1924

BRENTFORD AUCTIONEER KILLED.
ANOTHER ROAD FATALITY
It is with deep regret that we have to announce the death, last evening, following injuries received by being struck by a motor-car near Gunnersbury Lane, of Mr. Christopher Ernest Saunders, the well-known auctioneer and estate agent of High Street, Brentford. It appears that at the time Mr. Saunders was on his way to his home at "Melville Lodge," Burlington Road, Gunnersbury, and when crossing the High Road, was struck by a motor-car. He was removed to the Chiswick Hospital and was found dead on arrival.

The late Mr. Saunders was a native of Brentford, being the son of well-known business people in the town. Nearly 30 years ago Mr. Saunders, with the late Mr. W. Taylor, who died about eighteen months ago established the present business of Saunders and Taylor, Auctioneers, which the partners brought to so successful a stage. Mr. Saunders leaves a wife and two children to mourn his loss, which will be a great blow to his aged mother, and to his two sisters, who still reside in the vicinity. The deceased gentleman was greatly respected in Brentford, and some years ago was elected to the District Council, on which he served a term of three years. The death of Mr. Saunders causes a vacancy in local business circles which will be widely felt and the greatest sympathy is displayed for his surviving relatives.

The details of the fatality will, of course, form the subject of an inquiry by the District Coroner.
Newspaper Account: Business Arrangements
15.3.24

THE LATE MR. C.E. SAUNDERS

As all are aware, Mr. C.E. Saunders was the sole surviving partner in the firm of Messrs. Saunders and Taylor, Auctioneers and Estate Agents, of Brentford, and some considerable anxiety was felt as to the future of the Firm. The widow has been fortunate enough to come to an arrangement with that old-established Firm of Auctioneers and Estate Agents, Messrs. Bradshaw, Brown and Co., of which her brother, Mr. Walter K. Meyers, F.A.I., has been a partner for the last nineteen years. The Firm will take over entire responsibility and conduct the business for Mrs. Saunders and family. Messrs. Bradshaw, Brown and Co., have their head office at Billiter Square Buildings, E.C., and they are the appointed Valuers and Advisers to two large London Boroughs upon rating matters; they also have the confidence of various departments of H.M. Government, for whom they conduct considerable and important work from time to time. Under this arrangement it is felt that the interest of the late Mr. Saunders' clients, as well as those of his family, will be carefully guarded.
Newspaper Account: Coroner's Inquest
19.3.1924

THE LATE MR. C.E. SAUNDERS

INQUEST AND VERDICT

At Chiswick Fire Station on Saturday, Mr. R. Kemp, J.P., Coroner for West Middlesex, conducted his inquiry relative to the tragic death of Mr. Christopher Ernest Saunders, the well-known auctioneer and estate agent of Brentford.

A plan of the scene of the occurrence, prepared by P.c. Evans, Hammersmith, was placed before the Coroner.

Mr. Robert Woodbridge watched the case in the interest of the relatives of the deceased.

Mr. N.R. Fox Andrews represented Mr. Samuel John Frost, owner, and driver of the car concerned, and Inspector Amos was in attendance on behalf of the police.

Walter Meyers, of St. Alban's Road, Kingston-on-Thames, brother-in-law, identified the body. Mr. Saunders, who was 53 years of age, lived at 27, Burlington Road, Chiswick. Witness last saw him alive on Sunday night. His sight and hearing were perfect. Witness knew nothing of the accident.

Emily Harriet Smith, Church Road, Gunnersbury, said that on Tuesday night at five minutes past ten she was walking down the road at Gunnersbury and heard a thud. She then saw "something' lying in the road, and found it to be the body of the deceased. The place where the accident occurred was nearly opposite Gunnersbury Lane. It was very dark. She noticed that a motor-car had stopped about fifteen yards away. The road was under repair and the watchman's lamps were alight.

To Mr. Woodbridge. There was no lamp on the south side of the road. She did not notice whether the car had headlights.

Mr. Fox Andrews: The head lights were not on.

Mrs. Clara Williams, of Church Road, Gunnersbury, said she was with the last witness, and her husband. They heard a crash and saw a man lying in the middle of the road. There was a motor-car near the body and the driver had got down.

The Coroner: These witnesses cannot help us very much. They did not see the accident.

Witness said she heard no voices, or any noise whatever except the crash.

Mr. Frost was then called, and gave his address as "The Firs, Cranford, Middlesex." The car was a Loncalm, of 36 horse power – a large car. On the night in question, he had come from Paddington and was going towards Brentford on the way home. His speed was 18 to 20 miles an hour. When opposite Gunnersbury Lane, a man ran out. There was a rope arranged near the lane, and this was where the deceased seemed to have come from. Witness thought the man was trying to clear the head of the car. Witness swerved to the left to avoid the man, who was hit immediately afterwards. The roadway was quite clear, nobody else about. It was the offside head lamp which struck the man, and it was near the middle of the road where witness saw him when alighting from the car. The car was pulled up within fifteen yards.

Coroner: How do you know your speed was 18 to 20 miles an hour? Had you a speedometer?

Witness: I know my speed. I have driven cars for twenty years. I will take anyone out now and prove that I know it.

To Mr. Woodbridge: There were marks on the car. The lamp was bent back. It all occurred in a flash. He was sure Mr. Saunders was at a running pace. Witness had passed several of the red lamps and before that he had accelerated a little to get ahead of a tram-car. Witness did the journey every night, and did not think it was a risky speed at such a spot. The car ran smoothly and there had been no trouble with the brakes. On the occasion referred to he had applied the foot or emergency brake. The lights were of the Delco kind, six in front and one rear light. He could "pick up" an object thirty or forty yards in front if the beam fell on it. He did not blow his horn because there was no one about that he could see at the time.

Coroner: If one is going towards Kew Bridge you have a wide road. If you were coming the other way it would be a narrow road and awkward on account of the work going on there.

Mr. Woodbridge: As a motorist, Mr. Frost, was it not your duty to blow your horn when passing such a place as this?

Witness: No, because I had a clear view. Had there been a blind or narrow turning I would certainly have sounded the horn and slowed down.

Mr. Woodbridge: You pass this lane frequently. Have you not seen pedestrians there?

Witness: I have seen pedestrians coming down the lane – occasionally.

Mr. Woodbridge: Would it not be wise to blow your horn then?

Mr. Fox Andrews: The witness has distinctly said that he had a clear and uninterrupted view.

Coroner: He has said so. As to horn-blowing, my experience – and that has been a very long one – is that it is a moot point as to horn-blowing. I have seen people zig-zagging when the horn was sounded and there is danger sometimes on account of that.

In reply to Mr. Fox Andrews, Mr. Frost said he always sounded his horn at cross roads and dangerous turnings. He repeated, when this accident happened there was a clear view. When he first saw Mr. Saunders the latter was about three or four feet in front of the offside lamp. Had deceased stopped at the position when witness first saw him he would have been "cleared." Witness did not feel the car go over the body.

P.c. Riddell, 634T, said he was near Gunnersbury station at 10.15 p.m. on Tuesday night, when he was told that a man had been knocked down at Gunnersbury Lane. Hurrying there he saw the deceased being removed to the hospital. The place was very dark. The owner of the car made a statement, which witness read, and it was exactly the same as Mr. Frost had now given as evidence. Witness thought Mr. Frost was travelling on the near tram line going towards Kew Bridge.

Dr. French said he saw Mr. Saunders at 10.30. He was then dead. Witness subsequently made a post mortem examination. There were abrasions on both legs; left forearm badly fractured and the spine was fractured.

Coroner: Do you think the car had gone over deceased.

Witness: It is hard to say in this particular case, but it is likely it had gone over the left shoulder, thus causing the fracture of the spine. That was the cause of death, which must have been instantaneous.

Inspector Amos said he examined the car and found that the brakes were in good order. The offside front lamp was bent back, as already described.

This was the whole of the evidence, and the Coroner, in summing up, said: In this deplorable case there has, unfortunately, been no real eye-witness, and one has to rely on what has been placed before one. Mr. Frost, I must say, has given his evidence candidly, and stated that his speed was from 18 to 20 miles an hour. A person in his position might have said something else. There is nothing to show negligence, certainly nothing to show criminal negligence. I rather think, however, that the speed should have been less at this place where the new road is being made and the spot dark. It is a very sad affair, as I have said, and my verdict is one of Accidental Death.

Mr. Fox Andrews: I am to take it then, sir, that no blame attaches to Mr. Frost.

Coroner: That is so.

Mr. Fox Andrews: Thank you, sir. I have to say, on behalf of Mr. Frost, that he deeply deplores this accident, and wishes to express his profound sympathy with the deceased gentleman's relations.

Coroner: I am sure we all do that. It was a most lamentable occurrence.
Newspaper Account: Funeral
19.3.1924

FUNERAL CEREMONY

The funeral of Mr. Christopher Ernest Saunders (head of the well-known firm of Saunders and Taylor, of Brentford), took place on Monday last, the interment being carried out at Old Chiswick Cemetery. The tragic circumstances under which Mr. Saunders lost his life were reported in our last issue, and the multitude of mourners at the obsequies bore testimony to the high respect in which the deceased gentleman had been held, and the widespread sympathy evoked at his untimely end.

The first portion of the burial service was conducted at Turnham Green Church, of which Mr. Saunders and his family were devoted members. The officiating clergymen were the Vicar, the Rev. T.W. Moulton, and the Rev. C.H.S. Kew. The hymns sung were, "Jesu, Lover of my Soul," and "Rock of Ages." The graveside rites were performed by the Rev. T.W. Moulton.

The cortege was formed as follows:--

First carriage, Mrs. Saunders (widow), Mr. Norman Saunders (son), Miss Winifred and Miss Peggy Saunders (daughters).

Second carriage, Mr. Wilfred Saunders (brother), Mr. H.V. Moore (brother-in-law), Mr. Alec Beer (brother-in-law), Mr. Hutchins (friend).

Third carriage, Mr. Frank Meyers, Mr. Sidney H. Meyers, Mr. William Meyers, Mr. W.K. Meyers (brothers-in-law).

Fourth carriage, Mr. and Mrs. Weber-Brown (brother and sister-in-law), Mr. Sadler Phillips, Mr. E. Weber-Brown (nephew).

Among others at the Church or at the graveside were Mr. J.H. Dorey, Mr. J.T. Woodbridge, Mr. P. Goddard, Mr. F. Davis, Mr. C. Beasley, Mr. H. Coleman (Sanitary Inspector), Mr. A.H. Charlton, Mrs. and Miss Jeffs, Mr. C. Starkey, Mr. and Mrs. Brown, Mr. and Mrs. F.M. Coyle and Miss Coyle, Mr. D. Hart and Building Department Staff, Mr. S. Payton, Mr. J. Prince, Mr. C. Taylor, Mr. Eric Phillips, Mr. A. Bacon, Mr. J. Kernhan (Brentford Printing and Publishing Company), Mr. A. Ruston, Mr. R. Read, Mr. A.J. Ruff, Several tenants from Hamilton and Warwich Roads, Twickenham, Brentford, and Ealing. The Manager of Young and Merten, Mr. Sayers, Miss L. Fromow, Mr. Howard, Mr. Frank Taylor, Mrs. Howell, Mr. R. Goodman (Brentford Gas Company), Mr. Jupp.

The floral emblems were as follow:-- The Wife and Children; Mother and Mabel; Norah and Harry; Alec and Ella; Wilfred, Ernie, Gordon and Claud; Edward; Bob and Carrie; Amy and Harry; Sidney, Clara and Gladys; Jack and Ellson; Captain and Mrs. Silk; Mr. Miles Weber-Brown; Bobbie and Babs; Frank and Minnie; Carrie, Hilda and Frank; Dr. and Mrs. Leaming; Dick Jack and Mary (Dr. and Mrs. Leaming's children); Brentford W. and A. Club; Mrs. Ziffo and Mr. and Mrs. S.G. Ziffo; Mrs. S.T. Davis and Leslie; Mr. and Mrs. C. Newman and family; Miss Taylor and Mr. F.P. Taylor; Tenants of Warwick Road, Hamilton Road (Twickenham), Seaton Road (Whitton), Albany Road (Brentford); Lewington's (Brentford); Professor Weekley and family and Mrs. and Miss Weekley; Mr. and Mrs. Drain; Albert J. Ruff; Mr. and Mrs. W.G. Moore; Mr. Walter Moore and family; Miss Jeffs and Miss Coyle, Mr. C. Starkey, Mr. G. Brown; Mr. J.W. Crome; Mrs. Saunders, Cecil and Joyce; Messrs. Roper, Son and Chapman; Messrs. Barley and Brockenbury; Mr. E. Greenwood and Mr. L. Fisher; Brentford Gas Company; Directors and Staff of the Royal Brewery; Members of Boston Park Club; Brentford Philanthropic Society; Mr. F.M. Coyle, Mr. D.H. Hart, and employees of the Building Department (Saunders and Taylor); Mrs. Ashby; Mr. J. Elliott Clarke; Mr. and Mrs. P.F. Meyers and family; Mrs. O'Dell and family; The Misses E. and G. Newman; Mrs. and Miss Hill; Mrs. Noyes; Clergy, Wardens and Sidesmen of Christ Church, Turnham Green; Mr. and Mrs. Harvey; Mrs. Gardner and family; Family of the late Mr. W. O'Hara; Mrs. M.W. Taylor; Mrs. and Mrs. C. Sedgwick; Mrs. Delpech, Reggie and Sylvia; Mr. and Mrs. Whithair; Mr. and Mrs. Harold Lane; Mrs. Reginald Brooks and Clifford; Dr. Rashbrook; Mr. and Mrs. H.V. Ascough; Mr. and Mrs. Newton Earl; Colonel and Mrs. W.J. Massby; Mrs. Ozanne; Mrs. Brake; Mr. and Mrs. Payton and family; Arthur and Margaret Charton; Mr. A.S. and Mr. V. Ruston; Mr. and Mrs. Evan Phillips; Mr. and Mrs. W.H. Stephenson and family; Mr. and Mrs. A.G. Hutchins; Mr. Arthur A. Bacon; Mrs. Lucas Williams and Mrs. Nixon; Messrs. H. and W. Jamieson.
Newspaper Advertisement
7.12.1921

SAUNDERS & TAYLOR

AUCTIONEERS.

SURVEYORS, VALUERS & ESTATE AGENTS

Make a special study of claims for Properties and Interests taken under Compulsory power.
Advice given upon Land values (Finance Act, 1909-10), and on filling up forms.
Advice given upon Assessments of Licensed Premises and Private Properties, both for King's Taxes and Rateable Values, and Appeals for Reductions undertaken. Messrs. Saunders & Taylor have had a large and varied experience in this business.

Particulars invited of Freehold, Leasehold or Copyhold Properties, Ground Rents, Businesses, &c., either for Sale by Auction or Private Treaty.

Surveys, Plans and Valuations of any description undertaken.

Fire and Compensation Insurances effected in the leading offices.

Personal attention given to the Collection of Rents and general management of large or small Estates and Properties and Statements with Cheques rendered promptly either quarterly, monthly or weekly, as desired.

OFFICES:
115, HIGH STREET, BRENTFORD, W—
AND
32, EALING ROAD, BRENTFORD,
Telephone Ealing 858
Footnote - Vicki Powys
Christoper Ernest Saunder's sister Ella (my grandmother) had married Alec Beer before WW1 began, Alec served as an army officer in France. After the war Alec was advised to move to a warmer climate for health reasons and he and Ella spent some years discussing the pros and cons of moving, but when Alec was offered a small land grant on a soldier settlement block they reluctantly decided to move to Australia in 1924.

I doubt if Christopher's death precipitated their move, but they would have been deeply saddened by the loss. So far as I can recall, 'Ernest' had been Ella's favourite brother.

Page published April 2012; updated June 2012