Basics
Home and Search
Site Guide
Brentford Basics
Privacy Policy
Contact
People
Families
Photos of people
Name indexes incl WW1
Memories
Lists, Documents, News
Occupations
Properties
Properties: High Street
Properties: non-High Street
Photos
Maps
1909/10 Valuation Index
Pub Hub
Can You Help?
Seeking...
Mystery photos
Roads Off
A-Z list
Janet's Research
History
Beach's Jam
Nowell Parr
Turner the Artist
Queen Victoria 1840
Brentford Market
80 High Street
Clitherow of Boston House
Four Croxford Brothers
Sources & More
They Said
Books etc.
Web Links
Next
Site Technology
Author
Home and Search
Not Brentford
Brentford Local Board Members and Councillors
Janet McNamara extracted information about Brentford Local Board members and councillors from a range of sources during 2010/2011, including material held at Chiswick Library and on-line (ancestry.co.uk). Eventually it is hoped to include for each man some biographical details, perhaps a photo, adverts for their business, accounts from the local newspapers of their funerals etc. Material will be added over time.

From a researcher's point of view you are fortunate if your family includes a councillor: there are group photos of councillors (Chiswick Library holds several) and local newspapers will often include an obituary, which may provide details of their family and forebears, and details of their funeral, including lists of mourners. See the A-Z of councillor names which includes links to further material provided by Janet.
A brief history of Brentford local government
In 1874 the Brentford Local Board was formed, creating the first body which governed both Old and New Brentford. The Brentford Local Board initially met at the Town Hall, Market Place (postcard view, early 1900s, then in 1888 moved to Clifden House.

In 1894 the Local Board was replaced by Brentford Urban District Council and in 1927 this joined with Chiswick to become the Brentford & Chiswick UDC. In 1932 this body became a Municipal Borough, with a mayor and aldermen: the first (charter) mayor was James Clements.

In 1965 Brentford became part of the London Borough of Hounslow.

The following notes are in date order and comprise various articles located by Janet McNamara, Peter King and Mary Blyth which provide some insights into Victorian and later local government and the men that served.

Top
Local Board Members / Councillors 1874
Peter King has provided a list of attendees at the first meeting of the Brentford Local Board in 1874:
HS Barnes
William Barnes
Henry Besley
John Carpenter
George Clarke
Charles Cross
John Figg
William Gomm
George H Jupp
Thomas Layton: Thomas Layton website
John Meyers
James Montgomrey
Top
Committees in 1882
After the Election in 1882 the following people were committee members:

FINANCE COMMITTEE
Honeybone
Clarke
Lewis
Nash
WORKS COMMITTEE
Walker
Gomm
Croxford
Goddard
Braden
Jackson
SANITARY COMMITTEE
Honeybone
Goddard
Bignell
Nash
Lewis
FIRE BRIGADE
Gomm
Walker
Lewis
Bignall
STREETS NAMING AND NUMBERING COMMITTEE
Honeybone
Goddard
Nash
Braden
Details of the 1881 census are reported on Feb 7th 1882 (page 19).
Top
1883 Local Board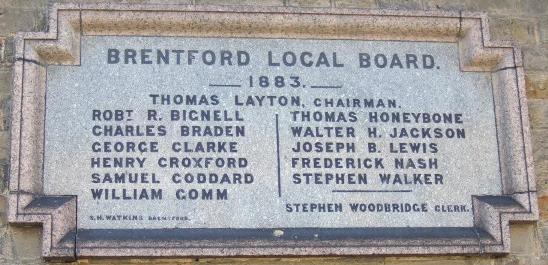 In 1883 the following names went on the Sewage Pumping Station plaque:
Robert R Bignell
Charles Braden
George Clarke
Henry Croxford
Samuel Goddard
William Gomm
Thomas Honeybone
Walter H Jackson
Thomas Layton (chairman)
Joseph B Lewis
Frederick Nash
Stephen Walker
and Stephen Woodbridge was the Clerk
1884 Local Board
On 5 April 1884 the following nominations for Local Board were reported in the local newspaper:
Charles Braden, miller, Holly House, Boston Road (nom. by Mr Gomm (the late), Mr Bradbury & Mr Nash)
George Charles Collier, spirit merchant, 194 High Street (Mr J O Neville)
Joseph Bridges Lewis, draper, 129 & 130 High Street (Mr Gomm, Mr Bradbury & Mr Nash)
W Merriman, soap-maker, Beaufort House, Butts (Mr Montague Ballard, Mr G H Jupp and Mr G Smith)
James Stevens, gentleman, Pembroke Cottage Enfield Road (Mr W G Brown, Mr H Smith and Mr Reeves)
Stephen Walker, timber merchant, Park Lodge, Boston Road (Mr Gomm, Mr Bradbury & Mr Nash)
Simon Hirst Watkins, merchant, Brentford End, Isleworth (Mr J T G Morris, Mr W H Jackson & Mr B Gregory)
Henry Willey WIlliams, gentleman, Park House, Boston Road (Mr J F Adcock) A note followed that 'Mr Williams ... withdraws from the contest'
Top
1886 Brentford District Council
In 1896 the Members, Clerk, Surveyor, and Medical Officer of the Brentford District Council were:
George Band
Dr Henry Bott (Medical Officer)
Mr Chovil
James Clements
George Charles Collier
Charles J Cross
John J Dorey
W J Gomm
Walter H Jackson
Thomas Layton
Nowell Parr (Surveyor)
Henry Taylor
Joseph Thomas Taylor
Edwin Underwood
Stephen Woodbridge (Clerk) .
Attendances of Members between 18th April 1893 and 20th November 1894
Today we scrutinise local papers or council websites for details of councillor attendances and their expenses; in 1894 expenses were not published (could councillors claim expenses?) but meeting attendances were.

The table below lists the 12 councillors in descending order of attendance at board meetings during a 7 month period: each month a councillor was expected to attend around six board meetings and, depending on the committees they served on, anything up to a further nine committee meetings.

Of the five committees four are as in 1882; the Streets Naming and Numbering Committee of 1882 had presumably done its job (the High Street was numbered in 1876) and the Market Committee was the 'special project' of the day: the new Market Hall opened in 1893 (the site has some photos of the hall, use Search on the home page to find images). The number of meetings called, 21, seems low as three of the councillors attended more meetings than this.
| | | | | | | |
| --- | --- | --- | --- | --- | --- | --- |
| Name | Board Meetings | Finance Committee | Works Committee | Market Committee | Sanitary Committee | Fire Brigade Committee |
| &nbsp | (possible attendances: 42) | poss attends: 35) | (poss attends: 52) | (meetings called: 21) | (meetings called: 47) | (meetings called: 20) |
| Layton, Thomas | 42 | &nbsp | 2 | &nbsp | &nbsp | &nbsp |
| Jackson | 41 | &nbsp | 33 | 43 | &nbsp | 16 |
| Underwood, E | 38 | &nbsp | 48 | &nbsp | &nbsp | &nbsp |
| Chovil, WG | 39 | 33 | &nbsp | &nbsp | 28 | 9 |
| Collier, Geo | 37 | &nbsp | 46 | &nbsp | &nbsp | 16 |
| Taylor, Heny | 37 | 30 | &nbsp | &nbsp | 27 | &nbsp |
| Taylor, JT | 36 | &nbsp | &nbsp | 47 | &nbsp | &nbsp |
| Dorey, JJ | 35 | &nbsp | 24 | &nbsp | &nbsp | &nbsp |
| Cross, CJ | 33 | &nbsp | &nbsp | 31 | 32 | &nbsp |
| Band, Geo | 31 | 27 | &nbsp | &nbsp | &nbsp | 14 |
| Addey, RE | 16 | &nbsp | &nbsp | 17 | 3 | &nbsp |
| Gomm (commenced 19th June 1894) | 11 | 8 | &nbsp | &nbsp | &nbsp | &nbsp |
1899-1905 Brentford Elections
See Brentford and Chiswick Local History Society's website charting George Haley's candidacy: first bearer of the Labour banner. All candidates are listed, including their occupation and votes gained.

This article by John Grigg was originally published in the Brentford & Chiswick Local History Journal 4 (1985).

Photo taken at the opening of Brentford Library, 1904 showing the Library Committee and other dignitaries.
1908 Brentford Councillors
The report of the 1908 funeral of W J Gomm in a local newspaper included a list of District Councillors and officials:
Councillors

W Bradley
James Clements
John Dorey (vice chairman)
G Lamb
J B Milburn
H Newens
W J Noy
Evan Phillips JP (chairman)
C E Saunders
J T Taylor JP CC
Dr W H Walter

Officials

Harry Coleman (sanitary inspector)
J W Croxford (surveyor)
James Prince (rate collector)
Stephen Woodbridge (clerk)
Brentford UDC Members and Officials 1927
Diane Lockie and Janet McNamara sent a 1927 newscutting showing the 18 members and officials of the last Brentford UDC, which was succeeded by the Brentford and Chiswick UDC:
WJ Bolton
James Clements JP, Vice-Chairman
Harry Coleman, Sanitary Inspector
Charles Henry Curtis
Harry F Davis
E Digby, Market Superintendent
W Flewitt
T Grant
JB Hart
William Henry Mills JP, CC , Chairman
AE Moore
RC Neil, Ministry of Health
Henry J Newens
Frederick Francis Poole
Thomas William Stockley
C Turner, Clerk
Fred A Turner, Librarian
WJW Westlake, Surveyor
A-Z of councillors and officials
This is not (yet) a complete list.

Published March 2011; updated July 2016