George Taylor 1846 - 1914
The sources used to find out about George are recorded at the end. When I started researching I knew George was a baker in Brentford but had no photos of him, I did not know how many children he had, or about his two marriages, or whom his parents were.
Early Days
George was born in Old Brentford, 6th child and 4th son of John Donville Taylor, baker, and Maria Sarah (Parsons). He was possibly named after his uncle, George Taylor, a tailor who remained in the family parish of Kew just across the river from Brentford. Or he may have been named after his uncle George Henry Parsons, his mother's youngest brother, who lived in Ealing, also within walking distance.

George's parents lived at what was to become number 249, High Street. This was still standing when the 1909/10 Valuation took place: it was described then as a very old brick built terrace house & shop of three storeys, with a small attic on the top floor, 2 rooms and an attic on the first floor. The ground floor had a shop (butchers in later years), parlour and washhouse. At the rear were two very dilapidated brick built sheds and two corrugated iron sheds. Frontage to the High Street was 12' 6".

In 1850 John & Lydia, elder brother and sister to George died, aged just 9 and 7. They were buried in the grounds of the Strict Baptist Chapel in Brentford.

Top
Schooling
In the 1851 census George is recorded as being a 'scholar' at the age of 4. It is likely that he attended the Brentford British School as his elder brother Joseph did. British School Alley, the entrance to the school from the High Street, lay between numbers 253 & 254, just a few doors away.

When George was about 9 in 1856 his father John Donville Taylor died, aged just 42. By this date George had also seen his younger brother Alfred die, aged 6, and the youngest member of the family, James, die as a baby in the same year as his father. All were buried in the Strict Baptist Chapel grounds.

By 1861 the family had moved 12 doors west along the High Street to no. 237, where the family remained until the WWI. John Donville's early death may have prompted the family move, or perhaps they moved before 1856 when the family was still growing? Their 'new' house was , like their previous home, an old property but it was larger, with two attics on the top floor, 3 rooms on the second floor and a shop, parlour, kitchen on the ground floor. There was a bakehouse at the rear (the property had been used by bakers/confectioners since the 1830s or earlier) and the frontage to the High Street was 14'.

George remained at the school until he was at least 14 (the 1861 census records him as a scholar).

Top
Work and Marriage
After their father died initially George's eldest brother Henry assisted their mother in running the bakery business. In 1868 Henry married Emma Sarah Grew and it seems likely that George, by this time over 20, took over running of the bakery. Henry remained in Brentford and initially worked as a brewer's clerk.

In 1872 George's widowed mother Maria Sarah remarried: to William Grew, the father of Emma Sarah Grew (ie her son in law's father). It seems likely she moved into her new husband's home, leaving George responsible for the business.

Two years later George, aged 28, married Ellen Foord at St Pauls Old Brentford, by Banns. Ellen was a Brentford girl, her parents were born in Kent but settled in Brentford around 1840. The marriage was witnessed by Joseph Thomas Taylor, George's elder brother & William and Sarah Foord, his wife's brother and sister. Two daughters were born in following years: Ethel Kate in 1876 and Ellen in 1877.

Tragically George's wife Ellen died in 1877. Apparently the family had gone to church leaving Ellen with baby Ellen; upon returning the family found she had died.

Top
George's second marriage
It seems likely that Ellen's sister Sarah Foord helped George look after her two young nieces when Ellen died. (Read more about the Foord family)
The upshot was that George married Sarah Foord on December 4 1877 at the church of St Dunstan in the West, London, by licence; he described himself as a bachelor (it was illegal to marry your deceased wife's sister at the time) and the marriage was witnessed by Annie & George Martin. In the 1881 census a George Martin is listed as the 55 year old parish clerk for St Dunstan in the West. He was widowed by 1881 but had a daughter Annie aged 26 who most probably was the second witness.
George & Sarah had two daughters then two sons from their marriage. My grandmother, Florence Maria Taylor, was the first born from this second marriage in October 1879 and it seems likely that George was spurred into preparing his will dated April 1879 when he learned Sarah was expecting. George lived 35 years after writing his will. Stephen Woodbridge, solicitor of Brentford, & Paul Mecklenburg, jeweller of Hounslow, witnessed the will.
Top
Stephen Woodbridge was a solicitor and member of Brentford UDC in 1909/10, at the same time as J.T.Taylor, George's brother. In 1881, shortly after he witnessed the will, Stephen Woodbridge lived at Inverness Lodge, Boston Road, Ealing with his wife Annie, three grown up children and a cook, housemaid and under housemaid.
The other witness, Paul Mecklenburg, watchmaker and jeweller, lived at 136 High Street Heston in the 1881 census. He was born in Germany at Schwerin and was a naturalised British Subject. By 1891 he had moved to Heston and was a brickmaker employing others; he had a wife (Emma Mary nee Brown) and family.
Top
George's children
George and Sarah remained at 237 High Street. Censuses and trade directories show he worked as a baker until his death.

His 6 children were:
Ethel Kate (1876) married Edwin Ernest Bloomer in 1898 and they initially settled in France; Edwin Ernest worked for Brentford man Edwin Underwood's hay & straw business at Soissons; they had three children and returned to England around WWI
Ellen (1877), known as Nell, never married and remained in Brentford and Kew all her life until she died in the 1950s.
Florence Maria (1879) married Henry Adolphus Dunn, a Brentford man and lived in Brentford initally, later Eastcote. She had two sons.
Hilda Sarah (1882) did not marry, but brought up her brother Egbert Oliver's first daughter Dorrie; she moved to Isleworth and lived there with her widowed mother Sarah Taylor; Hilda died in 1951
John Donville (1885) known as Jack: remained at home until his father died but later moved to Brighton where he ran a pub, the Black Horse; he married and had two sons
Egbert Oliver (1886): started out as a market gardener but married and emigrated to the USA in 1907, settling in Canada where he had one surviving daughter by his first wife, then four daughters by his second wife; he was in the Royal North West Mounted Police until he retired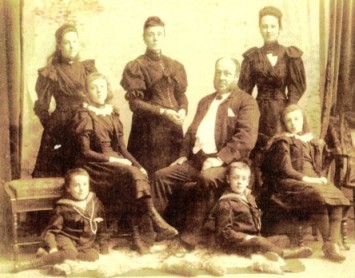 The photo, which dates from around 1890 - 1892, shows George Taylor, wife Sarah (nee Foord) and children (oldest downwards): Ethel Kate, Ellen, Florence Maria, Hilda Sarah, John Donville & Egbert Oliver.
Top
At the time of the 1909/10 Valuation, the owner of 237 High Street was Claude E Lowe, a teacher of music and composer, who lived in Paddington. His wife Constance Marian was born in Ealing, daughter of Gustave L A Küster, professor of music, born Switzerland. Constance Marian's mother Amelia nee Andrews was born in Brentford.
Death & funeral
On 1914, 30 January George died. In the Middlesex Independent newspaper there is an article headed 'Death of Mr. George Taylor'.He had been in ill-health for some time past, but only for the last ten days had he been confined to his room. He passed away between eleven and twelve yesterday (Friday) morning. He was 67 years of age.

The late Mr. Taylor succeeded to the business following his father and had been there continuously ever since. He was the second of three well known brothers – Mr. J.T. Taylor, J.P., and Mr. Chas. Taylor being the other two. He was twice married and leaves a widow and a grown up family of six children.

On February 4th there is a brief account in the same newspaper describing his funeral arrangements, which were due to take place on February 5th. The service was to be held at the Wesleyan Church and the interment in the Old Brentford Cemetery at 3.30 p.m.

Top
George's will
George left all of his estate to his wife Sarah, to be divided amongst all his children upon her decease. He left five guineas to Mr William Foord, his brother in law, one of his executors as some acknowledgement of the trouble he will have in executing the trusts of this my will.
George also mentions his wife carrying on the business of a baker, and I declare that every female taking an interest under this my will shall be entitled thereto for her sole and separate use independent of any husband.
His wife Sarah was the other executor. After his death she moved to Isleworth and remained there until her death in 1935.
Top
Sources
My mother remembered a few snippets related to her by her mother-in-law, George's daughter, so I had George's name and my grandmother's date of birth to start with.

Birth and marriage certificates for George and his daughter, my grandmother, gave addresses and proved the links essentual for drawing a family tree.

Census returns for 1841 - 1901 confirmed addresses from 1881 onwards and gave an idea of how well the business was doing (the number of apprentices, existence of servants). By checking neighbours in earlier censuses it was possible to conclude the family originally lived at no. 249. The searchable censuses at ancestry.co.uk helped find out about the witnesses to George's will, his second (illegal) marriage and the owners of 237 High Street.

Valuation Records described the properties where the family lived.

Top

FreeBMD and ancestry.co.uk helped locate the approximate date of marriages of people connected to the family, their deaths and also confirmed the birth registration name of George's relatives.

Trade directories (at Chiswick Library) confirmed the family remained at 237 into the C19 and gave a clue as to when George died and his widow moved back to Kew.

George had a brother Joseph Thomas Taylor, who was a well-known figure in Brentford through his good deeds, involvement in local politics and business interests. Details of Joseph's early life were given in newspaper accounts and provided information about George & Joseph's father and the boys schooling. Janet McNamara provided a number of copies from local newpapers held at Chiswick Library, including the account of George's death and a write-up of his funeral.

Top

I found a second cousin, Geoff, descended from George's youngest son through a third party who realised we were related and through Geoff found three other second cousins, Wendy, Elizabeth and Sue. Wendy & Elizabeth are descended through George's eldest daughter Ethel Kate Bloomer (nee Taylor) and Sue through George's youngest son, Egbert Oliver Taylor's second marriage. One second cousin provided the photo on this page - my first sighting of George!

My second cousins, being a little older than me, could also tell me more about George's widow, Sarah and one remembered the shop on the High Street before it was demolished in the 1960s.

Finally, I met Janet McNamara though working on this project and it was Janet who put me in touch with a third cousin, another Sue, who happened to be researching the Taylor family at Chiswick Library: Sue is descended through George's younger brother Charles Taylor.

To conclude: I started my family research with very little information and had no cousins with whom I was in contact, but ended up with quite a detailed biography of my great grandfather and several cousins! I do hope you have similar luck if you embark on researching your family.

Top

Published March 2007