Home -> Property Intro -> Section 13 -> Next Section | Previous Section
Numbers 152 - 158 High Street, New Brentford
This section of the High Street runs from The Ham to the western boundary of New Brentford where Brentford Bridge crosses the River Brent.
The tithe map shows seven properties in this stretch, the central one (no. 155) having a wider frontage than its three neighbours on either side. The 1894 OS Map shows the same properties, although out-buildings have altered in the meantime.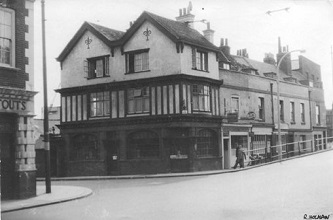 Photo provided by

James Marshall

, 1950s,
shows the Ham to the left and numbers 152 to 158
The area was affected by the flood in 1841 (X). A couple of houses were uninhabited at the time of the 1841 census, possibly still damaged after the floods earlier in the year. About 70 years later, the 1909/10 Valuation Records refer to several properties in this stretch having problems with flooded basements.
Canal Court (offices) was built on the site of numbers 152/8 in the late 1980s. See Photos/Ephemera/Maps for a link to a modern photo.
Properties
Notes prepared for numbers 152, 153, 154, 155, 156 , 157 and 158; also a list of photos, ephemera and maps
Number 152
This property on the western corner of The Ham was a butchers up to 1861, then a beerhouse from 1871. Next door, (what was to become no. 153) was a butchers from 1871. Was this one and the same property? Circumstantial evidence (maps, census entries) suggests not.
A butchers run by Martin Plim in 1839, 1841, 1851 & 1861; a beerhouse (The Magnet) in 1871 and censuses / trade directories up to and including 1940. This property was affected by the Brentford Flood in 1841 and Martin Plim received £2 from the collection for flood victims (X).
Martin Plim was born in Harmondsworth, son of another Martin Plim. Martin junior also had a son called Martin, born Hammersmith around 1817/9, who had taken over the butchers business by 1861.
The 1909/10 Valuation Records name the owners as The Royal Brewery Brentford Ltd and occupier as George Neal.The frontage to the High Street was 15' 9". The 1911 census shows George Neal was 56 years old, born in Warwick, and married for 36 years. His wife, two (of the five surviving) grown up children and a niece, Phoebe Barrett, completed the household.
By 1920 Frederick Arthur Field ran The Magnet, in 1933 Robert Smith and in 1940 Alfred John Jennings.
Number 153
See notes above regarding 152/153. No. 153 was occupied by George Gray, tinman, his wife Mary and daughter Elizabeth in 1841. In 1851 George & his wife remained here, aged 69 & 71: George was a master tinman, born in New Brentford, his wife was born in Harmondsworth Middlesex.
By 1861 a young couple, James Nash and his wife Amelia (nee Amelia Susannah Simmons) lived here: they had married locally in 1859, James was a rag & metal dealer. They had moved on by 1871; Frederick Nash, also a rag and metal merchant, was at no., 329 in 1871 and later, possibly a relative?
Frederick Holton, a widowed butcher, moved here between 1861 & 1871 (in 1861 he lived at 96 High Street); he was born in Brackley, Northants, his daughter Rebecca was born in Brentford in 1855. He remained here in 1881. By 1890 his son Thomas Holton had taken over the business.
Kate Tou(be?)any, a 21 year old butchers bookkeeper born Islington, lived at no. 153 in 1891, suggesting this was still a butchers and the owner of the business lived elsewhere. (Thomas Holton was living in Hammersmith in 1891).
In 1901 Charles Mortlock, wife Minnie and three children lived here with a servant, all Brentford born. In 1907 George Collins, butcher traded from this address.
In the 1909/10 Valuation records the occupier of no. 153 was A Peppiatt. Notes explain that the property had been sold in 1905 for £510 and subsequently £200 had been spent on it. It was let for 5 years from 1908 (rent of £40 for first 3 years, then £50 for the last 2 years) but the occupier left a few months later and the property was re-let at a yearly rental of £25.
It was described as the same as no. 154, ie a 2 storey shop plus attics, stock brick built and tiled, wood & glazed shop front. Two attics on the top floor, 2 rooms on first; shop, parlour, scullery on ground. No. 153 had a bath in one of the first floor rooms, but no water service to it, and had 2 storey stables at the rear with a gateway on to The Ham (the stables were sub-let).
In 1911 locally born Samuel George Dobson lived in this seven-roomed property with his wife and small daughter. He was a 'shop keeper general' and worked from his home, as did his wife.
Trade directories show later occupiers of no. 153. There is no reference to number 153 & 154 in a 1911 directory; William Frederick Tillman, grocer, 1913; Thomas Oakley (no occupation recorded) 1920/1; Thomas Oakley, greengrocer 1933; F H Richardson, snack bar, 1940. The 1952 electoral register records Edward and Florence Webb at this address and Andy Webb remembers Webb's Cafe in the mid-1950s - mid-1960s.
Number 154
Another beerhouse, until the early twentieth century, The Lord Nelson, listed in each census from 1841 - 1901. In 1891 Thomas Griffiths, beer house keeper, his wife Eliza, two sons and four daughters lived here, with three lodgers. The parents and four older children (aged 10 to 19) were all born in Staffordshire and the two youngest daughters, aged 3 and 6, were born in Brentford suggesting the family moved to the area between 1881 and 1885.
In 1907 Emanuel Smith was the beer retailer here. When the 1909/10 Valuation Records were compiled, no. 154 was a 'small two-storey shop and attics, stock brick built and tiled' owned by F A Field of London Road, Newbury. It was in 'fair repair'.
The 1911 census shows Joseph Field, a 28 year old butcher born in Isleworth, at this address, presumably a relative of the owner. A one-week old son 'no christian name yet', wife Louisa and daughter Ada made up the household.
Trade directories show no. 154 was later a cycle shop run by G Gleyze (1920 - 1940) - in 1928 the proprietor was Miss G Gleyze. In 1951 numbers 154 and 155 were the premises of Cees Limited - see notes for 155.
Number 155
Long standing builders/decorators: Henry John Robinson, plumber, glazier & painter is listed in the 1845 directory and in 1851 he lived here, employing 4 men and 2 boys. He employed 5 men in 1861, by which time he was 61. In 1871 Mrs Caroline Robinson was running the business, employing 17 men. Henry John (presumably the son) employed 17 men & 1 boy in 1881. The business continued in his name in 1891, 1901, 1913, 1920 (when it was 'plumber & builder & decorator'), 1928 ('decorator'), 1933 ('builder, decorator & contractor' proprietor H Allen) but had closed by 1940.
Mrs Mary Elizabeth Robinson lived here at the time of the 1909/10 Valuations when the house was described as a double-fronted 'house and workshops' with 'basement cellars ... often flooded'. The property had a frontage of 29', about double the size of adjacent properties. It had a stone-flagged yard and the plan shows a conservatory or glasshouse in the rear yard, with a workshop occupying the end of the yard. 'The workshop before mentioned is built over the passage way at the rear of no. 156 leading to the Ham. Easement say £10'.
The 1911 census shows Mary Elizabeth Robinson was a widow, aged 64 born Chiswick and an employer (her occupation was 'house decorator'). She had a live-in servant, Annie Collins, and a visitor: Emma Addison.
In 1940 no. 155 was occupied by Mrs Collis. In 1951 Cees Limited, shop and office fitters placed an advert in the Brentford Football Club programme: 154 and 155 High Street was their registered office and works.
A nearby wall-painted advertisement sign for H J Robinson survived until at least 1981.
Number 156
The Jolly Boatman beerhouse near Brentford Bridge - it is obvious how it got its name - was run by George Bevis in 1851 and John Lloyd in 1861. Vic Rosewarne has researched the history of this beerhouse.
In 1871, following the revoking of its licence, no. 156 was a coffee house run by Joseph Curtis. 12 people lived here: Joseph Curtis and his wife (both from Berkshire) and their niece Elizabeth Ebro plus 5 male boarders from as far afield as Scotland and Dorset (including the distinctively named Robert Rollo & George Pepper). Amos Ferrett, his wife and two young sons, who had recently moved to Brentford, also shared the property.
In 1881 the coffeehouse business continued, run by Harold Stoneleigh and his wife Emma. Harold's descendant Dave Stoneleigh: 'His marriage certificate for his marriage to Emma Cox in 1878 indicates that he was a widower (Emma was a widow) and he was working as a Tailor's Foreman. He presumably gave that up to run the coffee house at No.156. Frankly I know nothing about the role of a coffee house in that age, except that there seem to have been quite a number of boarders listed in the 1881 census, varying in trade from Blacksmith to Tailor, Garden Labourer to Servant.'
The Middlesex Chronicle of 19 January 1889, provides some information about no. 156 under the uncompromising heading A BAD WOMAN.
In a nutshell, Caroline Hayes, 53, charwoman, was charged with being drunk and disorderly, and of wilfully breaking a pane of glass valued at 2s, at a common lodging house, 156, High Street, Brentford, the property of Harold Slomsley.
'Slomsley' was what the reporter heard, but this must be Harold Stoneleigh.
In 1891 the household at no. 156 was
Emma Stoneleigh, head, wife, 52, licensed lodging house keeper, bn Hounslow
Ann Cox, dau, 14, scholar, bn Hounslow
Harrold Stoneleigh, son, 10, scholar, bn Brentford
12 lodgers, all male, all single, aged 20 - 71, including a sheep drover, 2 hawkers and a cooper, all born London or Middlesex
There were twelve boarders living here in 1901, all single males, eight of them being manual labourers (one with one leg); also two shoe blacks. Dave Stoneleigh: 'By 1901, Harold junior's step brother and sister had become a house painters labourer and barmaid respectively so I assume the coffee house had closed and it was just a boarding house presided over by Emma.' He adds 'Harold junior (by now a bank clerk) was still living at No.156 with his mother Emma at the time of the 1901 census and he got married four years later. Emma Stoneleigh died in 1913 by which time Harold junior had had two children, a boy and a girl. The former being my father!'
The 1909/10 Valuation Records describe the property as a 'Small square & plain fronted house. Front entirely stuccoed. Two storeys with attics & basement cellars (often flooded)'. The property had 2 attics on the top floor, 2 rooms on the first floor and 2 rooms on the ground floor. There were wood steps to the yard, a cement path and corrugated WC. A workshop of no. 155 was built over the rear passage way for which an easement of £10 was paid. The frontage to the High Street was 14'. The owner was Mrs Mary Elizabeth Robinson, who owned and lived in no. 155, the occupier of no. 156 was S Johnson.
Samuel Johnson, horse dealer, lived here in 1911 with his wife and seven children aged 10 to 32; an additional two children were recorded but presumably lived elsewhere as their names were crossed out.
John Harris is recorded at this address in trade directories from 1920-21, 1933 and 1940; Emma E Harris and Stephen & Margaret Howes in the 1952 electoral register.
Number 157
The property next-but-one to Brentford Bridge. Photos taken in the 1970s show it is a twin to no. 158. For some reason numbers 157 and 158 were not included in the 1909/10 Valuation, so there is no description of the properties. The photos show a three storey brick-built building, with three distinctive 'Norman' arches, a central one over a pair of front doors and one surrounding a window on each side of the front doors. The ground floor was painted white or stuccoed.
In 1911 Frederick William Conway, assistant toll collector on canal, headed the household. His wife Esther Rhoda and five children live at this address, having moved from Ealing to Brentford in the last few years. Frederick William Conway was recorded at no. 157 in 1913 and 1920, then Joseph Edward Dixon in 1933. There is no reference to no. 157 in a 1940 directory, but the building was standing in 1975.
Fay Twydell used to live in no. 157 and provided the following information:
The house and 158 were Grade II listed buildings that were owned at one time by the Duke of Northumberland. I found out this fact from the Lloyd George Survey which is available at KEW Records Office. When I went to research number 157 I found that it was not included in the Survey because it belonged at that time to the Duke of Northumberland who lived at Syon House so was therefore exempt.
When I lived there it was owned by the British Waterways Company and our family rented it from them, with rents being paid to the rent collector Mr. Brown who was the keeper of the locks at Brentford. The house frequently suffered from flooding in the basement when the canal rose over its banks.
At street level and above there were two rooms per floor. At street level there was a long entrance hall on the right as you entered and two rooms, both with fireplaces, one behind the other on the left. At the far end of the hall there was a staircase leading up to the 1st floor where there were also two rooms and a small landing with stairs leading further up to the bedrooms, of which there were two, one large one at the front and a smaller one at the rear, also there was a small landing.
In the hall there was also at the far end, under the stairs going up, a doorway that led to the basement where there was a cellar where they used to put the coal and it had a flat double door in the ceiling which opened up onto the front of the house but lying flat in the ground. (If this is not clear then I will try to explain it differently).
The basement also had an extension on which formed part of the back yard. No gardens here front or back! In the extension was a butler style sink, then in what could have been a small further extension was a further sink and cupboards.
Out in the yard and on the back of the 2nd small extension was the toilet. Note: no bathroom or indoor loo. To reach the yard at the back you had to go down from the hall (at street level) on a spiral staircase, which was snapped up when the house was demolished. In each of the rooms on every floor, except the coal room, there was a dumb waiter which could be accessed from all rooms above the main kitchen in the basement. The kitchen had a large black range for cooking, which my gran used to swear by saying it was the best she had ever used.
Number 158
The last house before Brentford Bridge, so not surprisingly occupied by lightermen: William Bourne, lighterman is listed in 1839 and 1841; there is a PCC will for William Bourne in 1842; Frances Bourne is listed as a 'bargeman' in 1851 (employing 8 men); she also left a PCC will in 1856.
Joseph Dale was recorded here in censuses from 1861 to 1881 (in 1871 he employed 18 men, in 1881 15 men and 8 boys), then Mrs Eliza Dale 1891. The bargemen of Brentford, David Blomfield, Brentford & Chiswick Local History Society Journal 2007, has more about the Dale family.
The Middlesex County Times, 20 June 1896, advertised the sale by auction of number 158, describing is as a well-built, freehold residence, with six rooms, kitchen, scullery, larder and cellar; yard in rear with back entrance; estimated to produce £30 per annum.
A death notice was placed in the Uxbridge & W. Drayton Gazette, 04 September 1897, with useful information about the deceased:
AUgust 21st, at 158 high Street, New Brentford, Eliza, widow of Joseph Dale, in her 80th year, only daughter of the late Obed Oldfield, of Hunton Bridge, Herts.
Another item from the Uxbridge & W. Drayton Gazette, 2 Jul 1904, is headed A LAME MARE and continues
Thomas Griffiths, 158, High Street, Brentford, was charged with cruelty to a horse on June 12th. The evidence was to the effect that the mare, which was attached to a canal boat, was very lame. Th animal was white with sweat and the 46 ton load seemed too much for it. Defendant said the horse was all right when it left Brentford. Fined £1 and costs.
A piece carried in the Middlesex and Surrey Express of 11 April 1906 places Frederick William Oakley at this address. He was summoned for driving a horse and van in such a way as to obstruct a tramcar, the property of the London United Tramways, Ltd. Fined £2 and costs.
In 1911 Ernest Edward Hollyer, toll collector for the canal company, occupied no. 158 along with his wife Emily and seven children aged 4 to 21. Ernest Edward was born in Leighton Buzzard, Bedfordshire. The children were born in Brentford with one exception: the middle child was born in Leighton Buzzard. The children had their moneysworth in forenames: Stanley Charles, Frank Ernest, Nora Emily, Norman Edward George, Harold Victor, May Queen, Winona Kathleen.
By 1913 the Grand Junction Canal Co is listed at 158, with Edward Ernest Hollyer as 'collector'. Andy Webb remembers no. 158 was occupied by lightermen in the mid-1950s to mid 1960s.
See notes provided by Fay Twydell for no. 157 for a description of the layout (Patsy Langley confirms no. 158 was a mirror image of 157).
Photos/Ephemera/Maps
Links are included below to some photos, ephemera or maps accessible on this site. There may be additional photos on the site - suggest you check the Properties - photos link in the navigation area to the left.
References such as '1899 (A11)' indicate the date of a photo (1899) and where it is published (A11). Details of 'A' are available: see Mainly paper sources page; '11' refers to the page no, or photo no. in the publication.
Photos
There are several postcards of this area, looking eastwards from Brentford Bridge.
152 - 158
1950s photo (James Marshall); modern office block, 2002 (L)
152 ca 1904 (A72); the Magnet 1950 (Andy Webb)
153 ca 1904 (A72); Webb's cafe around 1951 (Andy Webb)
154 ca 1904 (A72) and (K115)
155 ca 1904 (A72) and (K115); ca 1908 (C1)
156 ca 1904 (A72) and (K115); ca 1908 (C1)
157 ca 1904 (A72) and (K115); ca 1908 (C1); 1972 and 1975
158 ca 1904 (A72) and (K115); ca 1908 (C1); 1972 and 1975
Maps
1838 Tithe map: modern numbers 152 to 158 are tithe property refs 7 to 1
1894 Ordnance Survey Map annotated with house numbers
Roads Off
The Ham between numbers 151 & 152
Published 2006; last updated June 2022