Memories of Andy Webb, 1950s and 1960s
Andy Webb lived at 153 High Street, near Brentford Bridge and the Ham. A 1940 trade directory shows 153 High Street was previously a snack bar run by F H Richardson.
Webbs Cafe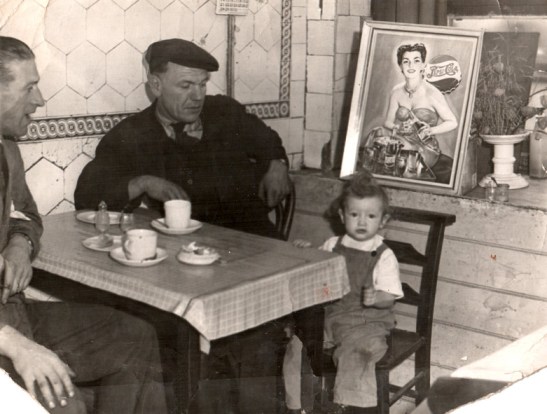 I spent my childhood in my dads cafe Webbs Cafe. This was open from the early 50's to mid 60's when my dad moved away.
The first photo shows little old me aged about 18 months ( so around 1951) inside Webbs Cafe with Jock (in the cap) not sure who the other chap is but it is uncanny that if you look at the photo below you will see two chaps going in that look very much like the two sitting with me inside! Jock used to sit me on his knee whilst having his breakfast. See addition re: Jock.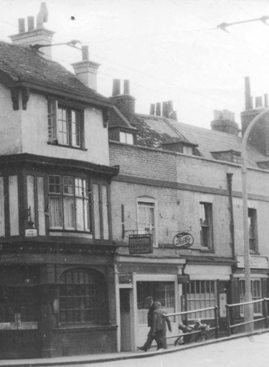 My bedroom was the one in the attic - my brothers had the one at the back. The Pepsi-cola sign reminds me of the enamel sign on the inside (see above) that I was sitting under.
Another little bit of info, a very famous Ventriloquist of the time, Saveen, used to regularly come in to the cafe. He had a character called Daisy May which he was most famous for, he also named dummies after my brothers and I - Micky, Terry and Andy (his Wikipedia entry names a cheeky cockney dummy called Andy).
The 'water gypsies' as we called them used to moor their brightly painted barges at Brentford bridge and would often come into the Cafe with white enamel jugs to buy tea.
There was a film made using our house and cafe in the 1950's mum and dad became the film crew caterers. It had the name steps in the title but it wasn't the famous 39 steps. The Aldermarston ban the bomb marches used to go past the door in the 1960's.
Top
Nearby...
Behind us was the stables for horses that pulled the barges through tunnels and the local rag and bone mans nag. There was a blacksmith there too.
I remember the trains shunting along the railway line axed by Doctor Beeching
A fairground used to come to the Ham behind us every year and I remember digging up clay pipes on the Ham green which had been used for this purpose for centuries. Also in the Ham was a school for the children of the 'water gypsies' with a cottage attached where the School Ma'am lived - Mrs Pascoe.
My sister was married in St Lawrence church which was beautiful and a shame it has been derelict for so long
It is interesting that no 158 housed lightermen (back in the 1800s) as when I lived at 153 it still did. The Wheelers lived there and the father (and I think grandfather) worked on the canal. (Patsy Langley advised in May 2012 that the Wheelers lived at no. 157, next door to 158 where she lived)
If it helps with your project I can remember that directly opposite us was a Fish and Chip shop, a barbers shop (Jeffs) and a gentlemans outfitters. (1940 directory: Wilfrid Arthur Wooley, fried fish shop, 167 High Street; W H Stephenson, hairdresser, 160 High St; Penningtons, tailors, 161-3 High St).
I was once brought home by the local bobby having been caught scrumping apples from the Duke of Northumberlands orchard in Syon Park!
Andy adds 'I am, of course, a lifelong Brentford FC supporter and proud that we were promoted to Div 1 even if I now live near Brighton.'
Andy also sent a photo of his parents Ted and Floss Webb celebrating outside the Magnet (next door to Webb's cafe), around 1950.
Jock
Christine Howes, formerly of 156 High Street added in May 2013: 'The gentleman in the photo is

Jock Little

and he was my father's best friend. He worked at Emanuel Wharf, Ham Green.'

Page published August 2009, last updated May 2013