Memories from the life of Frederick Arthur Tickner
The following details have been forwarded by Dee Tickner, daughter of Frederick Arthur Tickner Jnr. More details of the Tickner family, including some super photos of the people mentioned below, are available at the Family Forest web site.
Tickner Homes
The Tickner family lived at the Ferry Hotel, Brentford (formerly The Bunch of Grapes) until a couple of years after WWI. Mr. Sears, the ferryman, was killed in action in France. We still have a few distinctive glasses engraved with bunches of grapes from the pub, and also a beautiful sideboard hand made by Frederick Tickner senior's father, Henry Tickner, who was a carpenter, out of pieces of the original old mahogony bar.
Frederick Arthur Tickner Jnr. was born in the building next to the Bull Inn, No. 345 Brentford High Street, Middlesex on the 29th March 1915, the son of Frederick Arthur Tickner Snr., and Fanny Moss.
The family later lived at 79 High Street, Brentford, on the corner of Dock Road facing towards St. Paul's Road, until 1929 when they moved to 26 Crossways, Heston.
Top
Frederick Tickner Snr. (born 1878)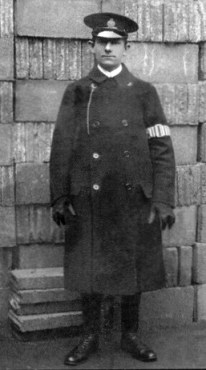 Frederick Tickner Snr., was among other things a boat builder, builders foreman and works manager. He was something of an inventor too and patented an "Improved means for adjusting or tensioning and securing spring mattresses on their supporting frames".
The Patent dated 13th August 1915 and numbered 11740 of 1915 was granted to Frederick Arthur Tickner and George Knowling, Engineers both of Goat Wharf, Brentford, Middlesex. He later sold the patent to a mattress firm but we still have all the copy specifications and documents. It did not make him a fortune!
In the photo he is standing in front of the bricks at Goat Wharf. Research shows the cap badge is probably that of the Metropolitan Special Constabulary and this suggests he volunteered to be a Special Constable during WW1. Special Constables had no uniform provided but were issued with armlets, whistles and truncheons, and later on badges.
In the 1920s he was works manager for Clements, Knowling & Co. Ltd., of Goat Wharf, Brentford, who made structures built of "Clinkerment." The firm also traded as Brentford Concrete Construction Co., whose offices were at 79, High Street, Brentford, where the Tickner family lived. The Works were at Walnut Tree Road.
Memories of Frederick Tickner Snr. & Jnr.
Some memories that Frederick Tickner Jnr., wrote down were that a Zeppelin followed the river up to Brentford and bombed the town, the damage being most severe in Green Dragon Lane and Walnut Tree Road. In addition, he wrote that the Vestry Hall Brentford was used as a County Court until the new building in Alexandra Road was built. He , himself worked in the Council Offices and Brentford Library, which building was used as a temporary court house during 1930 to 1933 pending rebuilding of the old court in The Market Place.
His father, Frederick Tickner Snr., remembered when the Thames froze over at Brentford and said that an ox was roasted on the ice!
We definitely remember our father Frederick's story about his grandfather being the Royal Bargeman, and an uncle being an explorer in Africa who got eaten by a lion, and the uncle that was a military band leader, and how you had to play every instrument in the band before becoming band leader. However, we have never been able to substantiate any of these stories.
Top
Biographical notes for Frederick Tickner Jnr.
Frederick Tickner Jnr., attended the Brentford British School with his five brothers and two sisters. He used to tell us about how he and his brothers used to play in the mud at low tide at Brentford, as the house backed on to Goat Wharf. Sadly, his eldest brother Horace died in 1929 of the great flu epidemic.
Frederick's elder brother, Robert (Bob) Tickner worked as a clerk in the offices of H.F.Davis , Builders of Brentford. In 1969, he wrote to his sister Vera that 1969 had been a very bad year for him:
"The firm of H.F. Davis Ltd., has been going down hill these last few years, mainly due to our class of work being cut out by government restrictions, additional taxation and labour problems. Our turnover has been going down and overheads rising, and we have made losses on the last 3 years trading. To save closing down the business I had to agree to an early retirement on part salary to help reduce overheads." He became ill, and never recovered from this shock, after being employed in the firm since a young man.
Top
Frederick was a Sergeant Major in the Royal Engineers Bomb Disposal Section in WW2. After the war, he joined the Judge Advocate General's office. He was working with the Nazi war trials and used to tell us about the gruesome evidence he had in his office.
During WW2 Frederick lodged with a Miss Dobbie 156 Ferry Road, Leith, Edinburgh, and in one letter home, he says he wanted to go to the 'Jap' war (Japanese Campaign) to get more money. In May 1945 Frederick says that Field Marshall Montgomery had sent a letter of thanks to his dept., saying they had been "a tower of strength" to him, and thanking all J.A.G. staff.
Before the war, Frederick was Clerk of Court at Ealing Police Court, which is where he met his wife, Joan Ferris.
Joan Ferris - wife of Frederick Tickner Jnr.
Joan's first job was as secretary to the original old Mr.Selfridge in Selfridges, Oxford Street - it must have been like the TV sitcom 'Are you being served?' - "You're all doing very well" and "Are you free?"

In addition, Joan made history as the first woman to take notes by typewriter in the Court (Ealing County Court). One summer day when it was very hot - the court adjourned to discuss whether Joan could take off her black hat and black coat - they really did not know how to cope with the situation as women had never been working in the court before - but this was during the war when all the men were off fighting - but the law had to go on!!

Top
Tickner/Ferris Marriage
5th October 1940
Marriage of Police Court Girl Clerk
Miss Freda Joan Ferris, daughter of Mr. and Mrs. A.E. Ferris of 28 Egerton Gardens, West Ealing, was married on Saturday at St. Stephen's Church, West Ealing, to Corpl. Frederick Arthur Tickner, R.E., the son of Mr. F. A. Tickner, of 26 The Crossways, Hounslow, and of the late Mrs. Tickner.
The bride is a clerk in the office of the Clerk to the Ealing Magistrates, and is well known for her work in connection with the Juvenile Court. She has taken a prominent part in the social activities at St. Stephen's and has played several leading roles in dramatic productions by the St. Stephen's and St. Luke's Players.
She was educated at the Ealing County School for Girls. The bridegroom, who is now serving with the Royal Engineers was until the beginning of the war an assistant clerk to the Ealing Justices. He is a native of Brentford, and began his career in the office of the Brentford Police Court. A keen member of the Territorial Army for some months before the outbreak of war, he was mobilised in September of last year.
Post WW2
After the war, having been called to the bar in the late '50's - Frederick was made Freeman of City of London in 1973 by the Worshipful Company of Painters and Stainers. He was a brilliant criminal lawyer, and had six offices in the southern counties and in London's Lincoln's Inn. Later, after retiring from practice he became a Crown Prosecutioner in Kent.
Frederick was a keen amateur Radio Ham, having as one of his contacts the late King Hussein of Jordan. He also loved engineering - making model railway engines. He also invented a system for propagating cacti!
Top
Published January 2008; updated December 2010