Patricia Horwood (formerly Smith)'s Memories of 1950s/60s Brentford
Childhood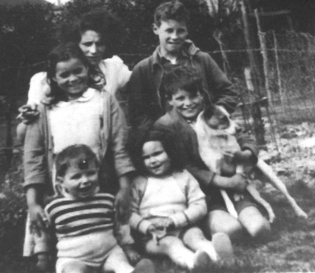 I used to live at 404 High Street Brentford. It was my grandads place and 405 was Harpers Printers. My mum, stepdad and 6 children shared that house with my grandad Henry Smith.

The photo shows (back row) Mum and Tom, (next row) Joan and Roy holding the dog Spot, front row Leslie and me (Patricia), probably taken around 1952.

We lived at 404 until grandad died and the then Brentford & Chiswick council brought the place and we were rehoused at Crowther Ave off Clayponds lane.

I went to St Georges school at Green Dragon Lane and then onto Brentford Secondary Modern school which was previously called Clifton College for Girls and my brothers went to Brentford Secondary school.

I can remember the roads being tar blocks and when they dug them up to make a proper rd we used the blocks for our old lead range.

My stepdad William Percy Smith worked on the River Lighteridge Tugs and later for the then GLC for Brentford & Chiswick Council as a road foreman. One of my brothers Tom worked on the barges that were pulled by horses from the grand union canal up to the Brentford dock, then he joined the army, and another brother Harry Roy (but always know as Roy) used to work at Brentford market loading the lorries and helping out at the market prior to joining the Navy for 22 years. He was also a choir boy at St Georges chapel.

I went to the Missionary chapel at the Butts Brentford and Mr Chapman used to come and collect us in a little van. My mum Ivy Maud Smith used to take in the homework from Harpers Printers and also cleaned at Willments garage across the road. The Young family who lived at 403 had a daughter Margaret and we went to school together, They moved to Somerset.

I also remember the Fruin family from nearer Kew Bridge end who we went to school with. They lost 2 children from falling in the filtering beds behind us, one was Irene and the other a boy but I can't remember his name, it was in the Brentford & Chiswick Times at the time My brother Leslie died as a result of an accident when he was only 16 and that was at Jubilee Avenue that was in the papers April 13th 1964.

Top
Grandad Henry Smith, his sons Henry Edward and William Percy
Henry Smith was a tugboat stoker and he married Louise Alice Smith (Neill) of 7 Vine Cottages Hanwell, she was a servant/nursemaid. They married in 1907 and when my dad was born, Henry Edward Smith 4th June 1908, they were living at 43 Mafeking Ave Brentford. They also had another son William Percy born 1909 died 1986.

Grandad died 3rd July 1961 whilst having an op for a strangulated hernia and on a visit to his daughter Edith and that was at Rochford Southend and Louise died 13th April 1963 also in Rochford Hospital.
Henry Edward Smith the son married my mum Ivy Maud Greatorex, formally Vernon in 1940. Their wedding photo is on the left.
They had Harry Roy known as Roy, Joan Winifred, Patricia Ann, Leslie Raymond and we all lived at 404.
When Henry (son) died in 13th Sep 1957 of cancer mum married the other son William Percy and they had Robin William in 1954, then we moved to Crowther Avenue when the council bought the property and demolished it.
Below is a photo of William Percy Smith when he was a foreman for Brentford & Chiswick council: 4th from the left wearing the open waistcoat and a fag in his hand.
Top
Published October 2011