Brentford Families - Kenton
Julie Jakeway is a descendant and researcher of the Farnham, Kenton and Fricker families, who lived in Brentford in the 19th and 20th centuries.
Charles Bloomfield is descended from a granddaughter of Edward Kenton: Caroline Kenton (1841 - 1897).
Kevin Malkin is another Kenton descendant. All three descendants have researched the family and their findings follow.
Edward Kenton 1796 - 1867
Edward Kenton baptised 31st January 1796 in the parish of St George the Martyr Southwark was married to Mary Ann Dawney on the 3rd June 1816 in Southwark.
Mary Ann had been baptised in the parish of St Mary's, Ealing, and Edward and Mary Ann appear to have moved back to Mary's local area after marriage because their son John was baptised 13 April 1817, their son Francis Robert was baptised 19 August 1819, their daughter Caroline 10 February 1822, daughter Rosetta 10 March 1824, son Edward 3 March 1827, daughter Louisa 2 May 1830, all at St Mary's, Ealing. Another daughter Eliza died on the 4th August 1837 aged 3.
In May 1840 Edward Kenton, described as yeoman, was mentioned in an indenture relating to land in Ealing Lane or Drum Lane.
In the census of 1841 Edward Kenton is shown living at Cage Square, Old Brentford with wife Mary, both aged 45, and children Rosetta 17, Edward 14 and Mary 1. (HO 107/689) I have not been able to trace daughters Caroline and Louisa.
Edward's children
Edward and Mary Kenton's oldest son John was married by 1841 and according to the census lived at Albany Place, Brentford, with wife Rachael, both aged 20, and children John aged 2 and Caroline aged 5 months. (Charles Bloomfield, another Kenton researcher adds 'I believe Rachel, was a Brentford girl, nee STUCHBURY. However, I have not been able to trace her baptism yet.')
Francis Kenton, their second son, married Mary in the June quarter of 1841. In 1851 Francis Kenton, aged 31, occupation Policeman, born north of Brentford, was living at 15 King Street in the parish of St James Westminster with wife Mary aged 34, born Bermondsey, with children Mary aged 9, Charlotte aged 7, Eliza (or Elizabeth) aged 2 and Thomas aged 3 months, all born St James, ref: HO107/1485. His death was recorded in the September quarter of 1859.
Francis' brothers John and Edward marry in the parish of St James Westminster where Francis lived, although they both lived permanently in Brentford. Was there some advantage in doing so?
In the census of 1851 Edward, aged 55, a bricklayer, born in borough of Southwark, is living at High Street, Brentford, with wife Mary, aged 54, and daughter Mary Ann aged 11. HO 107/1699.
Rachel Kenton died of consumption on the 12th May 1842 at Old Brentford aged 25 and John Kenton married Ann Louisa ATTLEE in Sept 1843 quarter, St Jas Westminster.
In 1851 John Kenton aged 34, occupation bricklayer, is living in Brook Lane, Brentford with wife Ann aged 30, and children John aged 12, Caroline aged 9, Louisa aged 6, Annie aged 4, Thomas aged 3, all born Ealing. Ref: HO107/1699. The details of John's death in July 1851 are recorded on the Old Bailey website when Frederick Marshall is tried for John's manslaughter.
Edward Kenton (junior) is described as bachelor of full age on marriage cert of 1847 to Lucy Gibbing, his occupation bricklayer, living in Sackville Street in parish of St James Westminster.
In 1851 Edward aged 26, is a journeyman bricklayer born Brentford, living at 2 Brook Lane Brentford with wife Lucy 26, born Hammersmith, and son Edward aged 2, born Ealing. HO 107/1699
By 1861 Edward (senior) aged 65, a bricklayer, born Southwark, Surrey, is living (62) The Square, Old Brentford, with wife Mary, aged 64, born Old Brentford, (RG9/779).
Edward (junior) is described as Widower on marriage cert of 1863 to Eliza HONEY formerly HUGHES, and his occupation bricklayer living Lower James Street in the parish of St Pancras. On daughter Eliza's birth cert in 1867 Edward is described as master bricklayer.
Eliza had a son by her previous marriage, Thomas George William HONEY, who died in August 1869. His death certificate states that Thomas, an errand boy at a china shop aged 17, was accidentally drowned in the Grand Junction Canal, New Brentford.
Edward Kenton's will
Edward aged 71 of Brentford died 17 Feb 1867 and his will was proved 27 April by Mary Ann Kenton widow and William FRICKER of Old Brentford, Egg merchant, both executors. Effects under £100.
In his will Edward left everything to his wife for as long as she lived, and afterwards
a freehold house situated in the Half Acre, Old Brentford and
a copyhold house situate in Drum Lane, now in the occupation of John OLIVER, to his daughter Mary Ann GREEN, wife of John Green
copyhold house situate in Drum Lane called the Bricklayers Arms with the cottage adjoining, which are now let on Lease to Messrs SICH Brewers to his son Edward Kenton
and two copyhold houses situated in Brookshot Road, Old Brentford, now in the respective occupations of BENNETT and ?E??ER to his daughter Rosetta, wife of William FRICKER.
Edward states in his will: And I declare that every female taking an interest under this my Will shall be entitled to the same for her sole and separate use independent of any husband. This seems a very progressive attitude for the mid-nineteenth century.
The beneficiaries of Edward's will being Mary Ann, Edward and Rosetta, it seems likely that they are the only children of Edward and Mary living in 1866. Julie has provided a full transcript of his will.
On 1871 Census RG10 1318 Edward, aged 44, described as grocer living at 1 Hamden Cottage, Ealing Lane, with wife Eliza, aged 42, born Hanwell, and children Mary A aged 17, born Hanwell, and Lucy A aged 7, Eliza R aged 4, Michael C F aged 2, and Emma S 7 months, all born Brentford.
In 1871 the census shows Mary Ann living at 13 The Square, Ealing, described as bricklayer's widow, aged 75, with grandson John, aged 32, unmarried a labourer born in Brentford, (RG10/1319).
On 1881 Census Edward, aged 54, described as bricklayer living at No1 Eliza Cottages, Brookshot Road, Ealing, with wife Eliza, aged 53, and children Emma 12, Bertie 10, Charles 8, Leopold 6, Victor 3. RG11/1347/69
Index to Wills (FRC) Administrations of Edward Kenton of 20 Layton Road Brentford, bricklayer, died 23 September 1890 at Layton Road to Eliza Kenton of 20 Layton Road, widow. Personal Estate £60.
Edward's daughter Rosetta married a poulterer, William Fricker, living at King Street.
Caroline Kenton, granddaughter of Edward
Charles Bloomfield and Kevin Malkin have both undertaken research into Edward Kenton's grandchildren & their descendants via John & Rachel's daughter Caroline:
Caroline Kenton was born on the 4th January 1841 at Old Brentford, the daughter of John Kenton (bricklayer) and Rachel Kenton (STUCHBURY).
She is recorded in the 1861 census in Green Lane, Teddington, as a 20 year old servant of all work to John W. Watson, a Wine Merchant. (RG09 piece 458 folio 142 page 4). She married William REYNOLDS (Mr. Watson's coachman) on the 4th March 1862 in the parish church of Teddington. William Reynolds was born on the 15th March 1842 in Shrivenham, Farringdon, Berkshire.
By the 1871 census, the couple had moved to Greenwich.
Caroline's entry in the 1891 Census (RG12 piece 513 folio 22 page 40) is:
Caroline Reynolds, Head, Widow, Female 50, Laundress, Brentford Middlesex, suggesting her husband died prior to 1891.
In fact William Reynolds survived Caroline and is present on the 1911 census. He appears to have left his wife between 1881 and 1891 and is living with his mistress in 1891 under the name of Willie Reynolds. He subsequently married his mistress and is living with her in Greenwich in 1901.
Charles Bloomfield adds regarding Caroline's 1891 'widow' status 'It is understandable, in the context of Victorian attitudes to separation & divorce'.
Kevin Malkin adds 'I do have more detail about Caroline Kenton's children (including dates and places of birth) if you would like them'.
Cage Square 1839/41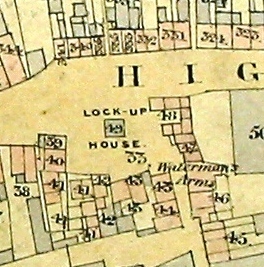 The Kenton family lived at the back of Cage Square, just off the High Street. In the Tithe Return map properties with reference no. 41 & 43 lay at the back of Cage Square.
41 is described as '3 houses and premises', owned by 'Mansell' occupied by Walton, Thomas Fricker (? not clear), William Fricker
43 is described as '8 houses and yard', owned by Thomas & L Rowe, occupied by Thomas Nokes, John O'Leary, Charity Humphreys , Robert Watts, Edward Kinton junior, Joyce, William Ruff, Edward Kenton
There were inconsistencies in spelling in the tithe apportionment and it seems likely Kinton should be Kenton.
Published around 2008, last updated May 2014