Brentford Families - Fricker
Julie Jakeway is a descendant and researcher of the Farnham, Kenton and Fricker families, who lived in Brentford in the 19th and 20th centuries. John Fricker is also a descendant and wrote about his research in 2010.
Census entries for Fricker
1851 Census shows William FRICKER living High Street, Brentford, occupation Butterman and Poulterer, with wife Rozetta (sic) (Rosetta nee KENTON) aged 27, children Lucy aged 6, Sarah aged 5, William aged 2, and Caroline aged 7 months. Also a servant Frances NOKES aged 15. All born Brentford. HO 107/1699
In 1861 they are still living in Brentford High Street, daughter Caroline aged 10, is described as invalid, and there are two more children, Rosetta aged 8 and Henry aged 6, Ref: RG9/779/29.
By 1871 William junior had left home but the rest of the family were still in High Street, Brentford, and had increased by four: Edward aged 9, Alfred aged 7, Arthur aged 5 and Alice aged 3. (Transcribed 'Frecker') Ref: RG10/1319/5
Fricker - some additional notes
William Fricker is listed at (what became) no. 279 in the 1841, 1851, 1861 and 1871 censuses. Edward Albert FRICKER (a son?) lived at no. 241 according to a trade directory from 1890. An egg and butter business was established at this address by 1839 and was still running into the 20th century.
Advert from County of Middlesex Independent directory, 1888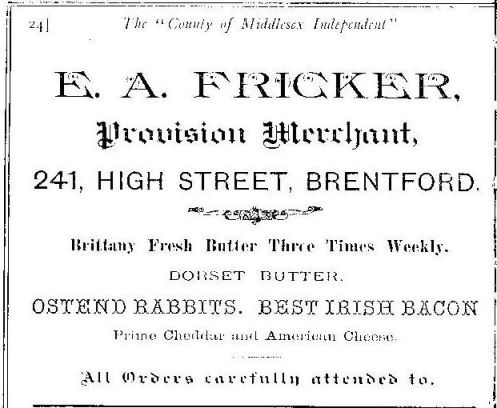 Thanks to Janet McNamara for providing this image.
Top
John Fricker's research
In the oral tradition which was handed down via my parents, Brentford was never mentioned. After my mother's death I wrote down what I could remember of what I had been told, but subsequently found that there was a lot that I had been told which wasn't accurate.

In particular my great grandfather Henry FRICKER was said to have been born in Chilmark, Wiltshire, the son of John Fricker who kept the pub, and 'bred black pigs'. I wonder now if my great grandfather amended the facts to cover up his Brentford relations, with whom his family seems to have had no contact. As Henry got married at 17, falsifying his and his wife's ages, this may have been deliberate.

The Frickers had been established in Chilmark for centuries, there being a reference in some archives to two brothers 'Fryker' holding land there in Elizabethan times, and an impressive memorial tablet in the church porch to a Henry Fricker who died in 1666, from whom we are probably descended. There is still a road leading to where he lived called Frickers Lane.

The nineteenth century saw a succession of William Frickers. In 1797 A young woman called Mary RIDEOUT had a son called William, and shortly afterwards married a William Fricker (William 1). They had another son called John, who later ran the pub, called the Black Dog, which is still going strong.

A William Fricker (William 2) born in 1797 appears as a butterman and poulterer in Ferry Lane in Brentford and given the families oral history would appear to have been the son of William Fricker and Mary Rideout.

His eldest son Wlliam 3 was born soon after his marriage in Brentford in 1825. His son Henry, born in 1838, was my great grandfather. He was married in Stepney in 1855, by then working as a clerk. He built up a sizeable fortune, and a sizeable family, and by the late 1880s was living in a large house in Hackney.

He seems to have substituted his uncle John for his father William in what he told his children. I think he may have called his first son Henry (Henry Fricker aged 13 died at about the right date) and his next son William ("Uncle Will" whom I met a couple of times around 1940).

William 3 also had a sizeable family, but the eldest of the boys, William 4, died aged 17. The rest of his family, as you know, continued the cheese business, diversifying into groceries generally. In 1881 his son Henry was in "Cleopatra Terrace" in Brentford and was still there in 1901, while his son Arthur moved into the Edmonton area.

Top

Published 2008; last updated November 2010