Basics
Home and Search
Site Guide
Brentford Basics
Privacy Policy
Contact
People
Families
Photos of people
Name indexes incl WW1
Memories
Lists, Documents, News
Occupations
Properties
Properties: High Street
Properties: non-High Street
Photos
Maps
1909/10 Valuation Index
Pub Hub
Can You Help?
Seeking...
Mystery photos
Roads Off
A-Z list
Janet's Research
History
Beach's Jam
Nowell Parr
Turner the Artist
Queen Victoria 1840
Brentford Market
80 High Street
Clitherow of Boston House
Four Croxford Brothers
Sources & More
They Said
Books etc.
Web Links
Next
Site Technology
Author
Home and Search
Not Brentford
Brentford Families - Henrey
This Henrey family page is a great example of how much information can be amassed from individuals with a shared interest: thank you to all contributors, together you have created a fascinating account.
Anne Wallace first wrote about her Henrey ancestry in 2008. Ann Corkett wrote later with information about Bobby Henrey, grandson of Brentford's vicar T. Selby Henrey, who was a child actor. In 2015 David Rayner provided further information about Bobby's acting career. Selby Whittingham wrote on three occasions, providing more details of the Henrey and Taylor family lines in 2009, then in 2013 a link to a recent interview with Bobby Henrey and in 2017 with a link to Edward Henrey's website. Janet McNamara sent a scan of a photo of Reverend Henrey, courtesy of St Paul's church, and also confirmed an earlier photo of Rev. Henrey, provided by Peter Stuart in 2014, was taken in St George's church. Finally Jeb Buffinton sent a photo in 2012 of the gravestone of Madeleine Henrey, nee Gal, daughter-in-law of Rev. Henrey, which he came across by chance in Auberville, France
June 2023: 1921 census entries for Rev. Thomas Selby Henrey and family added, following a contact from Dominic Delargy. Dom broadcasts Soho Bites podcast 'a show about Soho and the films set there', and was interested in featuring Madeleine Henrey, who wrote Spring in a Soho Street in 1962. Anne Wallace put him in touch with Madeleine's son, Robert Henrey, and the interview with Robert is featured in Soho Bites 42: A Fallen Idol?. This podcast is in two parts, the first focuses on Madeleine, the second on Robert's acting in The Fallen Idol in 1948 at the age of 8. Soho Bites 42 gives you access to the podcast and a host of useful links too. Set aside 40 minutes to enjoy this!
Author
This voyage started in 2008 when Anne Wallace from Cheshire wrote 'Thomas Selby Henrey was a son of my great great grandfather (another) Rev. Thomas Henrey.'
Henrey family notes
I have only managed to trace the Henrey's back to Thomas Selby's father, he too was a Thomas and was born in Liverpool in 1823, but I cannot find any further information about his father or mother. I believe his father was named William and he was a wealthy merchant, but can find no paperwork to back that up.
I have discovered that Thomas was ordained in 1849 by the Bishop of Chester, but the records have not survived. Shortly after his ordination he took his young son (William, my great grandfather) and his wife to Cape Town, South Africa only to return a year or two later in 1853 with a daughter.
Upon his return he was vicar at Forest Chapel, Macclesfield. Sadly his wife, Charlotte died of peritonitis in 1853, she was only 29. She is buried at Sutton St. James near Macclesfield, a beautiful part of the Peak District.
Thomas married Catherine Jane TAYLOR in West Derby (Liverpool) in 1856. They had three sons, Thomas Selby, Frederick William and Edward E.
I have no information regarding Frederick at all
Edward died aged 33 in Liverpool in 1900
William Melville married Mary and had three children, Thomas George Frederick (my grandfather), Maud M Henrey and Charlotte
and Thomas Selby became a vicar and married very well indeed!
I have established that Thomas Henrey had been incumbent at seven parishes, they were:
Approx 1850 to 1853 Cape Town, South Africa
1853-1856 Forest Chapel, Macclesfield, Cheshire
1856 -1858 Christ Church, Belper (I question this though)
1859-1863 St, Pauls Halifax (It was here Thomas Selby was born, and his brother Edward)
1865 Lezayre, Isle of Man (Frederick was born here)
1871 St Pauls, Tipton, Staffordshire
And finally 1878 is the year he died of a stroke whilst he was at Crossons, St. Meols, Lancashire.
Do you have any idea where Robert and Madeleine's son may be? (see responses below). His name is Bobby Henrey and he was a child actor, his most famous role was in 1948 when he appeared in 'Fallen Idol' with Ralph Richardson. He would be approx 66 if he is still alive. I have managed to find a photograph of Bobby Henrey online, which was taken by Cecil Beaton and donated to the National Gallery!
I also discovered that Robert, son of Thomas Selby, attended Eton, then went on to Magdaleine College, Oxford, but 'dropped out' before taking his exams.
He is supposed to have met Madeleine Gal at the Savoy where she was a manicurist,and he was a customer!
I do hope I manage to track Bobby down, as I am hoping that he may be able to provide me with additional information.
I think that there was a family rift as William, who was a scholar in his youth, seemed to leave his family behind and became a boilermaker at Widnes Foundary. It did seem a very strange direction for him to take given the fact he seems to have come from a genteel, educated family!
He had three children that survived, Maude May (a lovely genteel lady who died aged 94), Charlotte, who died of complications following a broken leg aged 33, and Thomas, my grandfather who was a sapper in world war 1, and then an engineer at ICI in Widnes. He was a lovely, kind, gentle man, he died aged 84 (ish) in 1976.
May and Charlotte were unmarried.
Tom went on to have six children. Pauline, Eunice (died in 2007), Jean (my mother), Patricia, Brian (died aged 63 in 1994) and Anita.
Whereabouts of Bobby Henrey, former child actor
Ann Corkett made contact and added the following details:
Apparently he lives in America, and a little while ago I came across a site (Avon Theatre Film Center) which referred to a talk he had given in May 2006 on his experiences as a child star:
Special Guest
Robert Henrey is known and widely recognized throughout the Stamford and Greenwich communities for his invaluable contributions as a Deacon with Greenwich Hospital. But back in 1948, he was an eight-year old "Bobby" Henrey, child actor and star of The Fallen Idol. It would turn out to be his final** film role (** see see below for an update). Mr. Henrey made a very rare public speaking appearance to reminisce about his brief stint as a kid in the movie business, working on The Fallen Idol, and his surprise upon discovering that the film had been restored, re-released and received warmly by audiences and critics nationwide. The event was moderated by Bruce Goldstein (Rialto Pictures/Film Forum).
Out of curiosity, after writing to you, I did some further searches for Bobby Henrey, and downloaded a recent interview with him about the film, and found a photo of him and his wife. Apparently he retired from a financial job with the well-known firm Coopers & Lybrand and retrained as a lay chaplain working with hospitals for his church. He lives in Greenwich, Connecticut.
Mrs Henrey devoted a lot of one of her other books ("Green Leaves") to her mother-in-law. That might have some more about Brentford, certainly about the house.
David Rayner added (January 2015): Carol Reed's The Fallen Idol (produced by London Films between September, 1947 and May, 1948) was not Bobby's only film. Following Bobby's overwhelming success as a nine year old following the release of the film in October, 1948, for which he was paid £5,000 at 1948 prices, Sir Alexander Korda, head of London Films, signed Bobby to a staggering (at that time) £30,000 contract to make four more films for the company between 1948 and 1952, the money to be put in trust for him until he was 21 years of age. However, only one of these proposed films was ever made, The Wonder Kid, starring Bobby, and filmed in Austria and England between September, 1949, and early 1950. However, the film was a box office failure and has largely been forgotten about by now. Shortly after it was completed, Bobby was sent to school for the first time in his life at the age of eleven to Downside boarding school, where he had a very unhappy time. See a video of a talk about his childhood that Robert (Bobby) gave August 2014 to the Retired Men's Association in Greenwich, Connecticut, where he now lives. This runs for 51 minutes and includes a question and answer session afterwards. The book he refers to having written is his autobiography, Through Grown-Up Eyes: Living With Childhood Fame, published in 2013. For some reason, whoever was typing the captions on the video wrongly refers to him as Richard Henrey instead of Robert.
Selby Whittingham notified details of a BBC Radio 4 programme 'Midweek', broadcast September 11 2013, which included Robert Henrey talking about his child actor days; listen to on BBC iPlayer (still available as at August 2017); Robert speaks from around 13 minutes in for about 10 minutes. In July 2017 Selby sent a link to the website of Bobby Henrey's son Edward Henrey; Exploring Science and Culture through Art.
1921 census
In 1921 Robert Henrey, age 19 years 10 months was an 'inmate' of Magdalen College, Oxford. His elder sister, Katherine Helen, age 23 years, was a house keeper at the Mildmay Mission Hospital, Austin Street, Bethnal Green. Both noted their birthplace as Brentford, Middlesex.
Their parents were recorded at 28 High Street, Brentford:
Thomas Selby Henrey, head, 61y 10m, married, born Halifax, Yorkshire; Clerk in Holy Orders (enumerator added 'vicar')
Harriet Euphemia Susan Henrey, wife 56y 1m, born London
Blanche Elizabether Edith Henrey, daughter, 15y 4m, born Brentford, Middlesex
May Alexandra Gardiner, servant, 19y, born Hounslow, Middlesex, Donmestic servant
Henrey family tree
William HENREY (ca 1780/1800? - ): possibly a wealthy merchant in Liverpool
Thomas HENREY (ca 1823 - 1878): married Charlotte CLARK in Liverpool, 1844; one surviving son; Charlotte died 1853, butied at Sutton St. James near Macclesfield; Thomas remarried Catherine JANE TAYLOR in West Derby Registration District in 1856; three further sons:

Joseph HENREY (ca 1846 - ): born in Liverpool
William Melville HENREY (ca 1847/8 - ): married Mary (-) (Mary Ellen WILLIAMS share same marriage reference) in West Derby, 1884; great grandfather of Anne Wallace; children include:

Charlotte HENREY (1886 - ca 1919): born Earlstown, Lancashire
Maud May HENREY (1889 - ca 1983): born Halton, Lancashire
Thomas George Frederick HENREY (1894 - 1976): born Widnes; six children including Anne's mother

Charlotte G HENREY (ca 1852 - ): born in Cape of Good Hope
Thomas Selby HENREY (1859 - 1941): born in Halifax; in 1891 he was curate of St Botolph, Aldersgate in London; vicar of St George Old Brentford from 1895 until his retirement in 1930; married Harriet Euphemia Susan LINDSAY in East Yorkshire in 1897; she was the daughter of Sir Coutts LINDSAY, 2nd Bart and Caroline Blanche Elizabeth FITZROY; see below for a photo of Rev Henrey; children found on FreeBMD include:

Katharine Helen HENREY (1898 - c.1990): born in Brentford; lodging in Bournemouth with her nurse at the time of the 1901 census; Dr Selby Whittingham adds: 'died c.1990 in Kensington; she had spent some time in Egypt; unmarried'
Robert Selby HENREY (1901 - 1982): born in Brentford; married Madeleine GAL (1906 - 2004) in 1928; photo of their gravestone; one son:

Robert Edward (Bobby) HENREY (1939 - ): born in France, child film star; married Lisette Coghlan; children

Blanche Elizabeth E HENREY (1906 - 1983): born in Brentford; Dr Selby Whittingham adds: 'she left her library on flora to the Natural History Museum on the condition that it be kept together there (obituary in The Times); unmarried'

William HENREY (1861 - ): born in Halifax
Frederick William HENREY (1863 - ): born in Halifax
Edward Ernest HENREY (ca 1867 - 1900): born on the Isle of Man, died aged 33, death registered in West Derby Reg District
Photos of Reverend T. Selby Henrey


Janet McNamara provided a scan of this photo and it is published here courtesy of St Paul's Church, Brentford.

The photo was taken in 1928, two years before Rev Henrey retired. His home, St George's Vicarage, no. 28 High Street, was demolished in 1931 to allow for an expansion of the Gas Works.

A small pre WW1 photo of the Henrey family in the grounds of the Vicarage appears in Brentford Past (Q51).

Thanks to

Peter Stuart

for this photo which Janet McNamara confirms was taken in St George's church, presumably shortly after Rev. Henrey moved here in 1895; she adds 'The pulpit apparently was presented by the Dorey family in memory of their father Joseph Dorey and that's what the plaque is at the side of the step'.
Notes on the Taylor and Henry families
Dr Selby Whittingham wrote in August 2009:
'Looking at your entry on the Henrey, I can add some details.'
'William Taylor (1806/9-82), paint manufacturer at Liverpool, (my gt gt grandfather) had as his eldest daughter Catherine Jane (1830-1924), who was the second wife of Rev. Thomas Henrey.'
'Of their grandchildren Katherine Helen died c.1990 in Kensington. She had spent some time in Egypt. Blanche Elizabeth died 9 March 1983. She left her library on flora to the Natural History Museum on the condition that it be kept together there (obituary in The Times). Both were unmarried. In the next generation Robert Edward (Bobby) married Lisette Coghlan, whom I think he met at Oxford, and they have children.' (Lisette Coghlan graduated from Somerville College, Oxford, 1959, having studied zoology ( Somerville biography booklet published 2009,)
'According to my grandmother, her father Walter Robert Taylor(1849-1928) (who expanded the paint firm at Liverpool and London) was quite a friend of his nephew Rev Thomas Selby Henrey - though they were different generation, they were not so separate in age. Katherine Henrey however referred to him as "the iceberg"!'
In 2017 Selby spotted that there is no reference to The King of Brentford, by Robert Henrey, published in 1946. The author was actually Mrs Robert Henrey, Madeleine nee Gal, and describes the Henrey family (named as Reyhen), their vicarage home on Brentford High Street with vignettes of Brentford people. Well worth reading if you can find a copy.
Robert Selby Henrey grave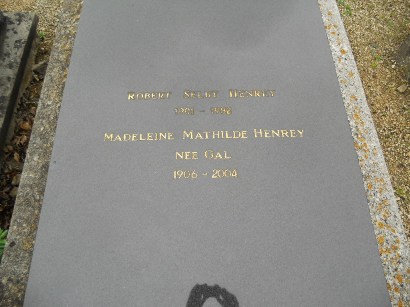 Jeb Buffinton (May 2012): My wife & I recently visited a little 12th century church on the coast in Auberville, France.
There were a small number of graves there, and we happened to notice this one, and were interested in the story of how this Brit met a French girl, and wound up buried in this little graveyard.
Googling Robert Selby Henrey, I found your site and thought you might appreciate the photo.
Published January 2008; last updated July 2023