Brentford Families - Daubney
Kay Day has provided the following information about her Daubney family: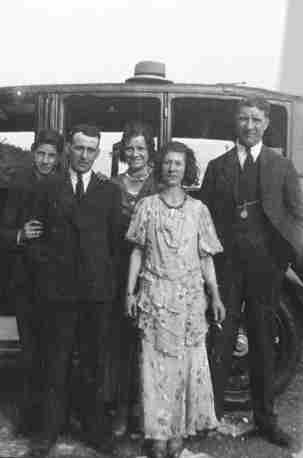 My grandfather James Daubney owned the shops in Albany Road and at 283 High Street. No 3 Albany Road suffered bomb damage. He then moved along to No. 5 which was run by my Father until 1956.
Grandfather worked the 283 High Street shop. He died in 1947 I believe he was just 54yrs. He had a Licence which permitted him to cross the river and set up a stall outside Kew Gardens River Gate. Throughout the summer months he would send staff across to sell fruit to the visitors.
His younger brother William had a shop at no.29 High Street and later in Brook Road. His nephew William's son had the shop in later years at 206 High Street (telephone directories show W.J. Daubney at this address in 1966-1981). This person also William now lives on the Isle of Wight.
The picture shows James Horace William Charles Daubney my father on the left, James my grandfather on the right and grandmother at back in middle. My father was given the names of all my grandfather's brothers - what a mouthful.
See other photos provided by Kay of the Daubney shops in Brentford: J. Daubney and Son, greengrocers shop, 3 Albany Road (1950s) and a more modern Daubney shop (late 1950s).
Top
Page published December 2010