Basics
Home and Search
Site Guide
Brentford Basics
Privacy Policy
Contact
People
Families
Photos of people
Name indexes incl WW1
Memories
Lists, Documents, News
Occupations
Properties
Properties: High Street
Properties: non-High Street
Photos
Maps
1909/10 Valuation Index
Pub Hub
Can You Help?
Seeking...
Mystery photos
Roads Off
A-Z list
Janet's Research
History
Beach's Jam
Nowell Parr
Turner the Artist
Queen Victoria 1840
Brentford Market
80 High Street
Clitherow of Boston House
Four Croxford Brothers
Sources & More
They Said
Books etc.
Web Links
Next
Site Technology
Author
Home and Search
Not Brentford
British Army WW1 Medal Roll Card
Trevor Mitchell has provided this image of the medal roll card for Joseph Gandell. Trevor has Gandell ancestry, but cannot find a link to the family of Joseph Gandell, he adds 'It is possible that they were descendants of Jewish immigrants into the east end as many who had the names Gandelman / Gandalman / Gendelman anglicized to Gandell.'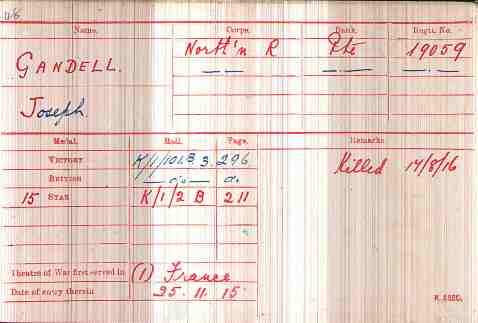 The card has been completed in at least two stages. The initial information was completed in red, when the 1915 Star medal was awarded, later additions were made in blue:
Name: surname and initial, the initial J was later changed to 'Joseph'
Corps: Northamptonshire Regiment is abbreviated to North'm R
Rank: Private is abbreviated to Pte
Regtl No.: 19059
NB the above three pieces of information are dittoed to confirm that they remained the same at the time of later additions to the medal roll
The medal details include the roll and page no. for each medal awarded; the '15 Star' medal details were completed first: this medal was awarded to men who served in France or Flanders (Belgium) between 23 November 1914 and 31 December 1915, or for service in between 5 August 1914 and 31 December 1915; there was also a '14 Star' awarded to men who served in France or Falnders before 23 Nov 1914
The award of the Victory Medal was added later to the card: this was awarded to men who served anywhere during WW1
The British War Medal was awarded to anyone who served in WW1, including civilians
Theatre of War first served in: this shows Joseph Gandell first served in France on 25 November 1915
Remarks: Joseph Gandell's death on 17 August 1916 is recorded
The reverse of the card was not completed for Joseph Gandell: it included headings 'Correspondence' and 'Address'.
Published April 2009