Basics
Home and Search
Site Guide
Brentford Basics
Privacy Policy
Contact
People
Families
Photos of people
Name indexes incl WW1
Memories
Lists, Documents, News
Occupations
Properties
Properties: High Street
Properties: non-High Street
Photos
Maps
1909/10 Valuation Index
Pub Hub
Can You Help?
Seeking...
Mystery photos
Roads Off
A-Z list
Janet's Research
History
Beach's Jam
Nowell Parr
Turner the Artist
Queen Victoria 1840
Brentford Market
80 High Street
Clitherow of Boston House
Four Croxford Brothers
Sources & More
They Said
Books etc.
Web Links
Next
Site Technology
Author
Home and Search
Not Brentford
Class Photo, Brentford Secondary Modern Boys' School, around 1948
Cyril Smith provided this photo which he dates to around 1948. It shows a class of 39 boys on a sunny day, mostly with open neck shirts and grey flannel jackets or blazers. No long trousers. "Headmaster was Mr.E A Templar while I was at school, teacher was L S Sproston." Also see Cyril's memories from the late 1930s to the early 1950s.
Cyril Smith, Don Harris, Dave Padbury, Terry Ilbury and Ray Heath provided names:
Back row: Vivien Emerson (b. 31.1.37, 11 days after Terry Ilbury); ? Willis (Ray Heath adds'he lived in Albany Road, but I don't remember his first name'); X; Eddie Smith (lived in Harnage Road); Peter Alder; Mike Holland; Leslie Mitchell (known as 'Mitch'); X; Terry Ilbury
3rd row: ): Brian Copeland; Cyril Smith; ? Perrin ; X; Brian Harrison (lived in a big house in the middle of Carval Hall Park, we were all envious of him); Bernard Daubney (nickname Dicky Daubney adds Ray Heath); Brian French; Eddie Gray; X; Walter McKillop; Ronnie Huddle
2nd row: Norman Green (good swimmer); X; Roy Inman; X; ? Parker (can't remember first name); Michael Newt; Arthur Wells; Dave Padbury (wore glasses but not in this photo); "Mo" Maurice (can't remember surname, only nickname); X
Front row: Jeffrey Riddle; Ray Heath; Charlie Taylor; Alfie North; Brian Jackman; X; X; Joseph Warby; Don Harris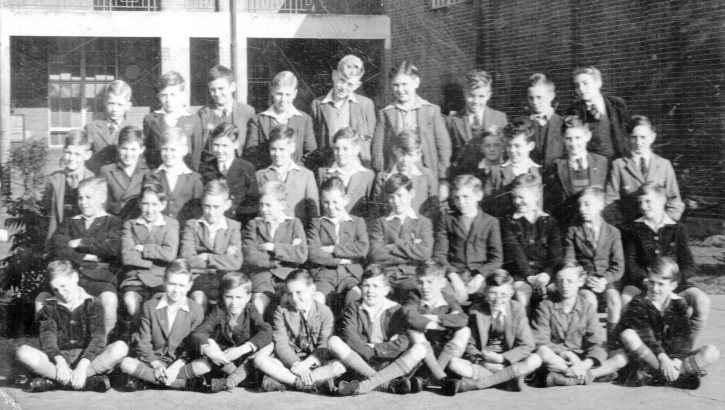 Dave Padbury: 'Don Harris Brian French and myself lived in the Mafeking and Peter Alder lived at the back of Daubneys shop in Albany Road. Brian Copeland will be on the photo,we joined the R A F boy entrants later on. His dad was a police sergeant in Brentford. Two teachers I remember are Duncan Wilding and Willie Wooton.'
Terry Ilbury added 'many more names of his old friends from 65 years ago' in August 2013, his daughter Katherine commented 'Dad lived in Greet Road and had a younger sister Pat (b.1942) who sadly died of cancer in 2007. Neighbours were Donald Neighbour, Dorothy and Tony Blake, Johnny Atack, Jennifer Gent.'
Pauline Grant, August 2013: "Mitch" Mitchell is my cousin and his name is Leslie Mitchell. He lived in Brook Road with his parents Anne and Harry Mitchell and his younger brother John. Unfortunately John died in 1994, Leslie is now in his seventies and lives in Middlesex.
If you can help with other names please get in touch.
Published April 2012; last updated July 2015