Basics
Home and Search
Site Guide
Brentford Basics
Privacy Policy
Contact
People
Families
Photos of people
Name indexes incl WW1
Memories
Lists, Documents, News
Occupations
Properties
Properties: High Street
Properties: non-High Street
Photos
Maps
1909/10 Valuation Index
Pub Hub
Can You Help?
Seeking...
Mystery photos
Roads Off
A-Z list
Janet's Research
History
Beach's Jam
Nowell Parr
Turner the Artist
Queen Victoria 1840
Brentford Market
80 High Street
Clitherow of Boston House
Four Croxford Brothers
Sources & More
They Said
Books etc.
Web Links
Next
Site Technology
Author
Home and Search
Not Brentford
Paddling, near Brentford? 1934
Don and Maureen Hutchinson have sent this photo, capturing a summery day around 1934. 'My mother Ena Agnes Harris nee Hutchinson is the lady on the right with the dog, the lady second left wearing hat is her sister Rosina Hutchinson. '

'James Henry and Charlotte Hutchinson were their parents and they were 2 of their 9 children living at 83 Ealing Road, Brentford.'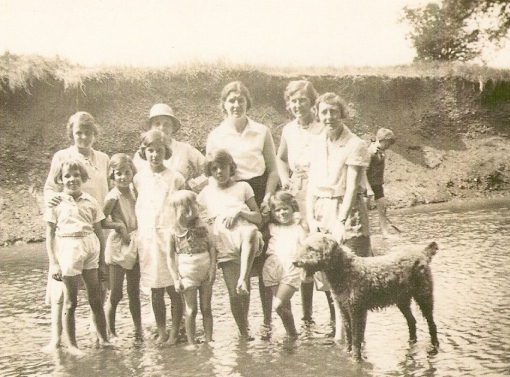 The photo shows a group of six girls, aged around 3 to 12, and five ladies paddling, accompanied by a woolly dog. The water is shallow, the river banks look to be three or four feet deep and contain stones as well as mud. Could this be the Thames or Brent?

The group is likely to be from Brentford. Can you help with any more names or suggest a location?
Published July 2011