Basics
Home and Search
Site Guide
Brentford Basics
Privacy Policy
Contact
People
Families
Photos of people
Name indexes incl WW1
Memories
Lists, Documents, News
Occupations
Properties
Properties: High Street
Properties: non-High Street
Photos
Maps
1909/10 Valuation Index
Pub Hub
Can You Help?
Seeking...
Mystery photos
Roads Off
A-Z list
Janet's Research
History
Beach's Jam
Nowell Parr
Turner the Artist
Queen Victoria 1840
Brentford Market
80 High Street
Clitherow of Boston House
Four Croxford Brothers
Sources & More
They Said
Books etc.
Web Links
Next
Site Technology
Author
Home and Search
Not Brentford
Alice and Stanley Newman, 245 High Street, 1950
In 2010 Diane Lockie provided two Newman family photos taken in April 1950, then in March 2013 Lynn Christison of Australia sent some photos of the same family, they are brought together here. Diane's are the first two photos: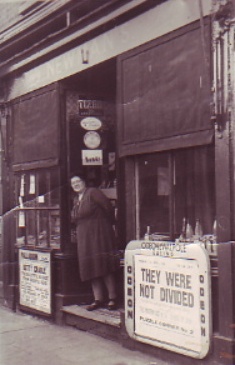 The first shows her nan, Alice Newman, outside her novelty shop at 245 High Street.
The shops numbered 242, 243, 244 were the same style as no. 245: a central recessed door with windows either side.
The film "They Were Not Divided" (Odeon advertisement outside the shop) was released in 1950.
If you are interested in this area, there are other photos Diane has provided of this area taken by her father around 1966.
The second photo from Diane shows her uncle Stanley Newman inside the shop.

In the background goods on sale included Stotherts Seidlitz Powders, Zebra Grate Polish, aspirin tablets, olive oil (presumably for putting in your ear rather than cooking with), castor oil, iodine, Koray pain killers costing 4 old pence a packet and Daisy headache tablets.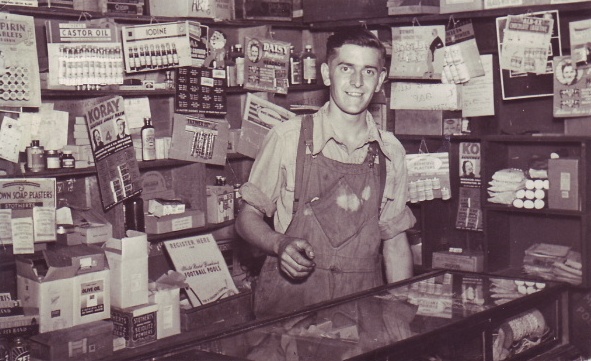 The following photos are from Lynn:
| | |
| --- | --- |
| | Henry and Alice Newman's five children, a studio portrait as is the next photo. |
| | |
| --- | --- |
| | Lynn asks if anyone recognises Alice Newman's uniform. The photo was taken in 1916 when Alice was 22; was she part of the war effort? Please email if you can help. |
A photo of Alice Newman when in her 40s. Lynn: My father George Newman lived at 245 High Street, where my Grandmother Alice ran the shop which sold novelties, drinks and odds and ends as I remember. My Grandfather's name was Henry Newman.

I remember the gas works across the road, and the trolley buses which ran along High Street.My uhcle Peter and his wife Dolly lived in Pump Alley. I only remember them as a young child, I was 16 when my family emigrated to Australia.
| | |
| --- | --- |
| | Alice, Ron and Win Newman outside 245 High Street; the window has an advert 'Crockery for hire'. The Odeon advert is for 'Goodbye Again' released in 1961, starring Ingrid Bergman, Anthony Perkins, Yves Montand and Jessie Royce Landis |
| | |
| --- | --- |
| | The photo shows Henry Newman wearing his Royal Antedeluvian Order of Buffaloes apparel, 'K O M' stands for Knight Order of Merit; he was in the Borough of Hounslow Lodge. |
Published May 2010; updated July 2013