Brentford Redevelopment, March 2021
The south side of New Brentford is being redeveloped by Ballymore and areas of Old Brentford too, over coming years. Janet McNamara is keeping a photographic record, these are from 19th March 2021.
The first two photos were taken from Augustus Close and show progress on the first block; the view from a month or so previously shows progress on the first floor. The second photo is from the same vantage point but looks towards the High Street - the hi-vis jacket hanging up on the ground floor wall links the two photos
The third photo shows clearing of the site of the former St Lawrence's Vicarage. The church is visible through the trees, to the left.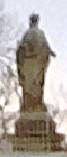 The final photo shows the view from Market Place.
Janet adds 'you could see the statue of Flora in Syon Park above the hoardings for several months and now the blocks are as high as they are that view has gone.'
Links
See also Janet's earlier photo of the site;a satellite view shows the extent of the current phase of development.
Photo of the vicarage taken in 2008; Dave Stoneleigh took many other photos of New Brentford in 2008.
A postcard showing St Lawrence's Church and Vicarage taken around 1905 to 1915.
Flora's column, mentioned by Janet, dates from the late 1700s and can be viewed on the Wikimedia website.
Other photos by Janet charting the new development.
Published Good Friday, 2 Apr 2021