Basics
Home and Search
Site Guide
Brentford Basics
Privacy Policy
Contact
People
Families
Photos of people
Name indexes incl WW1
Memories
Lists, Documents, News
Occupations
Properties
Properties: High Street
Properties: non-High Street
Photos
Maps
1909/10 Valuation Index
Pub Hub
Can You Help?
Seeking...
Mystery photos
Roads Off
A-Z list
Janet's Research
History
Beach's Jam
Nowell Parr
Turner the Artist
Queen Victoria 1840
Brentford Market
80 High Street
Clitherow of Boston House
Four Croxford Brothers
Sources & More
They Said
Books etc.
Web Links
Next
Site Technology
Author
Home and Search
Not Brentford
Kew Bridge, mid to late 1950s
Peter Timms wrote in September 2017 with two photos that could be taken from the cover of

Life

magazine:
'It took a long time to identify the location as the photographer, either Don or Jim Wheeler, was from Tooting and had no connection to Brentford.'

'What made me suspect Kew Bridge was the number on the back of the bus in the first photo. It is 65 and I knew that went through Brentford. The other negatives obtained with these were mainly family shots, so can be dated to the mid- to late 1950s. These therefore, must be from the same period. At least one person can be seen in both pictures so I know they were taken a few seconds apart. I wonder whether the people shown are leaving after watching the Oxford and Cambridge boat race; there is too much activity for a normal rush hour I would have thought.'

The boat races from 1954 to 1959 took place on the following dates: 3 April 1954, 26 March 1955, 24 March 1956, 30 March 1957, 5 April 1958 and 28 March 1959; I agree the boat race could explain the crowds, who may have walked up from the end point at Chiswick Bridge and be heading for home via Kew Bridge station or a bus stop.

Peter also sent a photo taken from the same location (south side of Kew Bridge) in March 2017 for comparison.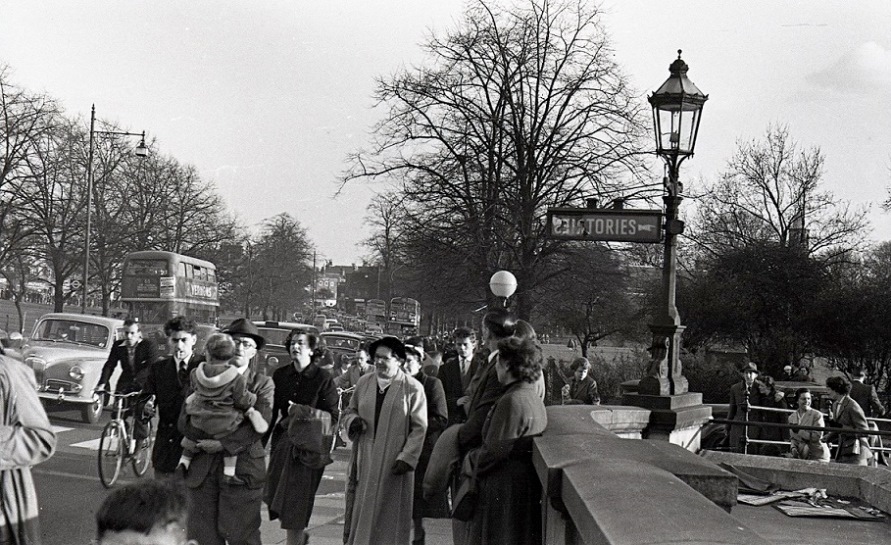 Copyright © 2017 Peter Timms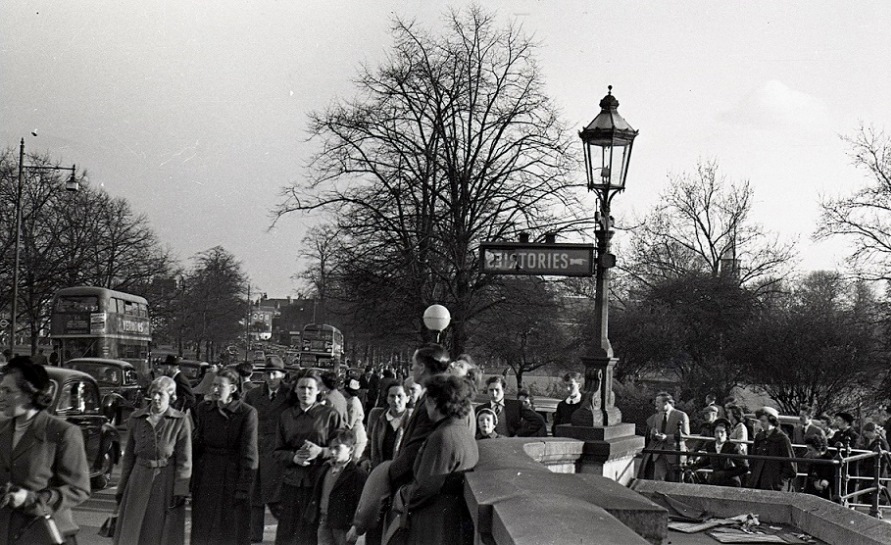 Copyright © 2017 Peter Timms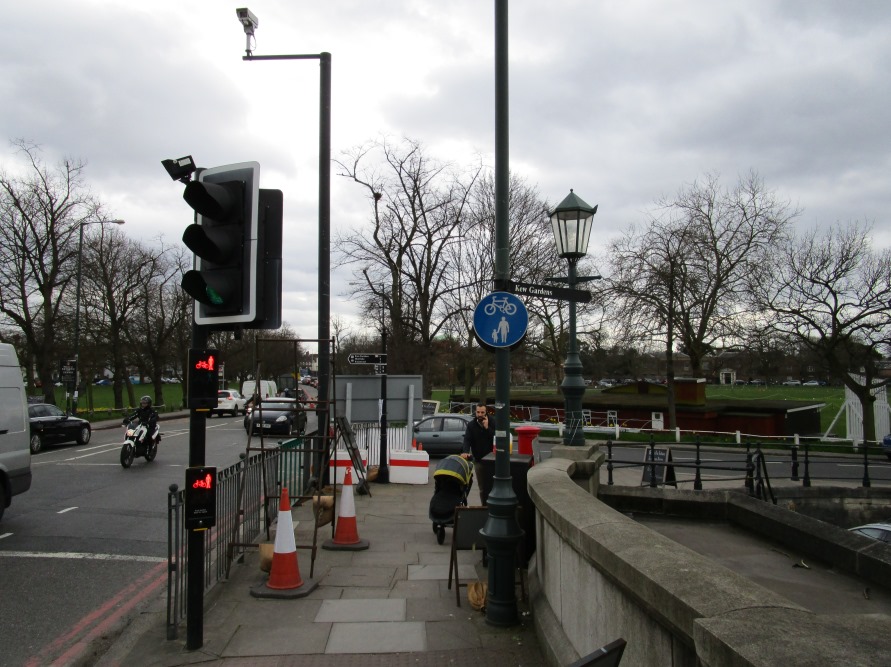 Copyright © 2017 Peter Timms
Top
Published September 2017