Basics
Home and Search
Site Guide
Brentford Basics
Privacy Policy
Contact
People
Families
Photos of people
Name indexes incl WW1
Memories
Lists, Documents, News
Occupations
Properties
Properties: High Street
Properties: non-High Street
Photos
Maps
1909/10 Valuation Index
Pub Hub
Can You Help?
Seeking...
Mystery photos
Roads Off
A-Z list
Janet's Research
History
Beach's Jam
Nowell Parr
Turner the Artist
Queen Victoria 1840
Brentford Market
80 High Street
Clitherow of Boston House
Four Croxford Brothers
Sources & More
They Said
Books etc.
Web Links
Next
Site Technology
Author
Home and Search
Not Brentford
Gas Works Party, early 1950s
Pauline Stanhope (nee Young) has provided two photos taken at a Gas Works children's party in the early 1950s: I think this was taken in St Paul's hall. If you look at the bottom of the Plaque on the wall you can see that this hall was opened in 1916.

I am on the ladies right, (with a bow in my hair). On my right is Janet Stanton. Also with ribbons in her hair. Does anyone recognise any of the other girls?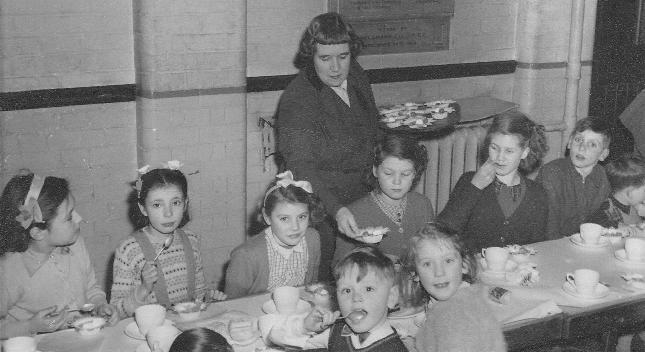 The lady is serving trifle or jelly in waxed paper dishes, glace cherry on top.
In the other photo is my brother David Young. He is the blond boy, second from the left, wearing a light coloured jumper. I cannot put a name to any one else.
Please get in touch if you can add any further names.
Published July 2012