Basics
Home and Search
Site Guide
Brentford Basics
Privacy Policy
Contact
People
Families
Photos of people
Name indexes incl WW1
Memories
Lists, Documents, News
Occupations
Properties
Properties: High Street
Properties: non-High Street
Photos
Maps
1909/10 Valuation Index
Pub Hub
Can You Help?
Seeking...
Mystery photos
Roads Off
A-Z list
Janet's Research
History
Beach's Jam
Nowell Parr
Turner the Artist
Queen Victoria 1840
Brentford Market
80 High Street
Clitherow of Boston House
Four Croxford Brothers
Sources & More
They Said
Books etc.
Web Links
Next
Site Technology
Author
Home and Search
Not Brentford
St Lawrence's Football Team, 1911/12
Roger Davis has provided this photo showing St Lawrence's football team in the 1911/12 season.

"My uncle George Davis is far left. The vicar of St Lawrence in 1911 and 1915 was A Ernest Edwards, so this may be him in the picture."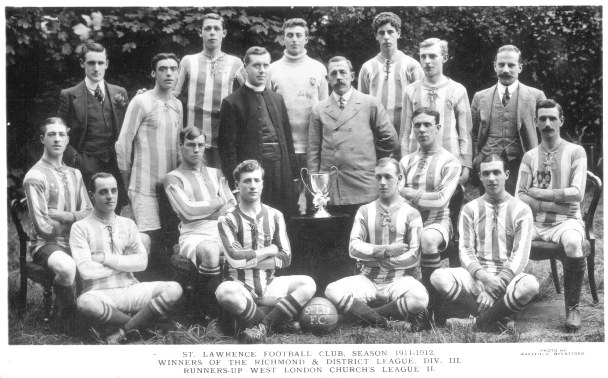 The photo was taken by Wakefield of Brentford.

Please contact if you can help with any names.
Published October 2010