Ealing Road School, 1949-1951
Carole Ann Bartholomew (nee SHARP)

has sent three photos taken at Ealing Road School. The first two show a school concert, around 1949, the last a Christmas Nativity play.

The teacher in these photos taken in the playground was Miss ONZRON. She was my teacher whilst I was in the Infants part of the school from 1949 to 1951. The headmistress was Mrs HENNICK. At 7 years old we all went into the Junior school part, and my teacher was Miss LAFFETY, and the headmaster was Mr WHITTY.

There were about 40 children in the same class as I was in, but I only recall the following names at the moment. A few of them are in the photos,

Jacqueline PACHE, Margaret SMITH, Susan HUBBARD, Anita NOYES, Joyce VENABLES, Tina ANTHONY, Ann BLYTHE? (not sure of surname) Georgina SCALING, Linda PADBURY, Tony HARRIS, Keith COLGATE, Ian MACLEAN, Colin CROFT.

Jim JEFFERIES added some names for the nativity photo in 2018.

Ron Tidy adds (August 2011): The photo depicting the children is typical of events in the school at that time, I have a photo of me as a character in Aladdin, the teachers name was Mr COEN.
Keith COLGATE lived in the Pre-Fabs on the corner of Kenley and Netley Rd, Ian McCLEANs dad had the pub on the corner of Breamar Rd, Colin CROFT I think was in my class at the senior school, Joyce VENABLES lived in Pottery Rd.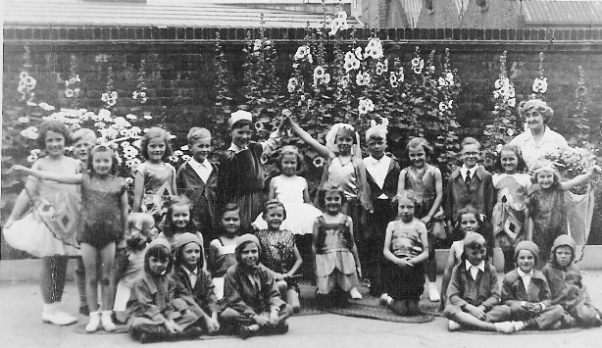 The children wear a range of evening dress and are grouped around a little girl with a crown in a white ballerina's dress. At the front are 6 youngsters dressed as elves?

There are some beautiful hollyhocks in the school garden, suggesting the photo was taken in July.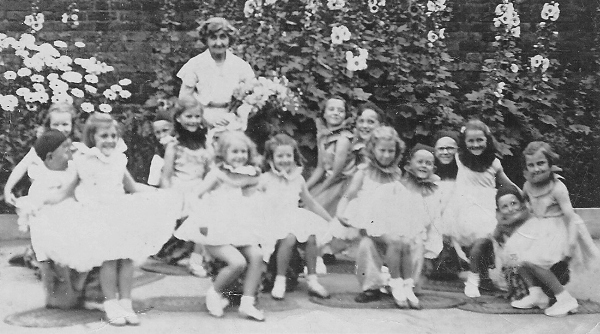 Here the girls wear pale or white costumes with ruffs around the neck and dancing shoes. The kindly-looking teacher holds a bouquet.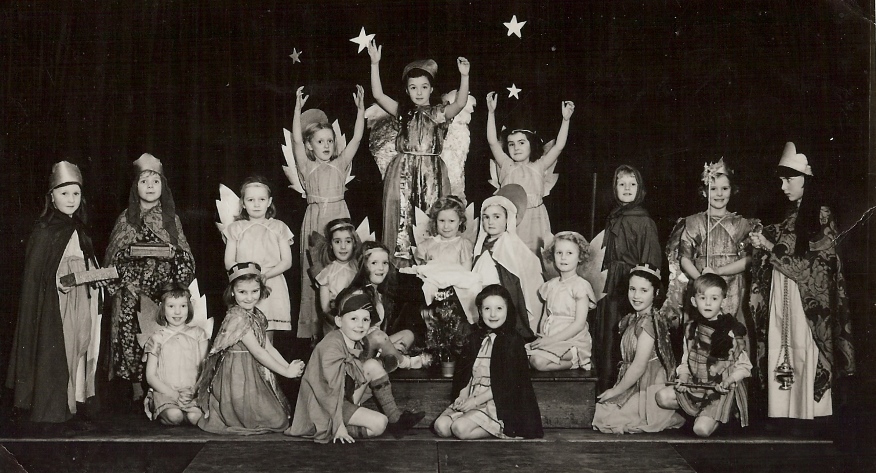 20 children in traditional nativity scene.

Jim JEFFERIES: That is me on the right, front row, as a king carrying an incense burner. The pictures bring back many happy memories. I lived in Ealing Rd then, but now live in Warrington, Cheshire.

I'm pretty sure that is Colin CROFTS far left with Ron TIDY next to him. David EVANS is sat bottom centre with his hand on the stage. David's sister contacted me a few years ago to tell me David had passed away. I thought that we would all last forever!
Please get in touch if you can add any more names
Published August 2010; updated February 2018