Basics
Home and Search
Site Guide
Brentford Basics
Privacy Policy
Contact
People
Families
Photos of people
Name indexes incl WW1
Memories
Lists, Documents, News
Occupations
Properties
Properties: High Street
Properties: non-High Street
Photos
Maps
1909/10 Valuation Index
Pub Hub
Can You Help?
Seeking...
Mystery photos
Roads Off
A-Z list
Janet's Research
History
Beach's Jam
Nowell Parr
Turner the Artist
Queen Victoria 1840
Brentford Market
80 High Street
Clitherow of Boston House
Four Croxford Brothers
Sources & More
They Said
Books etc.
Web Links
Next
Site Technology
Author
Home and Search
Not Brentford
Coronation Party, Mafeking Avenue, 1953
John James has sent this photo. His wife Lesley JAMES is in the back row, second left under the photo of Queen Elizabeth and the Duke of Edinburgh, she's got her head slightly down. John adds 'She came second, I recognise some of the children but I don't know who they are, I used to go to school with them at St Paul's' . (A summary of names provided by people is under the photo)

A number of children have chosen a royal or patriotic theme for their fancy dress. The girl dressed as a tube of Macleans toothpaste may have had a relative who worked at the Macleans factory on the Great West Road and the little girl, second from left on the front row sports 'Grow More Food', a campaign to reduce imports following WW2: Jean wrote to say this is Christine JALES.

Reg Harris added 'the young girl far left with her face blacked is my sister, Gillian HARRIS'.

Derek Warnes added 'In the back row with the Union Flag on her front is my sister Susan WARNES. I remember my parents organising this party and my having to go down to the Police station, as it was in the High Street at the time, to ask for the road to be closed for the day.'.

Sandra Graves provided two more names: 'Front row first girl on the right is Evelyn GRAHAM - third from the right the little girl with glasses on is Ann CARTER'.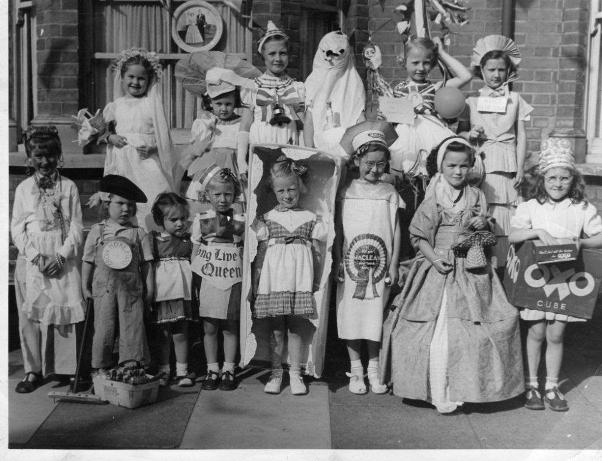 Back row, left to right:
?, Lesley JAMES, ?, ?, Susan WARNES, ?
Front row:
Gillian HARRIS, Christine JALES, ?, ?, ?, Ann CARTER, ?, Evelyn GRAHAM

Please get in touch if you can add any more names
Published July 2010; last updated February 2012