Basics
Home and Search
Site Guide
Brentford Basics
Privacy Policy
Contact
People
Families
Photos of people
Name indexes incl WW1
Memories
Lists, Documents, News
Occupations
Properties
Properties: High Street
Properties: non-High Street
Photos
Maps
1909/10 Valuation Index
Pub Hub
Can You Help?
Seeking...
Mystery photos
Roads Off
A-Z list
Janet's Research
History
Beach's Jam
Nowell Parr
Turner the Artist
Queen Victoria 1840
Brentford Market
80 High Street
Clitherow of Boston House
Four Croxford Brothers
Sources & More
They Said
Books etc.
Web Links
Next
Site Technology
Author
Home and Search
Not Brentford
Brentford Locks, Record Rain Fall, June 1903
Roger Williams sent these images, published by Wakefields of Brentford, which capture an exceptionally wet summer (sounds familiar). Note the many trees in the background, it could be a view of open countryside.

The first is titled 'Miniature Horseshoe Falls' and shows spectators clustered under umbrellas. It is taken from a vantage point to the left of the second image, some background buildings appear in both images.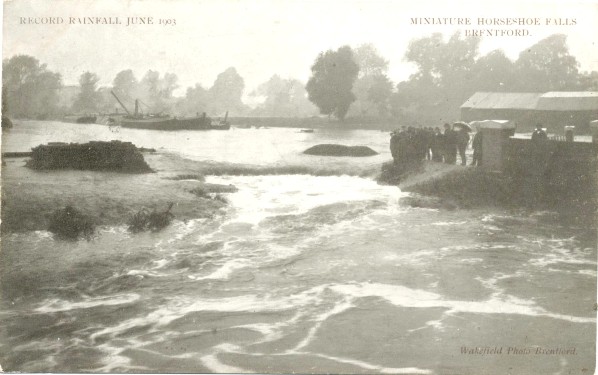 The second is titled 'Brentford Locks' and shows the two locks flooded: the view may have been taken from the footbridge over the canal, which is visible in a 1975 photo, to the left. I think a bridge is just visible to the right.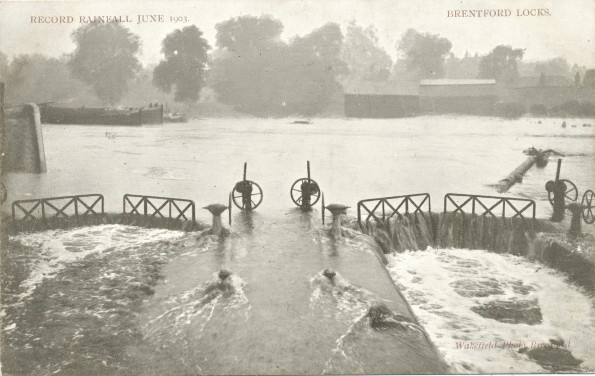 Published December 2012