The block of buildings to the left of the red one is numbers 290 - 294. Number 296 is set back a little from the High Street and the red building is no. 297.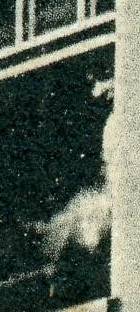 The properties in the foreground are in the low 300s: the one nearest the photographer, no. 303 has a cellar which was let at 10 shillings a week (1909/10 Valuation). A face is visible at the window above the front door, could this be Mrs Kate Saunders, the owner in 1909/10? See no. 303 after WW2, with the railings removed and a more derelict appearance.
Howard Webb provided a high resolution scan of the same postcard in 2011, which showed:
House no. plate '302' is visible and the name 'Humphrey': Henry Humphrey, picture frame maker occupied no. 302 in 1901
No. 301: in 1901 was occupied by Mrs. Mary Cartman
Nos. 298, 299 & 300: signs include 'Howard & Son, wholesale and retail ironmongers'
Phillips Cosy Refreshment Rooms sign is at no. 293
The three balls sign marks Rattenburys pawnbrokers at 288/289
Further along the High Street a turret of the Brentford Cinema, which opened in 1912 (S30), is just visible - to the right of the trolleybus.
See details of the properties on the left and nearer the photographer.