Charlton Athletic Football Club Fans
You may wonder from the title why this image is here - read on!
Howard Webb sent this (unused) postcard image:
"I assume that its a crowd of Brentford Football Club fans at an away match. The photographer was George A Laver, of 2 Bensham Manor Road, Thornton Heath (stamped on postcard). In the 1911 census he's 23 years old and living at 7 Bensham Manor Road with his parents.
I reckon that this is a little later than that. More women spectators than I'd imagine for a football match though. The mens' hats are interesting, more homburgs and almost trilby-like hats and fewer boaters so I guess this postcard to be 1915-1925 but that is a wild guess."
Please get in touch if you recognise anyone, or know the location, or can suggest a date. Howard also sent a high resolution scan from which the second image is taken.
In April 2021 Charlton Athletic Museum sent the following:
"We can confirm that it is not Brentford fans or from Griffin Park but Charlton fans at The Valley watching a game v Brentford FC sometime in the 1920s, probably earlier than later in the decade as you say. We can tell this by looking at the fixture lists and the hat styles."
"We have a very similar image with "Aberdare No.8" on it and some of the same people in the shot."
"Local photographers would take a series of such photos at games (hence the numbering) and then offer them for sale to fans in an era when very few would have access to a camera but could afford a postcard."
"Geo A Levar took many photographs of the Charlton Athletic team in that era and we have other postcards from this firm in Thornton Heath in our collection."
"You can see a list of the relevant games between the two sides on the link below but it doesn't help us beyond that."
"In 1923 there was a major incident at a FA Cup game at the Valley when the fencing seen in the photo collapsed and many were injured. Some time after that the same railings were sunk into a low concrete wall so with the fashion I believe it is 1921 or 1922 but I doubt we will ever know for sure."
This postcard is staying as the explanation from Charlton Athletic Museum is helpful; and there must be some postcards of BFC fans too - somewhere?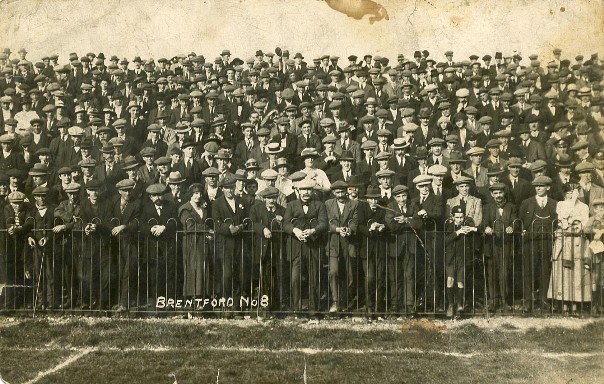 Enlargement showing fans in the centre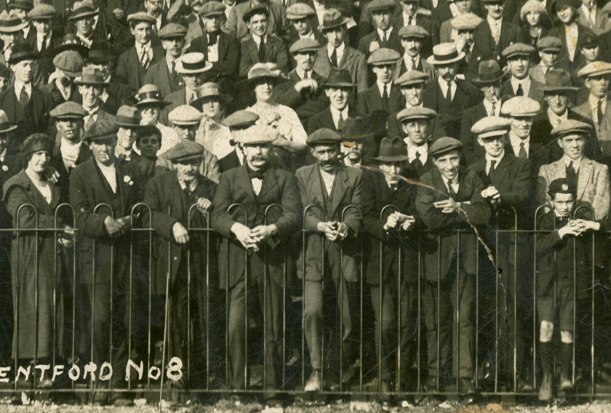 Links
Charlton Athletic football club: record v Brentford
Charlton Athletic Museum
Published December 2012; updated April 2021