Basics
Home and Search
Site Guide
Brentford Basics
Privacy Policy
Contact
People
Families
Photos of people
Name indexes incl WW1
Memories
Lists, Documents, News
Occupations
Properties
Properties: High Street
Properties: non-High Street
Photos
Maps
1909/10 Valuation Index
Pub Hub
Can You Help?
Seeking...
Mystery photos
Roads Off
A-Z list
Janet's Research
History
Beach's Jam
Nowell Parr
Turner the Artist
Queen Victoria 1840
Brentford Market
80 High Street
Clitherow of Boston House
Four Croxford Brothers
Sources & More
They Said
Books etc.
Web Links
Next
Site Technology
Author
Home and Search
Not Brentford
"Drive Where You Can Street" Brentford, early 1900s
Howard Webb provided this fun postcard image annotated by the writer "Drive where you can street Brentford'. It was taken outside Wakefield, the photographers, at 137 High Street. Wakefield was next to St Lawrence's Vicarage and the trees in the background are from the churchyard (the church tower is just visible above Wakefield's).

The first view shows the central section of the card. Howard's high resolution scan alows details to be picked out: 'W George, Contractor, Chiswick' on the nearest cart, 'Waldron' where the straw-boatered cart driver is doing a left hand signal.

Some shop signs are visible on the left: Butler (Albert Butler, leather merchant, lived at 134 High Street in 1901 and is also recorded here in a 1907 trade directory), Horne Bros, bootmakers (136 High Street in 1907) amd Wakefield at 137. 'American Cream Soda 1d' advert is at 135 High Street where Joseph Heusch, confectioner, traded in 1901 and 1907.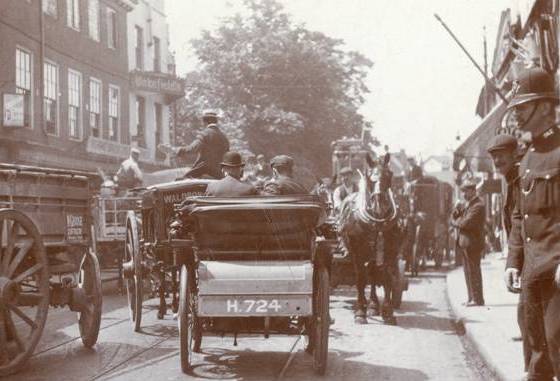 The next view includes the writer's note: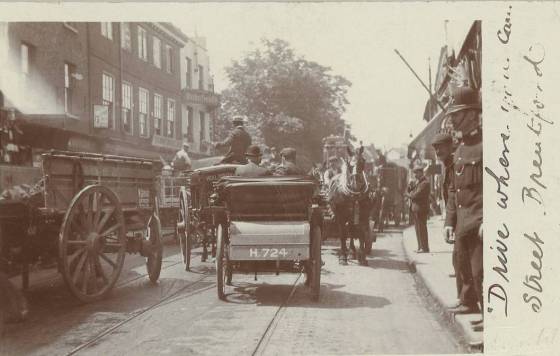 The postcard was postmarked Southall, 11.45am on Oct 20 1905 and was sent to
Miss French
Fern Banks
Roehampton Park
Surrey

'Dear Lottie, wishing you better, what nice weather we are having, will be at Mrs Townsend Sunday, can you find anyone you know on front, love from us both, your loving Aunt Chas (?)

I hoped it would be possible to find Lottie French in either the 1901 or 1911 census, but she was not at a Roehampton address. She may have been in service: W H Peech, a steel manufacturer born in Sheffield, was recorded at this address in the early 1900s.

The final images are enlargements: a study of three hats and a policeman. Do let me know if you recognise him!

Published February 2012