Basics
Home and Search
Site Guide
Brentford Basics
Privacy Policy
Contact
People
Families
Photos of people
Name indexes incl WW1
Memories
Lists, Documents, News
Occupations
Properties
Properties: High Street
Properties: non-High Street
Photos
Maps
1909/10 Valuation Index
Pub Hub
Can You Help?
Seeking...
Mystery photos
Roads Off
A-Z list
Janet's Research
History
Beach's Jam
Nowell Parr
Turner the Artist
Queen Victoria 1840
Brentford Market
80 High Street
Clitherow of Boston House
Four Croxford Brothers
Sources & More
They Said
Books etc.
Web Links
Next
Site Technology
Author
Home and Search
Not Brentford
A 1948 Wedding
Lynn Hayter and her elder sister Ena have provided the following account and photos of Ena and Kenneth's wedding:
The Marriage of Ena & Ken at St. Georgeís Church, High St., Brentford, 5th June 1948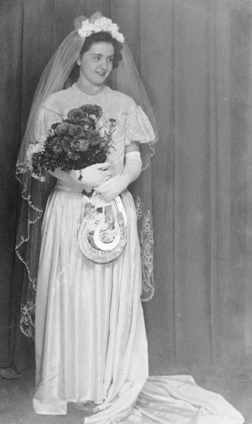 The marriage of Ena Kathleen Stone and Kenneth Alexander Thompson took place on Saturday the 5th June 1948 at St. Georgeís Church, High Street, Brentford, with the wedding breakfast afterwards at Enaís family home, 20 Chestnut Avenue, Brentford.

At the time rationing was still in force in Britain, which meant that wedding dress materials were hard to get and brides had to use all sorts of other materials for their dresses, including used parachute silk.

Ena was lucky enough to have an auntie, her motherís middle sister Winnie, in America where material was in plentiful supply and a dress made by Winnie duly arrived, together with white satin shoes and long white gloves.

Enaís mum made the bridesmaidsí dresses. Kenís suit was bought at Burtonís (known as the 50 bob tailors) at Ealing and cost 50 bob or 50 shillings (about £2.50). Roy Richardson was wearing Kenís de-mobilisation suit.

Lynn adds 'Ena's Mum's (Dorothy Langley - third from left in the photo above) fat tummy was me - born on the 9th July 1948, not very good for the wedding outfit!'
Despite the rationing, Enaís parents some how managed to get a real wedding cake and the wedding breakfast comprised food donated by family and friends from their own rations.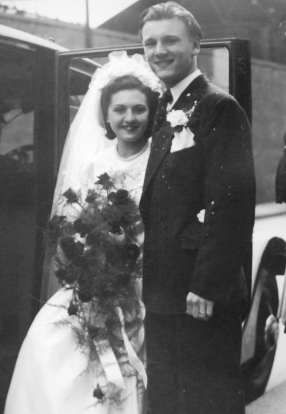 Enaís bouquet was of red roses and this came from the floristís shop that was the first shop past the recreation ground that used to be on the corner of Murray Road, on the western side of South Ealing Road opposite the entrance to the cemetery.
Enaís parents supplied the guestsí buttonholes, we guess from the same florists shop.
Ena and Ken remember that the Derby took place that day, Ena had backed a horse named My Love at one shilling each way and Ken had placed the bet for her. My Love won at 100/9, ridden by a French jockey whose name was something like Johnston.
| | |
| --- | --- |
| | |
| Ena with her step father Frank Langley | Leaving St George's church |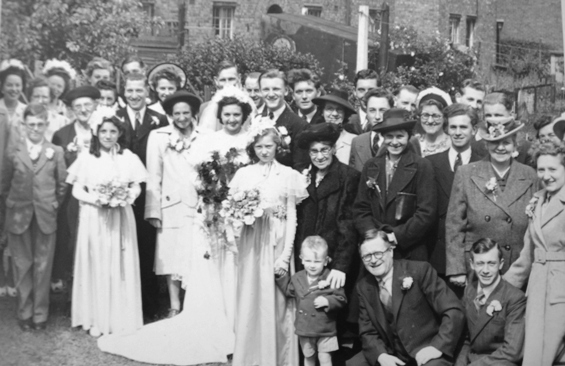 Guests at the wedding breakfast at Enaís family home, 20 Chestnut Avenue, Brentford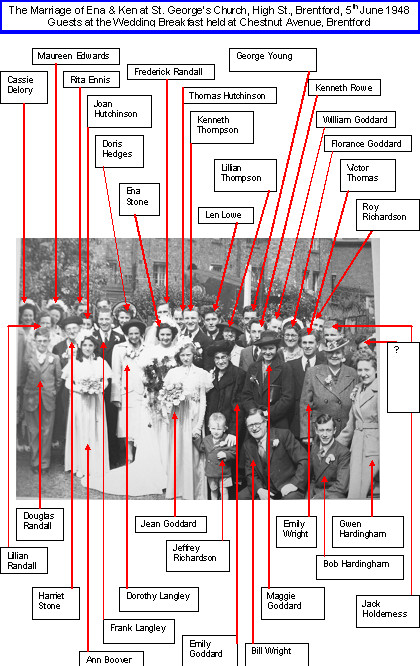 Lynn and Ena have also provided a copy of the above photo with names added. Surnames: Boover, Delory, Edwards, Ennis, Goddard, Hardingham, Hedges, Holderness, Hutchinson, Langley, Lowe, Randall, Richardson, Rowe, Stone, Thomas, Thompson, Wright and Young.
Top
Page published April 2011