Basics
Home and Search
Site Guide
Brentford Basics
Privacy Policy
Contact
People
Families
Photos of people
Name indexes incl WW1
Memories
Lists, Documents, News
Occupations
Properties
Properties: High Street
Properties: non-High Street
Photos
Maps
1909/10 Valuation Index
Pub Hub
Can You Help?
Seeking...
Mystery photos
Roads Off
A-Z list
Janet's Research
History
Beach's Jam
Nowell Parr
Turner the Artist
Queen Victoria 1840
Brentford Market
80 High Street
Clitherow of Boston House
Four Croxford Brothers
Sources & More
They Said
Books etc.
Web Links
Next
Site Technology
Author
Home and Search
Not Brentford
Brentford Families - Phillips
Around the end of WW1 actors Arthur Phillips and his wife Isabella moved to Brentford with their young daughter; their second daughter was born here in 1919. They stayed in Brentford a few years before settling in Cornwall.
This research into their lives was prompted by Dr. James Whetter, who lived in the couple's Cornish home; he had a collection of books previously held by the family and inscriptions within them give insights into the family, their work and leisure: 'I became interested in the Phillips because like historians are, they always need to have project on the go, and I thought I could look at the history of my house and the people who have lived here. And, of course, one started off with the Phillips who built the place. I am beginning to quite identify with Christie in a way. Well the house and gardens were her child, her creation and she lived here for the first ten years. I came to it with my family in 1964 for a time but it was not until about 1990 that I was here on my own and founded the Roseland Institute, Centre for Cornish Studies. I have been here ever since, nearly 30 years. So I have got to love the place, like she did at the start no doubt'.
James Whetter died in 2018. I greatly enjoyed working with him on this research, which he tackled with vitality and enthusiasm. R.I.P. James.
The research brought challenges, as outlined below.
There are no known living descendants of the couple and, as at 2018, no published family trees to draw upon. As a positive,this is an opportunity to tell a story that might otherwise remain untold. Tracing actors proved tricky - they worked in the provinces as well as London, so moved around a lot; Isabella used her stage name, Christie, on some occasions and her birth year changed over time. Even so, it has been possible to chart their lives, although a few loose ends remain.
This account first describes their lives before they met, then their marriage and later lives; then a section outlines the challenges encountered in this research and the sources drawn upon. The research was a joint effort with James, who both provided unique material that cannot be found in any archive and also purchased documents.
In January 2019 R.H., the family genealogist for the Phillips family and a great-great-grandson of the founder of the tobacco company, Godfrey Phillips, got in touch. He has provided answers to some of the puzzles that had proved impossible to resolve; his helpful contributions are now incorporated into the main story, annotated 'RH'. He has also provided a file which shows all of the descendants of Joseph and Annie Phillips, the parents of Arthur, our protagonist.
In May 2021 Paul Freeman, researcher into Dryhurst, provided new clippings about Maureen Shaw, who was certainly a partner of Arthur Phillips and may have been his wife. These news items clarify a couple of areas that were uncertain and have been added to the text.
The Phillips family - setting the scene
The story starts with a book inscription provided by James:

The Vicar of Wakefield by Oliver Goldsmith 1838; in pencil "Joseph Phillips, Hope Cottage, Grove Road, Stamford Hill Eighteen hundred ... " Next words difficult to make out. It could be "ninety" something but I am not sure. Under all this "H.H.Hamilton" written in ink, I would think an earlier owner.
The address in the inscription is that occupied by Godfrey Phillips and his large family in the 1871 census of Stamford Hill, Hackney:
Godfrey Phillips head mar 44? Cigar Manufacturer born Middlesex London
Elizabeth Phillips wife mar 44 bn Kent Greenwich
Joseph Phillips son unm 24 Commercial Traveler bn Middlesex London
Phillips Phillips son unm 20 Clerk bn Middlesex London
Samuel Phillips son 17 Commercial Traveler bn Middlesex London
Leah Phillips dau 15 Scholar bn Middlesex London
Eleanor Phillips dau 13 Scholar bn Middlesex London
Harriet Phillips dau 11 Scholar bn Middlesex London
Lizzie Phillips dau 9 Scholar bn Middlesex London
Matilda Phillips dau 8 Scholar bn Middlesex London
Moses D Phillips son 6 Scholar bn Middlesex London
Alfred Phillips son 2 bn Middlesex London
Arthur Phillips son 1 bn Middlesex London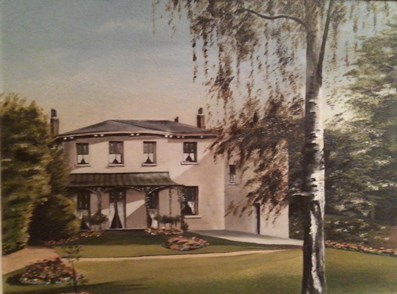 Arthur Phillips, our protagonist, was thought to be a grandson of Godfrey (not the baby of the family above) and the book inscription refers to Joseph, the eldest son of Godfrey, age 24 and unmarried in 1871. RH adds: Godfrey and Elizabeth Phillips were first cousins and married in 1846. R.H. provided this view of Hope Cottage painted by Arthur Phillips (1876-1949), first cousin of the actor. The house was demolished after WW2 but I understand it was of Georgian style. Arthur painted many of these for relatives.
Ten years on in 1881 Godfrey, his wife, two sons and three daughters were living at the same address, now with a live-in general servant and a housemaid; the father was a Tobacco Manufacturer, as was Joseph, age 34 and still unmarried.
The 1889 Westminster Rate Book records Godfrey, Joseph and Philip Phillips as occupying 39 Haymarket, rateable value £334.
1891: same address as 1881, Godfrey, 64, a Tobacco Manufacturer with just his wife, daughter Matilda and one female servant; his family has dispersed. The patriarch died in 1900 aged 73, his death registered at Hackney. The probate calendar reveals his effects were valued at a little under £69,000, a fortune at that time, and that probate was granted to Joseph Phillips and Philip Phillips, tobacco merchants, the two eldest sons. The probate entry also includes two addresses, Godfrey's home at 27 Old Hill Street, Upper Clapton (Hope Cottage) and 112 Commercial Street, Whitechapel, the factory. So Godfrey was a wealthy man and at least two of his sons were involved in the profitable business he had founded.
Joseph Phillips - a double life?
The eldest son, Joseph must have been steeped in the family business from an early age. The 1891 census (above) finds he and his family at Ennerdale Lodge, Ennerdale Road, Richmond, a few miles outsise London. There is no sign of Joseph but the census enumerator has helpfully added a note 'Head of Family from home, Commercial Traveller'. The family comprised Joseph's wife Annie, age 47, born 'Bashbury', Oxfordshire, and their children Lily, May, Spencer, Phillip and Arthur (10), who were all recorded as scholars, although the entries for the three eldest, aged 23, 21 and 16 respectively, have been annotated 'St' - perhaps student? Lily was born in Chelsea, the others in South Kensington. The family had one live-in servant, Mary J Smith, 17, from Chiswick.
There are some oddities here: if these were Joseph's children, why was he unmarried and living with his parents in 1871 and 1881? His two eldest daughters were born before the 1871 census. The following birth registrations are a good match to the names of the children recorded above and later, in 1901; in each case the maiden name of the mother was left blank, so it would appear all were illegitimate:
CLARRIDGE, LILIAN JOSEPHINE PHILLIPS [blank] 1867 M Quarter in ST LUKE CHELSEA
CLARRIDGE, MAY 1869 [blank] M Quarter in KENSINGTON
CLARIDGE, JOSEPH HERBERT SPENCER [blank] 1874 D Quarter in KENSINGTON
CLARIDGE, MORRIS PHILIP [blank] 1877 S Quarter in KENSINGTON
The one missing birth is that of our protagonist, Arthur - more about this shortly. Note that the eldest child, Lilian, was given the forenames Josephine and Phillips, a strong clue as to the un-named father who presumably was also the father of the other children. At her baptism at St Luke Chelsea the entry was annotated 'BB' in the margin indicating she was 'baseborn', that is illegitimate. The original entry below shows the name 'Joseph' - the child's father - crossed out, another clue as to his identity:

The family proved difficult to track down in the 1881 census but I am confident this is them due to the matches in names and birth dates with later censuses:

They were living at 85 Thistle Grove in Brompton, Kensington, in a household headed by married annuitant 'F Hart' (husband not included in the entry), age 39 and born in Bodicott, Oxfordshire. The age of her youngest child Arthur is 5 months, a good match to the birthdate of our protagonist from later records.

Further searches showed Arthur's birth was registered as Hart and that his mother's maiden name was that of his elder siblings: Clarridge

HART, ARTHUR [CLARRIDGE] 1880 D Quarter in KENSINGTON
Having found the family in 1881, they were eventually located at the same address in 1871:
Fany Hart widow 28 Furnishing Apt bn Oxfordshire
Lelian Hart dau 4 bn London
Mary Hart dau 2 bn London
Ellen Archer servt 21 general servant bn Essex
The Hart household was recorded after three other people: John Greaves 63 landowner born Manchester, his son Edward Greaves 15 born Ireland and niece Julia Herbert 22 born Torquay Devon.

The birth registration evidence suggests Fanny used the name 'Hart' in 1871 but was actually a Claridge at the time so recorded her children's births in that name. Only when registering Arthur's birth in 1880 did she give her current surname as Hart and her maiden name as Clarridge. This suggests she married a Hart between the third quarter of 1877 (birth of Morris Philip) and the last quarter of 1880 when Arthur was born: in 1881 she describes herelf as 'married'. The only marriage of a Hart to a Clar(r)idge in this period took place in Marton-in-Cleveland, North Yorkshire, Christmas Eve 1879, but the details do not fit: Joseph Henry Hart was a draper and Minnie Maria Clarridge age 23; the names and location are wrong too. So something strange was going on here and if Fanny is the 'Annie' recorded as Joseph's wife in 1891 and 1901 then the time and place of her marriage to him remains a mystery.

RH has clarified the circumstances surrounding Joseph and his apparent double-life: Joseph was the first child of Godfrey and Elizabeth Phillips. They were quite religious and the tobacco factory was therefore not allowed to open on the Sabbath (Saturday). It was unthinkable for their oldest child and first born son to not marry a Jewish wife. I don't know whether he kept Annie secret from them, and their children too, but he did marry Annie Claridge (not Hart!) in July-Sept 1882 at Kensington, Vol 1a, fol. 346 and this was well before Godfrey died in 1900 and Elisabeth died in 1894. My grandmother and her sister certainly knew of their cousins and almost married two of them!

Joseph's younger brother married a Christian in 1874 overseas and his parents were not at all pleased so she converted when they returned to London in 1879/1880 and perhaps that made it easier for Joseph to finally marry the mother of his children.

Regarding Fanny or Annie Hart or Claridge, on each census return she gave a different age (obviously) which translated to birth years of between 1842 and 1846. The Ann Claridge entries for that period are all for Ann Elizabeth Claridge born in 1843 and two in 1846 and they all married other persons.

Therefore, I believe I have found the only plausible one which matches the place of birth she actually stated once, Bodicote. I believe she was born in 1841 and that she was the orphan shown on the 1851 census living at a school. As Annie was therefore 5 years older than her husband, she made herself appear younger by giving later birth years.

The name Hart seems to have been taken out of a hat. As it is commonly used by gentiles and Jews, they probably decided it was as good as any other.

On the 1871 census the neighbours including a wife from Banbury were called Earhart so perhaps that gave Annie the idea of becoming Fany Hart.

Setting aside the unusual circumstances surrounding Joseph's family, the 1891 census hints that Arthur had a good start in life; also, as the third son, perhaps any family expectations rested on his elder brothers. Around this time Arthur received a book, possibly from his father; James provided the following notes:

'Wild Life in the Land of the Giants: A Tale of Two Brothers by Gordon Stables, published in 1888. The author dedicated it "to the Readers of the Boys Own Paper and its worthy editor". Stables clearly wrote articles and books for boys. There is a list of the books he wrote at the start and fuller details of them at the end. Interestingly this one has a Cornish scene early on and among the eight illustrations is one of two boys or young men fighting off with swords some natives, the caption "Back to Back, in good old Cornish fashion". Without reading the book, later scenes involve Patagonia and the Pampas in Argentina and ends with a happy climax. The book has one or two pencil marks in it, a couple of small red blotches early on. His signature is written big and boldly in pencil on the first inside page which is black and the next one. I would think he was aged 10 to 12 then, from the writing. No doubt Cornwall at the time had a romantic appeal and perhaps this was an influence in his later life.'

Arthur's father Joseph was away from home in 1891 and most likely was staying at The Knowe, Kilbarchan, Renfrewshire, Scotland:
Joseph Phillips Visitor Married Male 44 1847 Tobacco Manufr born England
He was staying with John Paterson Burns, a 42 year old tobacconist, and his family. The Burns family were all Scots and presumably Joseph Phillips was here on business.

Ten years later the 1901 census shows the family at the same Ennerdale Road address as in 1891, with Joseph Phillips present: he was 54 and a tobacco manufacturer, an employer, as was son Spencer, age 26. Lily and May were still at home (no occupations listed, presumably ladies of leisure) and Arthur, 20, was a student.

Their mother was named Annie and she was 56, born Banbury Oxfordshire. As an aside, Bodicote, the birthplace of Fanny Hart from the 1881 census, is under 3 miles from Banbury, Annie's birthplace in 1901 (and presumably 'Bashbury', Annie's birthplace from 1891 was a mis-recording of Banbury). So there is further circumstantial evidence that Fanny Hart (nee Claridge) and Annie Phillips were the same individual.

The death of Annie Phillips was registered at Richmond in the first quarter of 1905, her age 59.
Arthur Phillips, actor
The following sighting of Arthur reveals his occupation: under the heading 'Mr F.R. Benson's Shakespearean Company' the Gloucester Citizen reported on 10 September 1904 that Arthur played Biondello in The Taming of the Shrew: this was a minor part but he gave 'a pleasing and appropriate rendering'. Miss Christie Laws capably played 'the gentle Bianca' in the same production.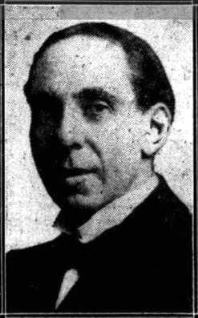 The photo shows Arthur in later life; Kent and Sussex Courier 4 February 1927, captioned "Mr Arthur Phillips who is to play 'Hamlet' with Sir Frank Benson as the Ghost".
A 1909 review of The Merchant of Venice in The Cornishman provides more information: the play was produced by 'Mr. Arthur Phillips' Company at St John's Hall Penzance', adding 'Mr Phillips is a well known in Penzance, having been the leading actor in Mr. F. R. Benson's Shakespearean Company, and Miss Christie Laws, too, has also been previously associated with this renowned company'. Here Arthur took the leading role, Shylock 'his long assocation with the impersonation of this character stood him in good stead'. Aged under 30 Arthur had been able to establish his own company of Shakespearean actors.
Some Notable Hamlets, by Clement Scott, 1900, inside front cover 'Arthur February 10th 1909'.
Arthur's role as producer evidently meant much travelling around the provinces: the 1911 census finds him at the Portland Hotel in Nottingham. This had a manageress, an assistant and 13 servants looking after just four boarders and six visitors - a good ratio for the guests! Of the six visitors four were 'Professional Actors/Actresses (Drama)', including Arthur, 30, who was an 'employer' and Kate Hutchinson, 30; Christie Laws, 24; and finally Lionel Briggs, 26, all 'workers'. Their birthplaces were Sunderland, Weymouth and Aspatria respectively: they were all working well away from their home areas.
As an aside, Arthur's father remained at Ennerdale Road, Kew in 1911; he was widowed and a son and daughter remained at home. The property had ten rooms - considerably larger than average - and he and his son 'Joseph Herbert Spencer Phillips' - now 36 - were both tobacco manufacturers and employers. The family of three had two live-in servants: a cook and a housemaid.
Another sighting of Arthur in April 1911: 'The popular young actor-manager, as Hilary Tolfrey Kite, the principal character in Tom Gallon's new play, "The Great Gay Road"... at Torquay'.
Arthur must have been a very eligible bachelor but appears to have concentrated on his career until his mid-30s. He married Isabella Christie Mingaye Briggs on 29th July 1915 at Richmond Register Office: he described himself as a bachelor, 34, actor of Ennerdale Lodge, Richmond, son of Joseph Phillips, Tobacco Manufacturer. Isabella was 29, a widow, of 10 Gloucester Road, Weymouth, daughter of John Laws, dentist. She signed the register 'Christie M. Briggs' and the marriage was witnessed by J.H.I. Phillips, J. Phillips and L. Phillips: Arthur's family attended so presumably approved of his marriage. (I think J.H.I. Phillips would be Joseph Herbert Spencer Phillips, elder brother to Arthur, the 'S' being mistaken for an 'I', J. Phillips may be his father Joseph and L. Phillips may be Arthur's sister Lilian').
Aberdeen Press and Journal 14 May 1919 includes an advertisement for a share issue in Godfrey Phillips Limited and lists its directors: Joseph Phillips (Chairman), Ennerdale Lodge, Kew; Philip Phillips, 47 Hanover Gate Mansions, Regent's Park, London; Moses David Phillips, 'Dover-court', Hollington Park, St Leonards, Sussex; Arthur Isaac Phillips, 61 Eton Avensue, London; Joseph Herbert Spencer Phillips, Ennerdale Lodge, Kew. These were Arthur's father and uncles with one exception: his elder brother Joseph Herbert Spencer had become a director.
A brief digression here to look at the early life of Isabella, who adopted her middle name for her stage name: 'Christie Laws'.
Isabella Laws
Isabella's Weymouth address and details of her father from her 1915 marriage certificate made it easy to trace Isabella's parents in the censuses. In 1891 the Laws household comprised:
John Laws, 39, Dental Surgeon L.D.S., born Islington London
Hannah W Laws, 42, his wife, born Manchester
James R de W Laws, 12, Scholar, Radipole Dorset
Rosa ? C Laws, 10, Scholar, Melcombe Regis Dorset
Amy W Laws, 8 1/2, Scholar, Radipole Dorset
Elizabeth C Laws, 7, Scholar, Radipole Dorset
Dorothy D Laws, 5, Scholar, Melcombe Regis Dorset
Annie ? Laws, 2, Melcombe Regis Dorset
Isabella Arden, cousin, single, 33, Living on her own means, Trinity parish Ilfracombe Dorset
Emily Travers, servant, single, 31, Nurse Domestic Servant, Loders Dorset
Lucy Travers, servant, 21, Housemaid Domestic Servant, Loders Dorset
The census entry apparently does not include Isabella. Her age at marriage suggests she was born in 1885 or 1886, but in fact her birth was registered in the third quarter of 1884, at Weymouth: Isabella Christie Laws. Her mother was formerly a Glossop and Isabella's siblings' births were registered in the following names: James Rogers De' Witt, Rosa Ruthall Curtis, Amy Wilkinson, Dorothy Dale and Annie Glossop. These can be matched to the names recorded in 1891 but leave 'Elizabeth C' Laws age 7: it seems Isabella's forename was recorded incorrectly.
The OS map published in 1903, 6" to the mile, shows the Gloucester Row property on the seafront overlooking Portland Harbour; this may have been why Isabella later chose to live by the sea.
The location of the family in 1891, the father's profession, the cousin 'living on her own means', two live-in servants and the forenames given to the children suggest the family was comfortable financially.
The 1901 census shows her father, mother and three of her siblings remained at 2 Gloucester Row but Isabella was no longer at home. She can be found in Hampstead as 'Christie Laws', age 15, one of ten boarders at a school run by widow Anne Meate from Glasgow, age 58, at 14 Belsize Park Gardens.
The inscription provided by James may mark the start of her acting career with F.R. Benson's Company.

The Case of the Rebellious Susan, by Henry Arthur Jones, 1901 edition (this play was first published in 1894)
As the notes for Arthur above show, in September 1904 he and Isabella were both in Benson's company and working together. Isabella's stage name was Christie Laws and this is how she will be referred to from now on.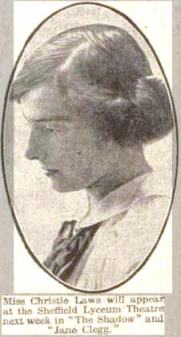 This photo of Christie appeared in the Sheffield Independent 16 May 1914.
The 1911 census shows part of the company formed by Arthur was temporarily resident in Nottingham, including Lionel Briggs and Christie. On 20th February 1912 Christie married Lionel at Richmond Register Office with her mother Hannah W Laws as a witness.
However the outbreak of WW1 a few months later meant Lionel had to give up his acting career. He signed a Short Service Attestation to serve three years 'with the Colours' at Manchester in September 1914. He was 29 and described his 'trade or calling ' as 'Actor' and his service records include details of his marriage to Christie.
His military career was brief: only months later in January 1915 Lionel was discharged from service due to poor health (cardiac strain) and subsequently died in his home town Aspatria, Northumberland. Newly-widowed Christie subsequently married Arthur Phillips in the summer of that year.
I have not found any evidence that Arthur fought in WW1: there are military records for several Arthur Phillips but none match his age and occupation. Conversely there are indications that he continued his acting and theatrical production career, as noted below.
Arthur and Christie - together
Arthur and Christie's first daughter Alice Rosemary Desiree was born on May 26th 1916 and her birth was registered at Marylebone, suggesting they lived in that area. The Stage of the same year records that Arthur played the Jew in Sisyphus and the Wandering Jew at the Little Theatre. It seems Christie focused on bringing up her daughter and gave up acting. The family moved to Brentford within the next couple of years:
James provided this inscription which appears in
A Second Diary of the Great War from Jan 1916 to June 1917, by Samuel Pepys, junr., published 1917.

Stuck on the inside page is a printed card which originally read
Mr Arthur Phillips
Brent Cottage
Brentford

but has been amended by Christie, who crossed out his name and substituted:
With best Xmas wishes from us
From around this date another inscription:
Soldier Tales by Rudyard Kipling, 1900 signed "Christie Philips 31 May - 18"
Their new address is confirmed in the electoral register for 1918, when Arthur and Christie (recorded as Isabella) are both listed at Brent Cottage, Brentford. Brent Cottage overlooked the river Brent so must have been an attractive place to settle as a family. The site has a brief history of Brent House and its adjoining property, Brent Cottage: by the time the Phillips family moved here Brent House had been demolished so presumably their new home had a more open aspect.
On March 2nd 1919 their second daughter was born, Jean Pamela Primrose, and her birth was registered at Brentford. The electoral register for 1920 shows Arthur and Christie remained at Brent Cottage but in 1922 Joseph Charlton Lane-Claypon was recorded at Brent Cottage: the Phillips family had moved away. As an aside, Joseph Charlton Lane-Claypon was Master of the Mercers' Company in 1937.
The 1921 census finds Arthur Phillips' household at The Crossways, East Sheen, Surrey:
Arthur Phillips, head, married, age 40 years 7 months, married, born South Kensington, Actor
Alice Rosemary Phillips, daughter, 5 years, born Marylebone
Jean Pamela Phillips, daughter, 2y 3m, born Brentford, Middlesex
Dorothy Hetty Spanswick, servant, 22y 9m, born Repton, Derbyshire, House Maid
Minnie Munro, servant, 49y, widowm born Bog Bain, Invernessshire, Cook
Lilian Bons, nurse, 36y, born Twickenham, Middlesex, Domestic Nurse
Searches in April 2023 found no sign of Christie/Isabella.

The Enchanted April by 'the Author of Elizabeth and her German Garden'. Inside page "Christie Phillips Jan 1923. Primrose Cottage, East Sheen".

The Enchanted April describes four society women on holiday in the Italian Riviera, two of whom are struggling to make the best of unhappy marriages. The author, Elizabeth von Arnim, appears to have drawn upon her own experiences (Google searches).

The inscription shows the family had moved to East Sheen by January 1923. Whilst Primrose Cottage sounds rather modest, a later occupant was the actor-manager Sir John Martin-Harvey, knight, who died in 1944 leaving nearly £13,000; the probate index provides a fuller address: Primrose Cottage, 31 Fife Road, East Sheen. Was there a connection between Arthur Phillips and Sir John that led to the latter moving into Primrose Cottage?

Arthur continued acting: Leamington Spa Courier 18 July 1924 described his 'remarkable performance' as King Lear at Stratford and noted it was 'a creditable representation of what is perhaps the hardest part in Shakespeare', adding 'there were few outstanding pieces of acting ... but a word ought to be said about Miss Maureen Shaw, who in another very hard part succeeded in being both feminine and - Cordelia'. The company putting on this production was Arthur's New Shakespeare Company which he had formed a few years previously; actress Maureen Shaw will feature later...

In February 1926 Arthur placed an advertisement in The Stage : 'Theatrical Employers Registration Act 1925: Arthur Phillips, residing at Brown Gates, Ham Common, Surrey ... intends to apply to the London County Council for Registration'. Presumably his family were living with him at this address. As an aside Brown Gates House formerly belonged to the Ham Polo Club's first chairman, Loftus Storey, and occupied a large plot facing the Common. This was a short distance from Primrose Cottage, East Sheen, where they lived in 1923.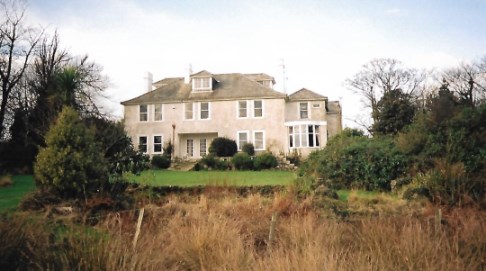 Arthur must have spent much time away from his wife and daughters following his career in theatre production and acting. The Dundee Courier 7 April 1926 reported that Arthur played Macbeth 'with excellent judgement and restrained emotion' at the King's Theatre Dundee in a production by Sir Frank Benson's company.
Memories of Old Richmond by Estella Cave, 1923 inscribed "Arthur Phillips with love from Rosemary and Jean Christmas 1926"; James adds 'hand written by Rosemary I should think. The name "Jean" may have been written by the younger daughter'.
The following year, January 1927, Lilian Josephine Phillips, Arthur's elder sister, died at Ennerdale Lodge at the age of 60. She left a relatively modest (for the family) estate of around £4,500 and named her brothers Joseph Herbert Spencer Phillips, manufacturer, and Arthur Phillips, actor, as her executors. It is not known if Arthur was a beneficiary of his sister's will but within a few months, he and his family planned a major move.
In June 1927, Roseland House, Gorran Haven, Cornwall, was commissioned by Mrs. Christie Phillips from Andrew and Randell, architects of St. Austell. The plans show an elegant and simple white-walled house with tall chimneys, recognisable in the modern photo. James adds 'What is beginning to intrigue me is Christie's inspiration to build the house here. It has style and character, very much of the period.'
James sent a copy of the plan prepared by Treseder & Co, Landscape Gardeners, Truro & Plymouth for Mrs. Christie Phillips of Gorran Haven in August 1927. This shows a tennis court on the south side of the house, screened by a shrubbery and towards the end of the long, south-facing garden '24 fruit trees planted in pits'. 'Isabella Christie Phillips' advertised for a gardener at Gorran in February 1928.
The 1929 and 1930 electoral registers show both Arthur and 'Isbella' Christie Phillips were living at Roseland. It seems likely that Arthur put up the considerable amount of money required to build the property, and it was, for a time, his base when not travelling around the country pursuing his career.
Rosemary collected & compiled by F. de Burgh & Walter Stoneman. No date. Initial dedicatory poem: 1914. "To Daddy from Rosemary Christmas 1929" in childish writing.
However problems in their marriage arose only a few years later; an advertisement placed by Arthur in the Western Morning News of 26 November 1931 indicates a serous rift between Arthur and Christie.
Arthur and Christie - apart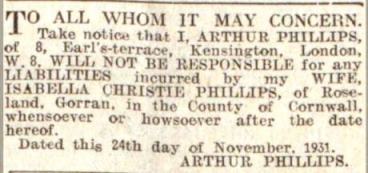 On 8th December 1931 Christie filed for divorce. In the papers (held at The National Archives) Christie states Arthur left Roseland in July 1928 and since had 'persistently refused to return to her and co-habitation' and adds that he 'frequently committed adultery with women whose names and identity are not known to your Petitioner'. A specific instance was cited where Arthur committed adultery with a woman at the Queen's Hotel, Eastbourne in November 1931.
Christie sought custody of the children and 'further and other relief as may be just'.
That same month the Western Morning News reported Arthur had been fined after committing a motoring offence in Exeter on 27th November - had he been down to Roseland to see Christie? He gave his address as Earl's Court, Kensington and this address is confirmed in an earlier electoral register, from 1928; he occupied a 3rd floor flat at no. 8, apparently alone. Maybe the flat was his base when he worked on London productions.
Arthur from 1932
Arthur's father died in April 1935 at the age of 88 and probate was granted to his sons Joseph Herbert Spencer Phillips 'of no occupation' and Arthur Phillips, actor. Joseph had remained at Ennerdale Lodge until his death and left a massive estate: over £180,000. Without purchasing the will it is not known whether Arthur inherited from his father.
In April 1936 Arthur produced Hamlet at the Lyric, Hammersmith, he playing the key role and Maureen Shaw was Ophelia. The Stage of 5 March 1936 reported that this was his sixth production and fourth play of Shakespeare at this theatre. The Stage in July 1968 included an article looking back on the six month's season of drama at the Lyric and the author, Michael Gardner, described Arthur as a 'mysterious and captivating actor'.
Arthur's elder brother Joseph Herbert Spencer Phillips died on 7 November 1937 at the age of 63 and his effects were over £200,000; it is not known if Arthur benefitted from his brother's will.
The 1939 Register provides a snapshot of Arthur's life on a day in late September. He was staying at The Red Lion Hotel in Colchester, and the entry includes his birth date - 23rd October 1880 - and his occupation - Actor. There were no other actors recorded at the hotel but perhaps other members of the company stayed in less expensive digs.
Arthur and Maureen Shaw
The name 'Maureen Shaw' has cropped up several times above and an article in The Stage from July 1968 notes 'Phillips later married the beautiful red-haired, green-eyed, Maureen Shaw'. It adds Maureen's mother had been a model to the sculptor Brock, when he was designing the Victoria Monument opposite Buckingham Palace.
Maureen Shaw is a relatively unusual name for that time and evidence suggests she was the daughter of Charles Garibaldi Shaw, a solicitor, and Nina Noemie (nee Barker). Her parents married on 31 March 1897 at Christ Church, Paddington and each described their father as 'gentleman'. Maureen was born in Reading and baptised on 31 May 1900 at Holy Trinity church, Paddington.

. Paul Freeman provided this item from birth notices, page 7 of the Derbyshire Times, 3rd March 1900. This was published in Charles Garibaldi Shaw's home town of Chesterfield.
Paul adds: Shaw named his home in Reading Dryhurst, after a late Georgian property of the same name on the outskirts of Chesterfield. This was once owned by his father Lewis Shaw, although I have so far not found any evidence that either Lewis or Charles Garibaldi ever lived in it (it was rented out). The property still stands and now lies within the grounds of Chesterfield Royal Hospital.
The 1911 census shows Maureen was their only child. Nina died later that year, age 42, when her daughter was 11. Charles Garibaldi married the year after Nina's death, Helen L Todd, in the Worthing area, Sussex.
In April 1921 Maureen Shaw played Emmeline in 'The Blue Lagoon', at The Grand, Derby, the earliest reference to her acting career found so far; at 21 she was playing a role appropriate for her age.
In the second quarter of 1921 Maureen Shaw married Cecil Forster and shortly after they were recorded in the census at The Bungalow, Colney Park, St Albans, Hertfordshire:
Cecil Forster, head, age 26y 9m, born Middlesborough, Durham, Farm Manager
Maureen Forster, wife, 21y 4m, Reading, Berkshire
R Forster, brotherm 21y 4m, born South Africa, Horseman
C E Rust, boarder, 18y 10m, (male), Stoke Newington, London, Farm Labourer
The three men worked for Sir Alexander MacRobert at Colney Park.

There is a telling birth registration in Barnet registration district, the final quarter of 1921: Nina M Forster, mother formerly Shaw. She had named her daughter after her mother.

Maureen must have returned to her acting career within a few years as The Stage, 6 March 1924, announced the New Shakespeare Company, under the direction of Mr W. Bridges Adams, was due to visit Oxford, Golders Green and Wimbledon before returning to Stratford upon Avon. The list of 20 company members includes Maureen Shaw and Arthur Phillips; this is the first time they are known to have worked together.

The electoral register of 1931 shows Cecil and Maureen Forster living at Chantelu, Windsor Road, Bray, Berkshire.
Advertisements and reviews confirm that Maureen and Arthur were in the same productions during the 1920s and 1930s. The Stage of 5 March 1936 is an example, left.
The following year Maureen played Lady Macbeth at Penzance and received an ecstatic review in The Cornishman: 'She was supreme, a magnificent tragic actress, perfect in every word and gesture' adding later in the piece 'Not the least of her glories was her indescribably curly hair, stretching below her knees - and her own!'
In 1939 Maureen was 'a most engaging Beatrice' in Much Ado about nothing at Stoketon House, Saltash, Cornwall, reviewed in the Western Morning News of 3rd August.
Shortly after this review, the 1939 Register shows Cecil and Maureen Forster's address as M.B. Maurina (a motor boat?) in Twickenham.
Maureen's birth date of 16 February 1900 in the 1939 Register, matches that recorded at her baptism.
Her occupation was the standard form for a married woman: 'Unpaid domestic duties'; no indication that she was Maureen Shaw, actress.
Her husband Cecil was an agricultural and electrical engineer.
Paul Freeman supplied this image, from the

Reading Standard

of 18 June 1897, which he suggests may explain Maureen's predilection for living on a boat.
As an aside, in 1939 Maureen's father Charles G, was 79 and a 'Solicitor (retired)' and still living in Reading with his wife 'Helen L'.
Her father Charles Garibaldi Shaw died on the 18th February 1944 at Caversham near Reading; probate was granted to Helen Louise Shaw, his widow, and his effects were valued at over £8,100. Helen died on 23 December the following year and probate was granted to 'Maureen Forster (wife of Cecil Forster)'; her effects were valued at over £25,000.
Maureen continued working as a Shakespearean actress until at least 1948, when The Stage reports she played Titania in A Midsummer Night's Dream. The Stage 24 May 1951 mentions a Maureen Shaw playing in The Golden Grain at The Gateway Theatre, Bayswater, but the cast is described as 'young' so perhaps this was another Maureen. In any case the Shakespearean actress of this name died 2 February 1953 in the War Memorial Hospital, Gosport, Hampshire; her address is given as the motor yacht Good Companion at the Yacht Yard, Fareham. Probate was granted to her husband Cecil 'of no occupation' and her effects were valued at over £8,500. Her husband later moved to Dittisham Devon, where he died 30 December 1963; probate was granted to Nina Maureen Forster spinster - his estate was valued at £16,063.
An aside: the name of Maureen's motor yacht, Good Companion, may have come from J.B. Priestley's book of 1929, The Good Companions, which follows the fortunes of a concert party on a tour of England.
The details recorded above neatly link Maureen Shaw, her parents Charles Garibaldi and Nina Noemie, and husband Cecil Forster, but there is only circumstantial evidence that she is the actress mentioned in various news articles. Weighing this evidence up: the Maureen born in 1900 was from a family that could afford to support her as an actress; she led a slightly unconventional life, living on a boat in 1939 and 1953; she married a younger man, possibly when already pregnant.
As to her supposed marriage to Arthur, no record can be found of it prior to 1953. In fact there is evidence that Maureen remained with her husband Cecil: she was living with him in 1931 and 1939; probate was granted to him in 1953. Perhaps Arthur and Maureen had an affair but did not marry? Was Maureen one of the women referred to in the divorce papers? Or was there another Maureen Shaw who has not been uncovered by this research?
As a footnote to Maureen and her husband Cecil's lives, a death registration in Eastbourne of Nina Maureen Shaw in 1966, age 45, reveals their daughter's middle name.
Arthur lived in Cornwall in his later life. His will was drawn up on 27th August 1955 at which point he was in his mid-seventies and living at Roseland. He appointed solicitors in Grosvenor Square, London and Truro, Cornwall as his executors and trustees. His will refers to his shares in Godfrey Phillips Limited and he bequeathed income from his estate to his 'wife during her widowhood' up to £600 per annum, with any excess to be shared by his two daughters Jean Christie Phillips and Rosemary Alice Desiree Phillips. The will was witnessed by two solicitors' clerks, not family members. So at the point when he prepared his will he had a wife, although we cannot be certain who she was.
Arthur died in a nursing home in Plymouth on 25th November 1966. Probate was granted on 7th April 1967 and Arthur was described as being of Pleasant Streams, Withiel, Bodmin, formerly of Roseland, Gorran. His estate was valued at over £15,000: not a huge amount when compared with sums left by other members of the Phillips family.
At this point we'll return to Christie and pick up details of her life following her divorce from Arthur in 1932.
Christie from 1932
Christie remarried in St Martin's Registration District London in the first quarter of 1933; the short interval between divorce and remarriage may indicate her finding a new partner prompted the divorce. Her third husband was Frederick B J Sharp, known as FBJ Sharp, an actor and later a director - he was '2nd Company Director' for The Man in the White Suit, 1951. Google for more information. She recorded her name as Isabella C Laws, not Phillips, at marriage.
The first two book inscriptions show Christie and her daughters were living at Roseland in 1931 and 1933:

At the Back of the North Wind by George MacDonald, inscribed by Christie
"Rosemary & Jean Phillips Roseland 1931"

The Arches of the Years by Halliday Sutherland, edition November 1933, see scan to right

Shadow on the Hills by Nancy Price, 1935 "Christie 31.5.35" Initials below, perhaps "ICP"
In July 1937 Christie stayed in Bath and was recorded in the 'Bath Visitors' List': 'Mrs Brinsley Sharp (Gooran)'. However she was shortly to move away from Cornwall, as James explains:
'The Phillips sold Roseland to the Hon. Mrs. Bellairs from Sussex about 1939. She lived there in some style with a chauffeur and I think a Rolls Royce and had three gardeners looking after the gardens which were kept meticulous - unlike today! At the top of the garden she had constructed four air raid shelters, a big one for herself by the entrance and three smaller ones on the east side for her staff. At the end of the war she moved back to Sussex and her son Lionel came here with his family and lived here until about 1953'.
The 1939 Register shows 'Isabella C Brinsley-Sharp' living at Woodlands, Gloucester Road, Ledbury in Herefordshire and she was married (although her husband was not at home). Her birth date was recorded as 31st May 1892: 31st May matches the date of the third book inscription above and an earlier one from 1918; however she was born in 1884, so pruned 8 years off her age in 1939.
Living with her were her in 1939 were her younger daughter Jean P P Phillips (with 'P P' crossed out and 'Christie' added), a student, and Luceta C Georgia (surname crossed out and Craddock added), born 1912, 'domestic servant'. Christie's eldest daughter, Rosemary Phillips, was a riding mistress at Bredenbury Court school, Bromyard, Herefordshire. She is recorded under the name Rosemary ?A?D Phillips, her birth date 26th May 1916; she was living around 15 miles from her mother and sister.
The Pilgrim Cottage Omnibus by Cecil Roberts, edition July 1938. Jean was 21 in 1940 and her mother marked the occasion with this gift "To my Jean from Mother on your birthday March 2nd 1940".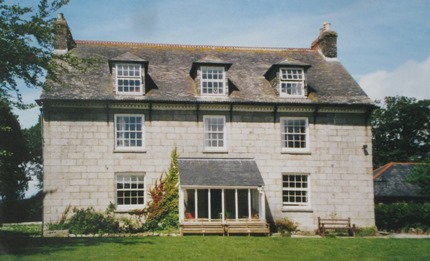 Christie returned to Cornwall and died there on 21st August 1947. She left a will describing herself as widow, her name as 'Isabella Christie Brinsley Sharp otherwise Isabella Christie Brindsly Sharp' of Trefula St. Day, Redruth, Cornwall. James notes Trefula is between Redruth and St. Day and is now a nursing home: it may have been so in 1947 too. James provided the photo on the left which shows Trefula in 2017.
Probate was granted to Arthur Phillips, retired actor, and a solicitor. Had she and Arthur become reconciled? Christie's effects were valued at £6807 10s 2d. Her age at death was recorded as 52 although in reality she was 63! It is strange she was described 'widow' as her husband, Frederick Brindsley James Sharp, lived a further 17 years, dying on 8th December 1964; he was of Upper Cheyne Row, Chelsea, 94 years old, and his effects were valued at £6190. Perhaps they had divorced? Unfortunately only 0.2% of divorce case files dated after 1937 survive and few details of his personal life are available online.
The daughters
An article in The Stage dating from 11 July 1968 under the heading Mystery solved: rich, eccentric Arthur Phillips notes his two daughters were 'brought up far from any stage influences and now farm in Cornwall'.
It seems that after their mother married for a third time in 1933 Christie and her two daughters moved to Ledbury in Herefordshire, presumably their step father's home. Here the elder daughter, Rosemary, was a riding mistress in 1939 at a boarding school around 15 miles away.
However their sojourn in Herefordshire appears to have ended by 1947, at which point Christie was back in Cornwall, unwell and staying in a nursing home where she died.
James offers details of the next phase of the girls' lives: 'Rosemary, Jean and their father re-purchased Roseland in 1953 and the two girls converted the southern part of the gardens and the field below into a small holding. They put a piggery in the walled garden and a cowhouse in the middle of the field below. At the top of the garden near the entrance to the house they had stables where Jean kept her horses. They sold the place to us 10 years later. Arthur certainly lived there for part of the time and kept a Rolls Royce in the garage. I have some knowledge of them there in this period as a lady who helped them in the house, Miss Osmond, also helped my mother from time to time in our farmhouse at Trelispen, which is 300 yards away on the west side of Roseland.'
A second Cornish home - Pleasant Streams
In 1963 Arthur and his two girls moved to Pleasant Streams, Withiel, Bodmin. In the 1939 Register this was a set of three cottages occupied by labourers.

James supplied more information about Pleasant Streams: 'it was a holding of about 20 acres, perhaps a bit more, taken by the Phillips family in 1963. This and other information I obtained from a neighbour of theirs, Eric Harper. I wondered if Arthur had been with them, especially since when he was ill in 1966 he was taken to Derriford hospital, Plymouth and died there shortly afterwards.' (This is borne out by the wording in the grant of probate of Arthur Phillips' will in 1967, where he is described as being 'of Pleasant Streams, Withiel, Bodmin [formerly of Roseland, Gorran, Cornwall]'.)

'Eric did not remember anything about their father being with them at Withiel. So I think he may have been somewhere else, though no doubt he kept in touch with them. Having visited Pleasant Streams I could see with its steep access lane, which Eric said was then in not so good a condition as it is now, it would not have been a suitable home for him. To have come to such a place after Roseland, one wondered if they were trying to escape, find a place that would be inaccessible to their father! With his background certainly Roseland would have been much more his style.'

'Pleasant Streams is in a south facing position, in a dip in the land beside a steep sided gully of a stream. It was pleasant enough, hill pasture fields around, trees on the hedges. Idyllic in some ways, and the old farmhouse was a genuine one, something a bit like Trelispen farmhouse and one wonders again if our former home had been an inspiration for them. I can see it would have been quite a nice to live in if one wanted to be on one's own, away from it all. But as I said I should not have thought it would have appealed to Arthur. He was getting older then, of course. Maybe he lived in a hotel or guest house some where in south west England, Torquay perhaps - like Lionel Bellairs. On reflection perhaps the families kept in contact. They both had Jewish backgrounds, with London connections. The Phillips had sold the house to them before the war and later bought it back again. Lionel died in Torquay in February 1971 aged 65.'

'Eric rented their holding when they were there and clearly they had given up farming by then. They kept two horses in their fields which mixed with his livestock. He said on one occasion a horse had a fight with one of his cattle and injured it, its leg always a bit funny after that. He had heard they had got their money from tobacco and he sensed they were fairly well off. Jean, he said, was the one who went riding a horse on the roads in the neighbourhood. Her estimate of horses rested on their money value and if it was worth £100 she would not notice it, but if £1000 then she would think it was a good one. He never went into their house, nor did Geoffrey Semmens who knew them and still lives nearby. We saw Geoffrey after going to Pleasant Streams. He knew them when they were at Gorran and used to take over straw for them there. He did building work for them at Pleasant Streams but said once they nearly caused him to lose his job, complaining about his work to his boss.'

'Eric told how sometimes they used to bring out for him a cup of tea. It was very strong, "like creosote", and they stayed with him and watched him drink it. I took a photo of the building they kept their horses in which was a little way down from the farmhouse. Also I went to the back of the shed opposite the house and looked down at the steep channel on the east side in which a stream runs, about 20 feet down from the top I should think. They built an extension on the north side of the house, he thought for a housekeeper, but he does not know that anyone ever occupied it. It is a lovely old farmhouse, the walls of a nice browny local stone, but has had extensions on both north and south sides, which spoil it a bit'.

'The younger daughter Jean died on 25 November 1975 when they were at Withiel, aged 56. She broke a finger, falling off her horse I think, and when they examined the bone in the hospital they found she had bone cancer from which there was no hope of recovery.'

'Rosemary then went to live in north Dorset where she lived 20 years, dying there 14th August 1995 aged 79. Her will was proved at Winchester on 1st November. Her address was given as Millbrook House, Child Okeford, Blandford Forum and her executors and trustees were Michael Charles Johnston and Andrew Philip Oliver, solicitors, of The Plocks, Blandford Forum. Her estate was said not to exceed £145,000, the net value not exceeding £100,000. By her will made on 27th April 1995 she wished her body to be cremated and her ashes scattered on the cliffs near Gorran Haven or in the Dorset countryside or field near "Hemmick", Leigh Ibberton. I think there was a mistake there, Hemmick being a beach in Gorran and probably Leigh Ibberton is a place in Dorset she knew.'

'She left to her cousin John Christopher Edmunds of North Lodge, Sonning Berkshire RG4 0ST £500 as "a token of my gratitude", to Mary Drummond of Hawkcombe Cottage, Compton Abbas, Dorset £2,000 and to the parish council at Woolland, Dorset £2,000 "for use in repairing, modernising or redecorating the fabric of the building or any contents ... The receipt of the Vicar or the Treasurer or other proper officer of the Parochial Church council shall be a good receipt for this gift to my Trustees who need not enquire into the application thereof." '

'She gave to the following "absolutely and free of all taxes" - Mary Drummond "the painting of the 'Seascene by Moonlight' by Tapson and the watercolours of 'The Western Hunt on a hillside' and 'Horses at grass in Herefordshire' by Jean Christie Miller" and "any of my clothes or trinkets that she may like or find useful for herself or others"; to Ann Mary Wendela Adams of 7 Sadlers Way, Ringmer, Lewes, Sussex BN3 "the two watercolours of Gorran Haven by Tapson and any family photos and miniatures.'

'The residuary estate she left to her godson John McKay Drummond of Hawkcombe Cottage, Compton Abbas, Dorset and Ann Mary Wendela Adams. Failing John McKay Drummond maintaining his vested interest, then his share to go to her trustees for his children Sarah and Clare when they reach 21. Witnesses to the will were B.N.Burdon of Millbrook House, Child Okeford, Dorset and J. Nichick of 2 Springfield Close, Shaftesbury.'

'The name of the painter of 'Horses at grass in Herefordshire' referred to in her will, Jean Christie Miller, suggests in fact that Jean may have married at an early stage of her life but obviously the marriage failed, for one reason or another, and she spent the rest of her life with her elder sister. I suppose one has to think of the possibility that Jean married a serviceman who was killed in the war.'

Picking up James's last point, the death of a Jean Christie Miller was recorded at Kendal, Westmorland, in the first quarter of 1996; her birth date in the death register entry is 29 Jan 1927. A public family tree on ancestry includes Jean Christie Clark, born on this date in Aberdeen, daughter of James Christie Clark and Isabella Grace Burnett. Jean married John Palmer Miller, of Grangemouth, Stirlingshire, in 1947 in Aberdeen Southern District (ScotlandsPeople); she may be the artist, and her name Christie a coincidence.
Roseland today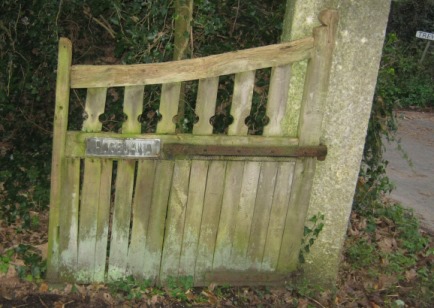 The photo shows the original Roseland gates as they are today.

James describes the gardens: 'Although much overgrown now, no doubt many of the mature shrubs and trees were what Christie wanted. What I do notice is that there are quite a lot of scented shrubs around, so I imagine this was something that gave her pleasure. Outside the house on the south side is a lime tree, and on the north side a beech. Also here are some palm trees - just about surviving. In the front there are still a few cherry trees left I imagine from her time, one or two very nice ones, a variety of rhododendrons on the east side. Near the bottom of the garden is a grotto with lovely whiteish granite boulders, obviously imported, and at the very bottom a pond which is said to have been dug by my father with a horse and cart - so he must have known her. Three roses still survive on the north side of the house, a creamy-yellow one by the front door, a pinky-red one by the back door and a similar one near the entrance of the house. They are appropriate of course with the name of the house'.
Challenges
Above are accounts of three individuals' lives: Arthur, Isabella/Christie and Maureen. At various points searches of key sources such as censuses, the 1939 Register and BMD records failed to locate an individual, to the point where it seemed they somehow had managed to evade officialdom.
Looking back on the research the problems that manifested were due to factors that do not always crop up:
the mobility of the people involved - their careers took them far afield and they also moved home on several occasions
limited information sources available after 1911, the period when the individuals were in their adulthood
Arthur Phillips is a fairly common name and Isabella sometimes used her stage name Christie
Isabella pruned years off her age as time progressed, starting at her marriage to Arthur in 1915 when she declared she was 29 when in fact she was 31; the pruning continued such that at one point I was weighing up whether a girl of 14 was likely to be on the stage (her 1904 role as Bianca - in fact she was around 20)
greater propensity for marriage and re-marriage: Arthur married once for certain, an article suggests he married a second time; Isabella/Christie married three times, resulting in her having four surnames over time
Some techniques employed which helped track them down:
Useful sources
A good thing about having an actor ancestor is the likelihood of finding details of their performances in publications such as The Stage, which may reveal other information: the description of Maureen Shaw's green eyes and long, red, curly hair for example. A later piece published in 1966, provided a lot of information about Arthur's early career and his partners Isabella and Maureen. Mostly it was accurate, although Arthur's marriage to Maureen, if it happened, has not been found. The articles also included some line drawings of the individuals as the characters they played.
The book inscriptions provided by James were helpful in placing the family at a particular address on a certain date, and some dates were the birthday of the recipient of the book; this helped in searches of the 1939 Register.
Electoral registers helped pinpoint some addresses.
Old maps (available through the National Library of Scotland website) showed the setting in the landscape and gave a sense of place, supplementing James's visits to view the family's former homes in Cornwall.
The divorce papers purchased by James provided insights into Arthur and Isabella's marriage of fifteen years and included a copy of their marriage certficate and their current addresses. The wills included some surprises: when Isabella died probate was granted to her former husband Arthur Phillips, which suggests she may have divorced her third husband by 1947. That of Arthur, written in 1955, refers to his wife, but she remains un-named. This may have been Maureen,although their marriage remains elusive.
Page published September 2017; last updated April 2023