Basics
Home and Search
Site Guide
Brentford Basics
Privacy Policy
Contact
People
Families
Photos of people
Name indexes incl WW1
Memories
Lists, Documents, News
Occupations
Properties
Properties: High Street
Properties: non-High Street
Photos
Maps
1909/10 Valuation Index
Pub Hub
Can You Help?
Seeking...
Mystery photos
Roads Off
A-Z list
Janet's Research
History
Beach's Jam
Nowell Parr
Turner the Artist
Queen Victoria 1840
Brentford Market
80 High Street
Clitherow of Boston House
Four Croxford Brothers
Sources & More
They Said
Books etc.
Web Links
Next
Site Technology
Author
Home and Search
Not Brentford
Brentford Families - Fairs
Quentin Pickard wrote in April 2009 'I have a watercolour painting of the canal (looking S with the tower of St Lawrence's church in the distance) by a local artist called J T Fairs, but I have been unable to find out any further info about him. Have you come across his name?'.

General Google searches were unproductive but a Google Books search worked better: two matches from YMCA Year Books & Official Rosters, 1882 and 1886 included a 'J.T.Fairs'. Of these two matches it was only possible to view the 1886 entry, which showed J.F.Coulton and J.T.Fairs, 'coffee tavern, High Street, Brentford'. Unfortunately it is not possible to view the whole book to find out more.

A John Frederick Coulton lived and worked at 214 High Street in the 1881 and 1891 census; he was a printer and stationer; he seems likely to be the same man as in the YMCA year books.

Google Books gave a further match: a Professor J.T.Fairs was the Principal of the Kew School of Art, Kew Road in 1900 'This studio is conducted on the lines of the Atelier of Paris. Complete Art education is given in the following subjects ...'

Top

Armed with this information it was possible to find J.T. in the 1901 census: at 352 Kew Road, Richmond
John T. Fairs, Artmaster - painter, age 40, birthplace Reigate Surrey
his wife Clara E, aged 32, birthplace Brentford
their first child John J age 4
an art student, Henry N (?M) Childerstone, age 22 (this may have been William Henry Childerstone, who married Clara Lydia Wreford in 1906 and who was living in Richmond by 1911; there was an artist named Henry Childerstone who was active between 1898 and 1935)
a boarder, Sarah E Mead who was a retired teacher
three visitors from Boston Massachussets, who were all 'living on their own means'
and finally two servants
FreeBMD includes a likely marriage : John Thomas Fairs, Clara Elizabeth Goddard in the Jul/Sep quarter 1895 in Brentford RD.
Clara Elizabeth Goddard may have been the daughter of Joseph Goddard, china & glass dealer of 271 High Street; the 1891 census shows Clara Goddard, age 24, living with her parents. Ten Years previously the 1881 census shows the Goddard family at 174 High Street, 'Clara E' was 14.
It is possible to find out a little more about the family from the 1911 census for free: a search for John Fairs living in Kew brings up John Thomas Fairs age 49. A further search for other 'Fairs' living in the same household as John Thomas Fairs shows Clara Elizabeth, age 41, John Joseph (14) and Gwendolyn Marjorie (8).
Searches of burial registers on the London Borough of Richmond upon Thames web site shows three of the Fairs family were buried in the same grave in Richmond Cemetery; John Thomas was the first to die, in 1946, aged 88; then his wife Clara Elizabeth in 1955, aged 88; finally their daughter Gwendoline Marjorie Fairs in 99, age 96.
Top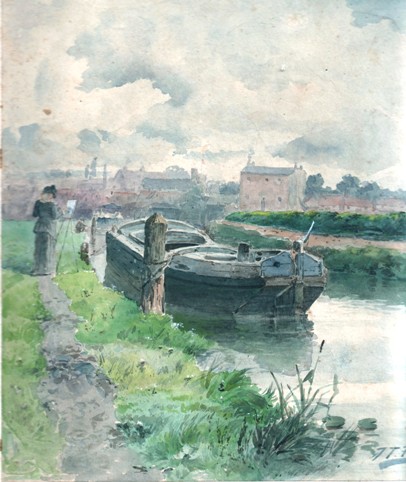 Quentin Pickard has provided a scan of this charming painting: the artist, J.T. Fairs, has painted a view looking south towards Brentford from the canal, with St Lawrence's church tower just visible in the background (centre). The lady artist working at her easel is Quentin's great grandmother Mary Skilton (nee Barnett), not put off by the muddy towpath or cloudy day.
Top