Basics
Home and Search
Site Guide
Brentford Basics
Privacy Policy
Contact
People
Families
Photos of people
Name indexes incl WW1
Memories
Lists, Documents, News
Occupations
Properties
Properties: High Street
Properties: non-High Street
Photos
Maps
1909/10 Valuation Index
Pub Hub
Can You Help?
Seeking...
Mystery photos
Roads Off
A-Z list
Janet's Research
History
Beach's Jam
Nowell Parr
Turner the Artist
Queen Victoria 1840
Brentford Market
80 High Street
Clitherow of Boston House
Four Croxford Brothers
Sources & More
They Said
Books etc.
Web Links
Next
Site Technology
Author
Home and Search
Not Brentford
Brentford Families - Cox
Len Cox writes: to begin with may I just briefly outline the "Cox" family association with Brentford:
Myself, born in Ealing Road 1927 and lived there until 1958.
My father, Charles William Cox, born in Ealing Road 1897 and lived there until moving to Brickfield Close (New Brentford near the canal) in 1970.
My grandfather, Charles William Cox, born in Town Meadows (just off the High Street) 1869, then lived in New Road and Ealing Road until 1950.
My great grandfather, Charles Cox, joined Brentford Police after leaving the army in 1862,living in Town Meadows until his accidental death in 1870.
Len sent a letter detailing many High Street people and properties he remembered. Regarding his family he mentioned links to the following High Street Places:
St. George's Church
As a young boy I went several times to services there. Remember how the dark interior always used to frighten me. Great Aunts and Uncles baptised there - Alfred John Cox 1863, Mary Ann Cox 1865, James Cox 1867. Baptised by Vicar P.B. Drabble.

Top
Police Station at 42 High Street
Early in the 20th century my Grandmother Mary Ann Cox (1869-1954) was Matron at the Police Station. T have no supporting evidence other than word of mouth within the family of Cox. In 1894 she married Charles William Cox (1869-1950) at St. Paul's Church. He worked as a Potter in The Bull Lane Pottery, Pottery Road, making chimney pots and was the son of Charles and Eliza Cox (see below). Mary and family lived in New Road and then at several addresses in Ealing Road. More details about the Police Station at no. 42.
60 High Street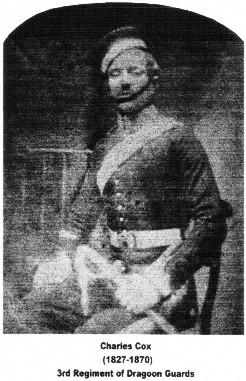 My great Grandfather was Charles Cox. He was born in Sudbury, Middlesex, 1827. In 1846 he enlisted in the army and joined the 3rd Dragoon Guards. He served in Ireland and the East Indies until discharged at his own request in 1862.

In 1851 he had married an Eliza Coles in Birmingham. In 1862 he joined Brentford Police Force (PC 187) and lived with his wife and family in Town Meadow Road. This was convenient since, as you probably know, Brentford Police Station (where he served) was then situated at 60 High Street at the junction with Town Meadow. More details about the Police Station at no. 60.

He accidentally drowned in the Thames at Kew Bridge on 19th January 1870 and along with many other Coxs is buried in South Ealing Cemetary. I enclose a photograph of him in army uniform and also newspaper cuttings (do not know which newspapers) of his death and burial.
Research notes
There were several Coxs living on Brentford High Street from 1841, including a John Cox at the Police Station in 1891 - a police sargeant - however he was from Northamptonshire, so (presuambly) not related. Also, later, Amos Charles Cox, a Brentford character who worked as a milkman from the 1930s onwards.