Basics
Home and Search
Site Guide
Brentford Basics
Privacy Policy
Contact
People
Families
Photos of people
Name indexes incl WW1
Memories
Lists, Documents, News
Occupations
Properties
Properties: High Street
Properties: non-High Street
Photos
Maps
1909/10 Valuation Index
Pub Hub
Can You Help?
Seeking...
Mystery photos
Roads Off
A-Z list
Janet's Research
History
Beach's Jam
Nowell Parr
Turner the Artist
Queen Victoria 1840
Brentford Market
80 High Street
Clitherow of Boston House
Four Croxford Brothers
Sources & More
They Said
Books etc.
Web Links
Next
Site Technology
Author
Home and Search
Not Brentford
Spring-heeled Jack of Brentford
Count Otto Black (deceased) wrote in May 2023: It's always amusing to serendipitously stumble upon a bizarre Brentford reference - see page 147.
With the mail came a copy of Ghosts of London, by Elliott O'Donnell, author of "Rooms of Mystery, Women Bluebeards, Great Thames Mysteries, Famous Curses etc..
Ghosts of London
Ghosts of London was published by Philip Allan in 1932.
Chapter XI is 'Spring-heeled Jack and the Brompton Road'. This notes the first authentic record of Spring-heeled Jack was in February 1838 at Bearhind Lane, between Bow and Old Ford. Miss Jane Alsop opened the front door to a man who told her he was a policeman. He claimed 'we have caught Spring-heeled Jack in the lane' and asked for a light, which she fetched.
'... he then threw aside the cloak ... what she saw petrified her. He was wearing a kind of helmet and tight-fitting white costume like an ulster (Victorian working daytime overcoat, with a cape and sleeves). His face was hideous, his eyes resembled balls of fire, his hands had geat claws, and he vomited blue and white flames.' He caught hold of her by the back of her neck, thrust her head under his arm and commenced tearing her dress with his metallic claws. She eventually escaped his grip after her sister helped her and he bounded away into the darkness of the night.
The chapter continues with a similar incident in Green Dragon Alley, Limehouse, which frightened two sisters walking home.
The book then describes events in Ealing and Hanwell in 1845:
Women and children going along lonely roads at night were frightened almost out of their senses, upon seeing a figure, clad in a white gown and dark shawl, bounding over walls and hedges, and at the same time emitting dismal groans and shrieks. The local police were appealed to, with the result that this Spring-heeled Jack was soon caught. He was a Brentford butcher, named Richard Bradford, who had a mania for practical joking; however, as none of the people he had frightened appeared against him whem he was brought before the Brentford magistrates, he was discharged, with a warning.
Contemporary news accounts
The first reference to Spring-heeled Jack appears in the Morning Herald (London), 7 February 1838, in an article about skating in St James's Park, noting one person sank into five feet and a half of water and was rescued by one of the icemen on duty near the spot, and another skater 'met with a severe fall, by which his right arm was severely fractured.' Then 'Yesterday ... among the skaters was a person in black, who was named by the spectators "Spring-heeled Jack". He was stated to be both deaf and dumb, but his spirited skating attracted much notice.
Three days later the Satirist; or, the Censor of the Times, 11 February 1838, carried an advert for the Royal Pavilion Theatre for performances of Hamlet, The Prince and the Watchman and Spring-heeled Jack.
It seems he was already in the public consciousness by the 1830s.
The following week the horrifying events at Bearhind Lane featured in 46 papers, which give more details than Ghosts of London, although with some variations in the reports. The Patriot of 22 February 1838 noted Jane Alsop assumed the visitor was a policeman on account of his large cloak, whereas others noted he said he was a policeman. His vomiting blue and white flames was widely reported, but news accounts add this was after applying the lighted candle to his breast. It also adds 'his eyes resembled red balls of fire'. There is more information about the Alsop family too, including a slightly different address to that in the book:Bearbind, not Bearhind, Cottage.
Days later, The Globe, 28 February 1838, noted the police concluded this was a 'drunken frolic' and had the names of three young suspects in the neighbourhood. This piece referred to Spring-heeled Jack as the 'suburban ghost', hence his inclusion in Ghosts of London.
Armed with more information about the Alsops, it was possible to find the family in the 1851 census at Bearbinder Cottage, Bearbinder Lane, St Mary Stratford, Bow:
John Allsop, 60, gentleman, born Bedworth, Warwickshire

Elizabeth Allsop, 45, born Limehouse

Elizabeth Westle, granddaughter, 4, born St George in the East

Frederick Stratford, 18, servant, born St George in the East

Ann Simpson, 21, general servant, born Shadwell
Granddaughter Elizabeth Westle was a daughter of Joseph and Mary Westle (nee Allsop), of 4 Allsops Buildings, and she was baptised at St George in the East on 26 May 1847. The following entry in the register, same date, is that of Elizabeth Fanny, daughter of David and Mary Ann Allsop of 6 Bath Terrace, builder.
By 1851 Jane's sister Mary had married and Jane was no longer at home.
Bearbinder Cottage, the only property with address Bearbinder Lane, was recorded just before Coborn Road, Bow, in the 1851 census. Website 'Mornington Grove - E3', has a pre-1854 map and explains Bearbinder Lane joined Coborn Road and eventually tooks its name. Despite the location being known, the specific address has not been found in the 1841 census; it may have bee recorded as part of Coborn Road.
From the above, Spring-heeled Jack had earthly origins. The spectacular vomiting of blue and white flames may have a simple explanation: perhaps a swig of brandy whilst Jane brought a candle, which he then used to set it alight?
The Brentford Spring-heeled Jack was caught, so can be examined in more detail. Or can he?
Richard Bradford of Brentford
The trial of Richard Bradford was widely reported, for example in the Evening Mail of 7 February 1845. A piece with the title 'SPRING-HEELED JACK AGAIN' suggests the press was wearying of pranksters frightening their wives and daughters. Richard Bradford's age was not noted (usual for the times) but he was about 5' 4" tall and 'dressed as a butcher' when he attended the Brentford Petty sessions. An excerpt from the report follows: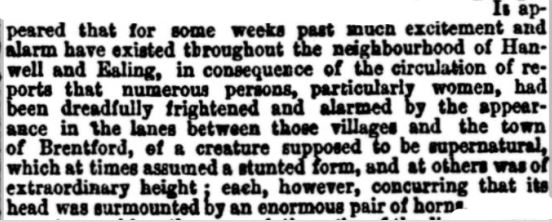 The police were determined to catch the offender and succeeded on 26 January 1845. "Spring-heeled Jack" was spotted in Boston Lane, leading from Brentford to Hanwell, and apprehended by PC Denton who found Bradford 'dressed in women's clothes, over his own dress, and carrying with him a stable pitchfork, which it is supposed he raised above his head to form the imaginary horns'.
Bradford claimed he had gone there in search of Spring-heeled Jack and had disguised and armed himself in preparation. He added 'he would promise solemnly never to attempt to catch Spring-heeled Jack'.
There is little information about Richard Bradford, excepting his height and occupation, and there is nothing to indicate he was of Brentford. I guess he was more likely to be in his 20s or 30s and a local man. The 1841 and 1851 censuses have a man of this name who partly fits the bill. In 1841 he was living in Hanwell:
Richard Bradford, 22, Labourer, born Middlesex
Elizabeth Bradford, 22, born Middlesex
Caroline Bradford, 3 months, born Middlesex
He shared the property with three others: a labourer born in Ireland and two women in their 30s, neither born in Middlesex; perhaps lodgers. They all had different surnames.

The 1851 census of Hanwell includes:
Richard Bradford, 35, labour, born Hapham? Oxfordshire
Elizabeth Bradford, wife, 34, laundress, born Hereford City
Jonathan Bradford, son, 8, scholar, born Hanwell
Richard Bradford, son, 5, Scholar, born Hanwell
William Bradford, son, 1 month, born Hanwell
In neither census was Richard Bradford a butcher, but there again at court he was 'dressed as a butcher' but did not claim to be one. Perhaps his sense of humour.
General Register Office BRADFORD birth registrations at Brentford, which covered Hanwell, follow:
Mary Ann BRADFORD, Jul-Sep 1840, mother formerly LAY; death registered same quarter age 0
Charlotte (not Caroline) BRADFORD, Jan-Mar 1841, mother formerly LAY; death registered the following quarter, age 0
Jonathan BADFORD (sic), Oct-Dec 1843, mother formerly BENHAN
Male BRADFORD, Apr-Jun 1846, registration found on FreeBMD but not GRO website; this could be Richard
William BRADFORD, Apr-Jun 1849, mother formerly BAYNHAM
There appear to be two couples, Bradford/Lay and Bradford/Benham or Baynham. A marriage at Hanwell 23 May 1840 of Richard Bradford and Elizabeth Baynham fits: he was a labourer and both were of Hanwell.

A second marriage took place at Horton, Buckinghamshire, 29 August 1837 between Richard Bradford and Ann Lay. This couple baptised at least three children at Hounslow: Richard in 1839, Mary Ann in 1840, Charlotte in 1841. The father was a coachman, the mother was on one occcasion recorded as Mary Ann rather than Ann.

Of the two candidates, I reckon the Boston Lane Spring-heeled Jack is more likely to be the man living in Hanwell than the coachman who lived further afield. But I could be wrong. Do get in touch if you can lay claim to either Richard.

Page published June 2023