Tankard photo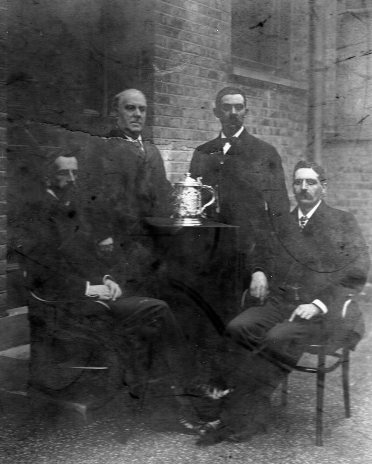 Margaret Smith wrote 'I wondered if you might be interested in the attached photograph taken by Wakefields of 137 High Street Brentford. I wonder if one of the gentlemen could be James CLEMENTS.

It would be good to hear whether you are able to name any of the people on the attached photograph and what the occasion was.'

Janet McNamara has suggested names from left:
maybe W H JACKSON
possibly father of George BAND
definitely James CLEMENTS
probably John REEDER
See below for more details. Top
Janet McNamara's suggestions
Janet McNamara replied 'It's definitely James CLEMENTS second from the right in the bow tie. Seeing him on other pictures of the councillors we think it must be about 1900. His address at that time was 63, High Street and he was recorded as 'tug owner'.
The man sitting on the right from another labelled picture would seem to be John REEDER whose address at that time was 296, High Street where he was the secretary of the Brentford Liberal and Radical Association.
The older man next to Mr Clements has a look of the councillor George BAND but older. I wonder if it might be his father.
The nearest likeness for the man on the left - ie a man with a full beard is a WH JACKSON but I'm far from sure. To my mind doesn't look very well.
I wonder if Kath Richardson at tw8.com would like to show the picture to see if anyone else has any offers?'
Top
John Reeder
I (Celia Cotton) checked to see if I could find out more about John Reeder. In 1901 he was a coal & forage salesman at 296 High Street - coincidentally the property was owned by my gt gt uncle Joseph Thomas TAYLOR in the 1909/10 Valuation. It was next door to the doctors' surgery (Henry BOTT) and was a rather nice house set back a little, with a small front garden in the early 1900s.

The 1907 trade directory records just Mrs Reeder at 296, I checked further and there is a death registration of John Reeder in the last quarter of 1904, age 41. So that sets the latest date for the photo (assuming Janet has id'd John Reeder correctly.)

I wondered what happened to John Reeder's family and found a poignant entry for the youngest son, Herbert:

Person: REEDER, Herbert Thomas Clarkson
Institution: London Orphan Asylum, METROPOLITAN DISTRICT IMBECILE ASYLUM

Please get in touch if you can help identify the people or the tankard.

Top

Published January 2011