Basics
Home and Search
Site Guide
Brentford Basics
Privacy Policy
Contact
People
Families
Photos of people
Name indexes incl WW1
Memories
Lists, Documents, News
Properties
Properties: High Street
Properties: non-High Street
Photos
Maps
1909/10 Valuation Index
Pubs Poem
Can You Help?
Seeking...
Mystery photos
Roads Off
A-Z list
Janet's Research
History
Beach's Jam
Nowell Parr
Turner the Artist
Queen Victoria 1840
Brentford Market
80 High Street
Clitherow of Boston House
Four Croxford Brothers
Sources & More
They Said
Books etc.
Web Links
Occupations
Next
Site Technology
Author
Home and Search
Not Brentford
Victory Party, Goat Wharf, 1945
Arthur Peters has provided this photo "of Victory Party which was held in a yard off of Goat Wharf. I am the small boy with dark hair in the front row 2nd from the right."

Janet McNamara has researched the location and has found that the big house was Thames Bank House, which survived into the 1970s.

Joyce Marchant (nee Stockley) writes 'I believe it is my mother (Mrs Stockley) in the flag apron and white hat, my sister Jennifer second row on the right with the hair ribbon and me, Joyce, the bigger girl in the dark pinifore in the front row'.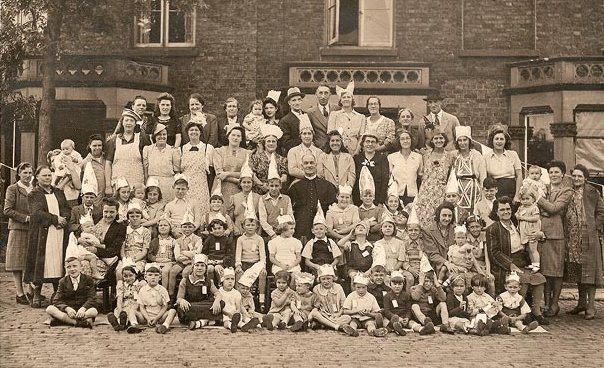 The photo includes three babes in arms, several toddlers and a front line of small children, including Arthur Peters, many of whom have a label (with their name?). Many of the group sport paper hats, the group includes a prominent clergyman, a handful of ladies wearing print pinafores (perhaps they had been doing the catering?) and just three men (back row).

Please contact if you can help with any names.
Published October 2010