Boys Brigade, 1955/6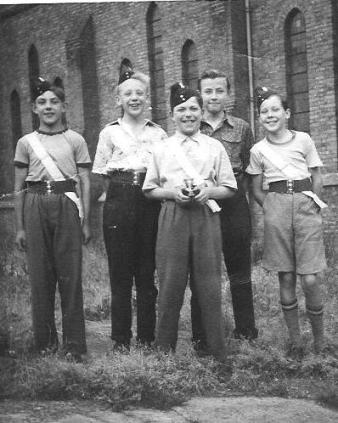 Ron Tidy (ex 72 North Road) has provided this photo: taken behind St Georges Church, 5 members of the local Boys Brigade, in front holding cup (me), to my left, Ken Richardson (now in Canada) next to him-hat I think it is Albie Inman, does anyone know the other two lads?
A brief history of the Boys' Brigade
The following is taken from the web site: http://www.igg.org.uk/gansg/00-app1/civ-uni.htm (June 2012)
In 1883 Lieutenant William Alexander Smith, a businessman, a volunteer Sunday School teacher and an officer in the Lanarkshire Volunteer Rifle Regiment formed the first Boys' Brigade in Glasgow. At first the boys wore a rosette to indicate their membership, but a uniform was soon devised. The uniform consisted of a small number of items worn with normal clothing, the idea being that even poor children would be able to participate. A full uniform like the Scouts was not adopted until the 1960s.
Boys joined in their thousands, creating a national movement in a very short time, Smith received a knighthood in recognition of his work. Normally operating from church halls, they offered military style drill and training with drum and bugle bands. Initially the uniform consisted of a pill-box hat, belt, drum sash and leather gaiters. The belts and drum sash could be white or black, everyone in a unit would have the same but it would seem different units opted for different colours.
Please get in touch if you can help with any names.
Published October 2011; updated November 2014