Basics
Home and Search
Site Guide
Brentford Basics
Privacy Policy
Contact
People
Families
Photos of people
Name indexes incl WW1
Memories
Lists, Documents, News
Properties
Properties: High Street
Properties: non-High Street
Photos
Maps
1909/10 Valuation Index
Pub Hub
Can You Help?
Seeking...
Mystery photos
Roads Off
A-Z list
Janet's Research
History
Beach's Jam
Nowell Parr
Turner the Artist
Queen Victoria 1840
Brentford Market
80 High Street
Clitherow of Boston House
Four Croxford Brothers
Sources & More
They Said
Books etc.
Web Links
Occupations
Next
Site Technology
Author
Home and Search
Not Brentford
Princess Royal, 107 Ealing Road, Brentford
Howard Webb provided this multi-view colour postcard of the Princess Royal pub dating from the mid to late 1960s.

The Princess Royal is one of four pubs on the corners of Griffin Park football ground and was built in 1841, then rebuilt in 1921. See 'Brentford and Chiswick Pubs' by Gillian Clegg for more details and photos of the exterior in 2005.

Orange was a popular colour at the time the photos were taken and used extensively in the Princess Royal, which presumably had recently been refurbished.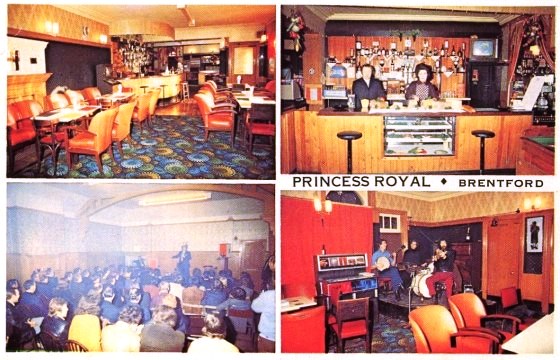 Perhaps you recognise the couple serving at the bar, or the band, which includes a banjo player, a drummer and a Jethro Tull-ish figure perhaps playing a recorder? Please get in touch if you can help.
Published January 2012