Basics
Home and Search
Site Guide
Brentford Basics
Privacy Policy
Contact
People
Families
Photos of people
Name indexes incl WW1
Memories
Lists, Documents, News
Properties
Properties: High Street
Properties: non-High Street
Photos
Maps
1909/10 Valuation Index
Pub Hub
Can You Help?
Seeking...
Mystery photos
Roads Off
A-Z list
Janet's Research
History
Beach's Jam
Nowell Parr
Turner the Artist
Queen Victoria 1840
Brentford Market
80 High Street
Clitherow of Boston House
Four Croxford Brothers
Sources & More
They Said
Books etc.
Web Links
Occupations
Next
Site Technology
Author
Home and Search
Not Brentford
Brentford Football Club Fans
Howard Webb sent this (unused) postcard image:
"I assume that its a crowd of Brentford Football Club fans at an away match. The photographer was George A Laver, of 2 Bensham Manor Road, Thornton Heath (stamped on postcard). In the 1911 census he's 23 years old and living at 7 Bensham Manor Road with his parents.

I reckon that this is a little later than that. More women spectators than I'd imagine for a football match though. The mens' hats are interesting, more homburgs and almost trilby-like hats and fewer boaters so I guess this postcard to be 1915-1925 but that is a wild guess."

Please get in touch if you recognise anyone, or know the location, or can suggest a date. Howard also sent a high resolution scan from which the second image is taken.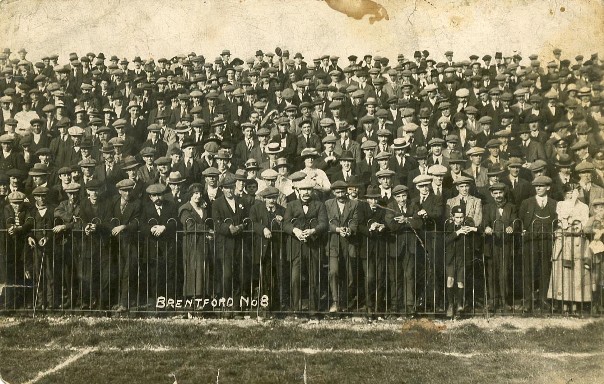 Enlargement showing fans in the centre
Published December 2012