Basics
Home and Search
Site Guide
Brentford Basics
Privacy Policy
Contact
People
Families
Photos of people
Name indexes incl WW1
Memories
Lists, Documents, News
Occupations
Properties
Properties: High Street
Properties: non-High Street
Photos
Maps
1909/10 Valuation Index
Pub Hub
Can You Help?
Seeking...
Mystery photos
Roads Off
A-Z list
Janet's Research
History
Beach's Jam
Nowell Parr
Turner the Artist
Queen Victoria 1840
Brentford Market
80 High Street
Clitherow of Boston House
Four Croxford Brothers
Sources & More
They Said
Books etc.
Web Links
Next
Site Technology
Author
Home and Search
Not Brentford
October News
The following items have been extracted from the British Newspaper Archive, also available though

Findmypast

. They are in publication date order.

Notes follow some items: further research, useful links etc.
London Courier and Evening Gazette

9 Oct 1835 Yesterday a new coroner's jury sat to inquire into the cause of death of Jesse Jones who had hanged himself in the cage at Brentford; the case was again gone into without disclosing any new fact of importance, and the jury brought in a verdict of "insanity".
Notes
I could find no other contemporary accounts, but then alighted upon the

Surrey Comet

of 4 Sep 1875, heading 'OLD NEWSPAPERS'. This was taken from a newspaper of 20 Sep 1835 and provides more details:

In Wednesday an inquest was held at the Waterman's Arms, Brentford before Mr Stirling, on view of the body of Jesse Jones, aged 63, who committed suicide in Brentford cage, having been locked up there on a charge of vagrancy. The deceased had called at the house of a lady in Brentford to solicit charity, when he conducted himself in so outrageous and threatening a manner towards a servant girl that she gave him in charge of a policeman, who conducted him to the cage.

About half an hour after his confinement a person entering the cage found him suspended by the neck, quite dead.

It seems the jury had difficulty in arriving at a vedict and after six hours 'ten were for insanity, and three for felo de se'. The Coroner ordered a second jury which met as noted above.

Where was Jesse Jones buried? No burial record found on Ancestry website.
Middlesex Chronicle

3 October 1863 BRENTFORD
PETTY SESSIONS.
SATURDAY, SEPTEMBER 26TH.
Before F.H.N. Glossop, Esq., (Chairman), G. Cooper, J. Montgomeny (Montgomrey), J.R. Hogarth, E.H. Donnithorne, W.C.L. Bashford, and B. Sharpe, Esqrs.

Although there were no very serious charges brought before the Bench, their time was occupied for nearly three hours in listening to summonses for abusive and insulting language, some of the offences having occurred in Old Brentford (the Hollows), where the language was, as might have been expected, unwomanly and disgusting to a degree; and so disgusted were the magistrates by a repetition of portions, that Mr Montgomrey remarked he considered it would be better to increase the fines usually inflicted in such cases to such an extent as to cause the offenders to keep the matter in their remembrance, and so prevent occurrences of this kind in the future.

The Chairman observed that, in those cases brought before them on that day, the Bench would act as they had latterly been in the habit of doing - bind over all parties to keep the peace towards each other for six months - but on all future occasions those who felt disposed to pollute the ears of others with such horrible language as they were sometimes hearing samples of in that Court, would find it an expensive experiment to hazard, and he hoped this would prevent a recurrence.

BRENTFORD
The following case was heard at the County Court, before Sir John Eardley Wilmott, Bart. Solicitors present: Messrs Woodbridge, Haynes, Philp, Woodbridge, jun., Clark, and Sleap.

GOUGH v. GLASS. - This was an action to recover a moiety of an amount which plaintiff had paid for gas-fittings in the Temperance Coffee Shop, Brentford. A dispute had arisen among the members of the society, the fittings has been sold, and it was alleged by plaintiff that Mr Glass, who is a dissenting minister residing in Brentford, had pocketed the amount they realised, while he (the plaintiff) had had an order made against him for the payment of the gas-fitter, and therefore considered he had a right to receive what the gas-fittings fetched, Mr Glass being equally liable with himself for the payment. Plaintiff said he had given the order for the fittings at the request of the committee, Mr Glass being one.

Mr Gough denied that he had been, but acknowledged that he was aware of defendant having lent money to the society.

The case was adjourned, his Honor recommending a settlement.
Notes
The County Court and Brentford Petty Sessions took place at the Town Hall, shown in a postcard from the early 1900s. G. Cooper may be George Cooper (junior), surgeon, who lived at 209 High Street in 1861 and a few years later the 1866 Post Office Directory recorded George Cooper, JP, of Egglesfield House (The Butts). J. Montgomrey is probably the local timber merchant, James Montgomrey. The names Glossop, Hogarth, Donnithorne and Bashford do not feature in the 1866 directory for Brentford, suggesting they lived outside the town. A little research into F.H.N. Glossop, the Chairman, shows his full name was Francis Henry Newland Glossop, and he was involved in the Brentford Petty Sessions from 1849 to 1885. He died early 1886 at the age of 70 at his home, Silver Hall, Isleworth. His estate was valued at over £16,000 and two sons were executors: Reverend George Henry Pownall Glossop and John Francis Gilderoy Glossop. (FreeBMD provided his approximate death date and Ancestry the probate index entry.)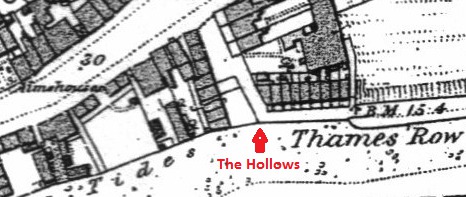 The Hollows, where abusive and insulting language disgusted the magistrates, lay east of the Salutation or St George's Almshouses and ran from the Royal Tar at no. 3 High Street down to Hollows Wharf on the Thames. I have not found any old photos of the area, but Peter Young took a photo in 1972 which shows this (now) quiet stretch of the river.

The Gough v. Glass case was at the County Court, a part of the judiciary service established in 1846 to hear civil cases (https://www.judiciary.gov.uk/about-the-judiciary/history-of-the-judiciary/). A few years later, Sir John Eardley Wilmott Bart., the judge in the Gough case, was the Recorder for the Borough of Warwick in 1867 (he spoke then about the need for a court of appeal, referencing a murder in Limehouse, East London: Findmypast, London Daily News 21 October 1867.) The solicitors present at the County Court, Woodbridge et al, were local men: search by name on the home page for other references to them.

The dissenting minister Glass is likely to be the Reverend John Flavell Glass, recorded in the 1866 Post Office Directory as the minister of Albany Independent Chapel: read about the history of this chapel and Glass's predecessor. The same directory lists rev. Glass in the Private Residents section for Old Brentford, address Windmill Lane. Gough, however, does not appear in this directory.

The location of the Temperance Coffee Shop is not known for certain but the 1866 Post Office Directory records four coffee rooms: John Armstrong, Mrs Mary Ann Wood - New Brentford; and William Wills, James Willgoos, Old Brentford. It is possible one of these was formerly the Temperance Coffee Shop.
Tamworth Herald Saturday 1 October 1927
Unregistered Boat.


Emanuel Smith & Sons, Ham Wharf, Brentford, were summoned for allowing a canal boat to be used without having painted thereon proper registration marks and numbers. - Mr S. Beck, inspector of canal boats, said that he examined the boat, and found that it was not numbered, marked or lettered, he sent a letter to the defendants, but received no reply.
- A fine of £1 and costs was imposed.
Notes
A photo of Ham Wharf includes an advert for Emanuel Smith and a search for 'Emanuel' on the home page turned up some other references on this site.

The Beck family also features on this site; is Mr S Beck, inspector of canal boats, a descendant?

The registration document for the canal boat 'Samuel' in 1894 shows the information recorded when a canal boat was registered.

Published October 2012; updated December 2019