Brentford Families - Ryan
Paul Smith writes about his family lines who settled in Brentford in the late 1800s from Ireland, including Ryan, Manning and Callow:
Ryan
My great grandfather Cornelius RYAN born around 1862, son of Daniel Ryan and Mary Sullivan, in Ballydesmond in Kerry. Cornelius RYAN lodged here at 376 High Street for a brief period before marrying Kate AHERNE who lodged with friends/relatives ? in Distillery road.
Cornelius Ryan
Kate Ryan (nee Aherne)
Kate was the daughter of John and possibly Anastasia. She came from just outside Cork.

Cornelius and Kate married at St Johns RC church Brentford in 1892 and moved to 7 Baileys Row where they had 6 children of whom 4 survived, Mary Ellen (1893), Ellen (1898), Margaret (1900) and Daniel (1902).

A photo of Cornelius Ryan appeared in a newspaper (or magazine): can you help identify possible title / date?
Ellen RYAN (1898-1983) married Albert Edward CALLOW from 39 Walnut Tree Rd in 1918.

He served in the Royal Artillery Corps (the photo shows him in his uniform) in WW1 and survived.

They had four children: Ilene (1919), Julia (1921), Albert (1925) and Patricia (1937).
The photo shows Mary Ellen before marriage (no ring) possibly in a studio setting (the view through the window appears to be painted) but there is no photographer name, suggesting this may be a private photo.

Does the sitting lady's fob watch give a clue to her occupation?

Both girls wear similar skirts with buttons, suggesting a uniform.
| | | |
| --- | --- | --- |
| | | Mary Ellen RYAN (1893-1963) married Albert's friend William MANNING who lodged at 39 Walnut Tree at the time, 1919: Albert and Ellen CALLOW, Mary Ellen's brother-in-law and sister, witnessed the marriage. |
The photo shows William Manning in WW1 uniform.
William and Mary Ellen MANNING had two children, John and Kathleen. William MANNING later died and in 1936 Mary Ellen married Edwin J JONES (son of Rowland E JONES and Alice, born 1897) from 20 Walnut Tree. There were no children from Mary Ellen's second marriage.
Margaret RYAN (1900-?) of Baileys Row married William WHEELER in 1926, the photo shows him in his WW1 uniform.

No record of Margaret after 1926.

Her husband married Rose WILSON in 1958.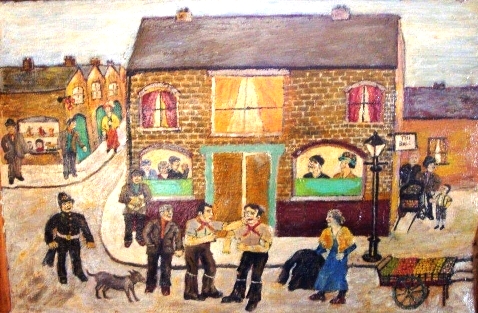 [The painting by Paul Ryan's great uncle William WHEELER shows 'The Bull'. Paul adds 'Great uncle Bill lived in Hanwell before he married my great aunt from Baileys Row so it may be a Bull up there'. If you can identify the location please get in touch. Paul notes that Baileys Row was near the Brentford 'Bull'. The painting may have been from memory? ]
Daniel RYAN (1902-1978) married Louisa Lucy SLATER (1903-1964, daughter of Albert SLATER and Charlotte nee SOLEY) in 1926. They had three children: Terry, Rosaleen C (1926) and Daniel J (1933).
The question is the list of names at 376 which was a coal yard by the look of the 1881 census were all Irish lodgers AND they were all gardeners of some kind. I wonder if they all worked at the same place and could it be Kew as it's a walk away. [The 1881 census describes the lodgers as 'labourers'; in 1891 as 'agricultural labourers': a labourer could have worked on new buildings; an agricultural labourer may have worked at a local market garden].
Cornelius RYAN (great grandfather) who died 1/1/1942 at West Middlesex Hospital has his address at the time at 47 High Street Brentford. Also his occupation was a retired stoker at the Met Water Board. His wife Kate RYAN died in 1950.
William MANNING (grandfather) who died 27/12/1926 at WMH has an occupation of stoker at Gas works.
It's worth mentioning that the death certificate states 30 Twickenham road rather than the hospital (common practice for a while)
The big mystery for for me is grandad William MANNING. apart from his marriage in 1919 to Mary Ellen RYAN he was in the Middlesex Regiment g/6361 but there is nothing else apart from the "manning" photo. It looks like his father on the right and his grandfather on the left with brothers and uncle perhaps. The photo maybe 1910 ish, and it looks like the grandfather is irish. Anyway feel free to add anything you like to your site and I hope someone out there can help in the gardeners question.
Callow
Albert CALLOW b1870 married Ellen HESTER b 1873 on 14th Dec 1895, at St Paul, Old Brentford. They gave their address at the time as 268 High street and Albert's occupation was 'carman' or 'carrier' (unclear). One of the witnesses was a Harriet HOWLAND who is mentioned on the web site. Albert gave his father's name as Henry CALLOW, occupation: carpenter. William CALLOW was the other witness.

Albert and Ellen CALLOW had 6 children and according to various documents didn't seem to stay in the same place for more than five minutes [at the time most people rented property]:
son Albert Edward born 21/10/1896 address at baptism 39 Walnut Tree road
son Arthur William born 16/12/1897 address at baptism 24 Starnage road (hard to read)
daughter Ellen born 27/10/1899 address at baptism 11 Old Spring Gardens
daughter Alice Maud born 11/3/1901 address at baptism 268 High Street
two more sons Percy b1903 and Harry b1906 (still searching on these two)
1901 census address is 3 Distillery road
1911 census address is 39 Walnut tree road.
Page published August 2010; last updated August 2012