Brentford Families - Anthony
By Celia Cotton, webmaster. The Anthony family are part of my father's family and although not High Street dwellers I felt they meritted some more detailed research. I always enjoy research and this turned out to be a fascinating exercise, with an unexpected emigration to the US, a child 'detained under the Industrial Schools Act' and one branch headed by a man who changed his forename and surname, for reasons as yet unknown.
In 2018 following, the discovery of a DNA match on Ancestry, a few updates have been added. The General Register Office birth records now show the mother's maiden name and this has enabled some additional births to be located.
Background
My Anthony family settled in Brentford between 1857 and 1861 and later generations may still live in the area. The account that follows describes the life of Thomas Anthony, who made the move from rural Norfolk in the early 1840s, and that of his eight children.
Thomas was not the only member of the Anthony family to move from Norfolk to Brentford and another page will be added about the other branch later.
Thomas Anthony 1812 - 1886
1812 Born 17 December at Welborne, Norfolk, son of Edmund Anthony and Mary his wife; he was their 6th child and 4th son (PRs; census and marriage certificate). The Anthony family goes back several generations in north Norfolk, to another Edmund Anthony born around 1717 who was buried at Wells-next-the-Sea in 1781. Thomas's father had a small farm at Morley St Peter Norfolk in 1841 - 1861 censuses.
1813: Thomas Anthony was baptised on 1 February, privately, at the parish church All Saints, Welborne.
At some point between 1813 and 1841 the Anthony family moved from Welborne to Morley St Peter (about 8 miles by road). By 1841 Thomas had moved away from his parent's home. There were two men called TA in the census of about the right age living in Norfolk or Essex (where Thomas married in 1843):
Thomas Anthony, age 25, no occupation recorded, living in the household headed by John LIVICK, farmer, Briningham (Briningham is in Walsingham RD, north Norfolk south west of Holt, nearly 30 miles by road from Welborne, 21 miles from Morley St Peter; population 227 in 1851). Ancestry includes a Livick (or Livock) tree submitted by an individual which shows John Livick's wife was Mary WINN - so no obvious connection with the Anthony family.
Thomas Anthony, age 30, MS, living in Hall Cottage, Thompson (about 20 miles WSW Norwich); in same household was Elizabeth Anthony, age 25, a wife or sister - so this does not seem as likely as the Briningham man.
(There are other TA with ages suggesting a birth year between 1810 & 1816 in Marylebone, Croydon and the Wycombe Union who are either married or give a birth county which does not match Norfolk.)
At some point after 1841 Thomas learned bricklaying skills: read more about this work.
1843: Thomas married Matilda PERRY at the parish church of St Mary, Widford, Essex, by Banns; he signed his name; witnesses to the marriage were John KING and Eliza x LAYZELL (it is not known if they were related: a John King was living at 'Railway Company's Cottages' in Widford in 1841, age 25, ag lab with Ann King age 45, neither born in Essex, plus William King age 15; the only Eliza Layzell old enough to be a witness in 1843 was living in Tollesbury Essex in 1841 - 1861, wife of a William Layzell, ag lab; Eliza was possibly a CHEESEMAN, marriage in 1838). Thomas is described in the marriage certificate as of 'Brentwood' and a bricklayer, his father as EdWARd Anthony.
At the time of the marriage Thomas was over 30 whereas Matilda was about 16 and she was heavily pregnant, their son William was baptised at Widford the month after the marriage. Perhaps he was named after Matilda's father William PERRY, who was buried a few weeks later at the age of 43.
It is not clear how Thomas and Matilda met. In 1841 Matilda was at home, age 14 but she may have gone into service in Brentwood at around this time and met Thomas who was working there.
Thomas and Matilda had eight children and their birthplaces show the family moved from Essex to Kent to Surrey to Middlesex back to Surrey before settling in Brentford. Presumably Thomas Anthony's work as a bricklayer meant he moved from one housing development to another.
1851 the family was living at 4 Upton Cottages, St Mary Newington
Thomas Anthony head mar 36 Bricklayer Welburn Nfk
Matilda " wife mar 24 Widford Ess
William " son 7 Widford Ess
Edward " son 6 Woolwich Ken
Eliza " dau 1 Walworth Sur
Henry Perry bro unm 26 Layborer 'Watford' Ess
George " bro unm 19 Layborer 'Watford' Ess
Henry and George PERRY were elder and younger brothers of Matilda, showing that Matilda remained in contact with her family in Essex.
Apart from William, the eldest son, in Widford, the baptisms of Thomas and Matilda's children have not been found (ancestry.co.uk , familysearch). Perhaps the family were non-conformists.
By the 1861 census the family had moved to Brentford and then settled there: does this indicate there was sufficient work for Thomas so he had no need to move?
1861 the family lived at 'Wood Cassel', Orchard Road, Old Brentford, St George's parish in the census (RG9/778):
Thomas Anthony head mar 47 Bricklayer Wellbourn Nfk
Matilda " wife mar 34 Laundress Widford Ess
William " son 17 Bricklayer Widford Ess
Edward " son 16 Bricklayer Woolwich Ken
Eliza " dau 11 Assistant Laundress Walworth Sur
George " son 9 Scholar Nottinghill Mdx
Ellen " dau 6 Scholar Chelsea Mdx
Thomas " son 4 Scholar Battersea Sry
In 1863 Thomas's father Edmund Anthony died and was buried in the churchyard of Morley St Peter, Norfolk. Thomas's mother died in 1847: they were a good age, 90 and 80 respectively, and their gravestone includes the inscription:
Thou hast come to the grave in a full
Age like as a shock of corn cometh in
In his season Job 3/5-26
1871: the family had moved to 6 Brookshot Road, off Ealing Laneand just north of the railway:
Thomas Anthony head mar 58 Bricklayer Wellborne Nfk
Matilda " wife mar 42 Laundress Widford Ess
Ellen " dau 16 Chelsea Mdx
Thomas " son 14 Bricklayer Battersea Sry
Mary A " dau 9 Scholar Brentford Mdx
Harry " son 7 Scholar Brentford Mdx
Their address in 1881 was Hope Cottage, Brook Road RG11/1347 fo100 pg 21
Thomas Anthony head mar 68 Bricklayer Wellbourne Nfk
Matilda " wife mar 58 Walford Ess
William " son unm 37 Bricklayer Walford Ess
Mary Ann " dau 19 Employed at h ... Brentford Mdx
Ellen " gdau 8 Scholar Brentford Mdx
John " visitor 12 Scholar Wellbourne Nfk
Mary Ann Dalton serv 18 General servant Dedford Ken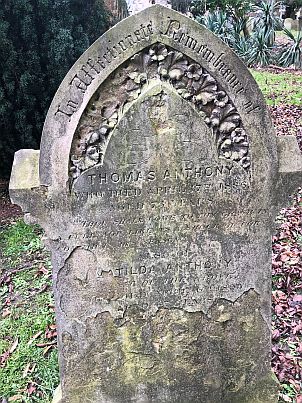 Electoral registers for 1881 , 1882 and 1886 record Thomas Anthony as an 'occupation voter', occupying a house on Brook Road.
In 1886 Thomas died on 17 April at Brook Road Brentford aged 73, master bricklayer; his daughter Eliza Head of 6 Brookshot Rd Brentford was present at this death. He did not leave a will.
I am indebted to David Whitelam for sending this photo, out of the blue, in Feb 2022. He spotted the Anthony grave in South Ealing Cemetery and contacted me through Ancestry.
The stone has weathered but the inscription can be read: Thou shalt come to thy grave in a full age, like as a shock of corn cometh in his season (Job 5:26). This rang a bell. My photo of the grave of Thomas's parents, Edmund and Mary Anthony, in the churchyard of Morley St Peter, Norfolk, has the same inscription. Edmund died in 1863 at the age of 90, by which point Thomas had settled in Brentford. Is the choice of the same epitaph a coincidence?
The 1891 census shows Matilda Anthony, Thomas's widow, living at 4 Hinton Villas, Whitestile Road, a laundress aged 62 and an employer; living with her were her daughter Mary Ann aged 29 and granddaughters Dorcas M (20) and Ellen (18). She had a live-in general domestic servant, Gertrude Broadway, age 25, born Watlington Oxfordshire.
In 1895 Matilda Anthony wrote her will at Salome Villa, Whitestile Road, Brentford on 31 March. She died at 1 Bonchurch Villas, 6 April. Her daughter Ellen Matilda Dunn was present at the death and lived at the same address. Matilda's will named her sons, daughters and son-in-laws and daughter-in-laws leaving them bequests of jewellery. She was buried in the same grave as her husband at South Ealing Cemetery.
Children of Thomas and Matilda Anthony
William Anthony (1843 - after 1901)
William was baptised at St Mary Widford in July 1843, the month after his parents were married in the same church; he was possibly named after his father-in-law William PERRY, who died in September of consumption. In 1861 William was still at home, working in his father's trade of bricklaying.
William married Eliza WELLS at Kingston RD in the last quarter of 1867 and they registered the births of six children at Brentford: William Thomas, Dorcas Matilda, Ellen, George Frederick, Edward Thomas and Alice between 1868 and 1879. In 1871 the family lived at 2 Nelson Row, Brentford.
In 1880, March quarter, the deaths were registered at Brentford of Alice Anthony, age 0, and Eliza Anthony, age 34, which suggests William's wife died as a result of childbirth. This left William with five children aged 10 or under.
In 1881 William was living with his parents and 'unmarried', his five children were living at various locations:
His son William, age about 12, was an inmate 'detained under the Industrial Schools Act' at the Middx County Industrial School at Feltham
Dorcas Matilda, age 10, was probably the 'Matilda Anthony' visiting her uncle and aunt, Henry and Ellen Matilda Dunn, in Hammersmith
Ellen, age 8 was living with her father and grandparents in Brentford
George, age 6, was living with his maternal grandparents, William and Hannah WELLS in Woking, Surrey
Edward Thomas, age 4, was a nurse child boarding with widowed Annie COOPER aged 39 from East Dereham Norfolk; she had a daughter Matilda aged 12 and their address was New Road Brentford
William Anthony remarried widow Elizabeth CURBY in 1882 at St Peter, Hammersmith and they had a child Sidney later that year.

In 1891 William Anthony was working as a bricklayer and living at 60 New Road, Brentford with his wife Elizabeth (born Brentford), son Edward and an 83 year old lodger Mary A SIMMS, bn Brentford (Mary Ann Sims was lodging in 1871 with William KING (blacksmith bn 1800 Greenford Middlesex) at Rainham, Essex).

Ten years later William and his wife remained at 60 New Road Brentford living in three rooms. Another couple (surname FREEMANTLE) occupied another 3 rooms in the house.

William and Elizabeth died at some point after 1901 (deaths not found).

Edward Anthony (around 1845 - 1926)
Censuses indicate Edward was born in Woolwich, Kent, but no baptism has been found. His birth was registered in the first quarter of 1845, Woolwich. He was the second son and child of Thomas and Matilda Anthony.

He married Elizabeth Holland at St Peters, Kensington in 1870. The marriage entry describes him as a bricklayer of 161 King Street, son of Thomas Anthony, bricklayer; his wife (who was also of 161 King St) was a daughter of Thomas William Holland, licensed victualler.

Their children's baptisms have not been found on ancestry as at Sep 2012 - Non-conformists?

1881 - builder living on Hamilton Road (1 Holland Terrace), Brentford a couple of doors away from Eliza & George Dunn; his wife 4 children and Polly Foster, 13 year old nurse girl bn Brentford lived with him

1891 - clerk of works, Paddington (Vestry?) living at 9 Oakington Road, Paddington St Peter with his wife, 6 children (Thomas, Edward, Edith, Lewis, Mabel and Stanley) and a female servant Ada Lewington, 15 bn Brentford

1901 - clerk of works, Paddington Borough Council; living at 9 Oakington Road, Paddington; wife plus several children at home; also sister-in-law Eugenie Anthony

1911 - clerk of works, Paddington Borough Council; living at 9 Oakington Road, Paddington; with wife, 3 unmarried children and son Lewis with his wife Gertrude and their small daughter; the house had 8 rooms; Edward had been married to Elizabeth for 41 years, they had had 10 children, 5 survived

1926 - death registered at Hampstead; will describes him as of 10 Whitestile Road, Brentford, he died 10 Dec 1926 at All Saints Hospital, 91 Finchley Road, Middlesex; probate 5 March 1927 to Edith Anthony spinster; effects £1078 16s 6d

Eliza Anthony (around 1850 - 1929)
Censuses indicate Eliza was born in Walworth, Surrey and her birth was registered there in the first quarter of 1850 but no baptism has been found. She was the third child and eldest daughter of Thomas and Matilda.

In 1886 'Eliza Head' was present at her father's death and censuses from 1881 show Edward and Eliza Head living in Brentford. Finding their marriage proved difficult, but eventually I concluded the marriage took place in 1869, Brentford Registration District, between Charles PARR and Eliza Anthony.

The 1871 census shows Eliza as the wife of Charles HEAD, with a young son Arthur, living at at 3 Brookshot Place, Brentford. Later censuses show the couple brought up a total of 13 children (Arthur P, George Parr, Charles Henry, Walter James, Alice Matilda, Edith Eliza (died in infancy), Lilian Eliza, Harry Anthony, Edwin Thomas, Ethel Maud, Ida Winifred (died in infancy), Frederick (died in infancy) and Matilda Mary); all were registered in Brentford with the surname PARR. Obviously an interesting story behind this which I have not found time to research as yet.

In 1881 Edward HEAD was a builder employing 3 men; address 6 Brookshot Road, Brentford, with wife Eliza and 7 children aged 1 to 10, all born Brentford; plus a servant: Alice FAULKNER, 14, bn Portsmouth.

By 1891 the family had moved to 45 Glenhurst Road, Brentford, where Edward HEAD lived with wife Eliza and 10 children, aged 10 months to 20; Edward Head was a bricklayer.

Electoral registers indicate Edward Head was an occupation voter at 45 Glenhurst Road in 1895 and at 140 Ealing Road in 1897.

In 1901 the family lived at 140 Ealing Road, Edward still working as a bricklayer. The name 'PARR' is included as a middle name for Edward and may be dittoed to all his children. The father died shortly after the census: death registration of 'Charles PARR', Brentford third quarter 1901 age 60.

In 1911 Eliza was living at 39 Durham Road, Ealing, with four of her children at home; three boys were bricklayers and the youngest daughter, Matilda, was an accountant. All were recorded as Parr-Head. This name crops up on this website in the 1930s so there were descendants. In 1911 Eliza recorded she had 11 children of which one had died, whereas GRO registrations point to 13 with 10 survivors. A death registration of Eliza H PARR in Brentford, third quarter of 1929, age 79 fits.

George Henry Anthony (1852 - died between 1910 and 1920)
George was the third son and the 1861 census gives his birthplace as Notting Hill, around 1852.

He was not living with his parents in the 1871 census and may have joined the army: in 1881 an unmarried 28 year old George Anthony, born Notting Hill, was a Lance Corporal in the Royal Engineers, at "School Of Military Eng" Brompton Barracks, Gillingham, Kent.

He is referred to along with Oxilia Anthony in his mother's will of 1895, but I could not find a record of a marriage of George to Oxilia in FreeBMD, nor do either appear in UK censuses for 1891. Eventually I tracked him down in Arapahoe, Colorado, where he was living in 1900 with his wife Oxilia. The US census provided a birth date of March 1852, gave his and his parents' birthplaces as England, noted he had been married ten years and immigrated in 1882. His occupation was 'bricklayer', he could read and write.

His wife Oxilia was a French Canadian born in June 1871 and she had also immigrated to the US in 1882. Living with them was a niece, Dellina BOWMAN, age 6, born Canada, who immigrated in 1899. George Anthony owned their house and had no mortgage.

The 1910 US census shows the family in Glendale, Arapahoe. The couple had two adopted daughters: Oxilia (20) and Dellina (16) born Canada (familysearch). George Anthony died between 1910 and 1920: the 1920 census shows Oxilia a widow.

Ellen Matilda Anthony (1854 - 1923)
Second daughter and fifth child of Thomas and Matilda Anthony, her birth certificate shows the family lived at Durham Terrace, Chelsea at the time of her birth in 1854.

In 1871 Ellen was living at home, no occupation was recorded for her. She married Henry DUNN at the Park Chapel (Baptist) in December 1878. Henry was a carpenter.

The couple lived in Hammersmith in 1881, by which time they had two children: Nellie Eugenie and Henry Adolphus.

By 1886 Henry Dunn was recorded as an occupation voter, New Road, Brentford, in 1887 at 35 New Road and in 1890 at 11 Eastbourne Road, Brentford (Electoral registers on ancestry.co.uk).

The 1891 census shows the family at 11 Eastbourne Road. They had two elementary school teachers lodging with them: Edward R CRIPPS and John D SWANWICK.

By 1901 the family had moved to 9 Carlyle Parade, Darwen Road in St Faith's parish where they had a toy shop run by Ellen Matilda, assisted by Ellen Eugenie. Presumably Henry made the toys.

By 1911 the family had moved again to 49 Leighton Road West Ealing. Henry (58), carpenter; Ellen Matilda (56) ran a drapery business from her home, assisted by her daughter Ellen Eugenie. Their home had seven rooms and the couple had been married 32 years: the census also reveals they had three children, one having died, and searches found Daisy May, whose birth and death were registered in the first quarter of 1886.

Ellen Matilda died in 1923, at Church Road Hanwell. Her husband Henry survived another 10 years, dying in 1933 in hospital. His daughter Nellie registered his death from the family home, 38 Church Road Hanwell.

Thomas Anthony (1857 - 1925)
Thomas Anthony junior was born in Battersea and the family settled in Brentford by the time he was 4. The 1871 census shows he was working in his father's trade: bricklaying.

He married Eugenie Elizabeth Headford at the Park Chapel, Brentford in 1878 and they had at least four children: those surviving were: Lilian, Ida, Augustus and Hilda, born 1878 - 1887, all in Brentford. As with other branches of the family no baptisms have been found and it seems likely the family were Baptists.

In 1881 Thomas Anthony, wife Eugenie and their first child, Lillian E, age 2, were living at 8 Westbury Place, Hamilton Road Brentford. By 1891 Thomas was a builder, all four children were at home, ages 3 to 12, and they had a lodger, Ellen GOMM, unmarried 41, living on her own means, and a 20 year old live-in servant, Amy ARNOLD.

The Middlesex Independent of 23 December 1891 carries an advertisement for Thomas Anthony suggesting the family had moved to The Butts.
It was surprising to find the family living in Northfield, Worcestershire in 1901, but the details match, presumably the move was associated with Thomas's occupation: inspector of works (bricklayer). Their address was 108 Bristol Road, they had no servants. Thomas's wife Eugenie was visiting her brother in law Edward Anthony in Paddington at the time of the census.
Eugenie Anthony died in 1908, her death was registered at Brampton in Cumberland and her administration refers to her husband Thomas Anthony; also a Thomas Anthony inspector of waterworks. Again - there is an interesting tale to be discovered.
By 1911 Thomas Anthony had returned to the Brentford area, living at 149 Murray Road, South Ealing. He was a builders general foreman and he had his eldest daughter, Lilian Eugenie, living with him. There is a death which matches his name and age at Brentford in 1925: no will.
Mary Ann Anthony (1861 - after 1911)
Mary Ann Anthony was born in Brentford and in 1871 - 1891 was living with her family. She married shortly after the 1891 census, at the age of 29, to Charles William COOK. They married at St Paul's, Old Brentford, not the Baptist Chapel used by other members of the family. One of the witnesses to the marriage was her first cousin, Dorcas Matilda Anthony, daughter of Mary Ann's eldest brother William Anthony.
Charles William Cook was a clerk of Crossbrook Street, Cheshunt when he married and in 1901 the couple were living at 88 Turners Hill, Cheshunt, Herts. He was a vestry clerk and clerk to the burial board, they had no children.
In 1911 their address was Campanola, Church Lane,Cheshunt, Charles a vestry clerk. They had a servant, Cecilia Fanny BOWMAN, age 15.
Charles died at the age of 80 at Campanola, Church Lane, Cheshunt leaving a will which does not mention his wife Mary, her death has not been found at Ware, the registration district which includes Cheshunt. Perhaps she died in hospital and her death is registered elsewhere.
Heny Charles Anthony (1863 - 1872)
Henry was a 7 year old scholar at the time of the 1871 census but died the following year. I do not have his death certificate.
Coincidences...
In writing up the above notes a couple of coincidences struck me:
John KING witnessed the marriage of Thomas Anthony to Matilda Perry in 1843, at Widford, Essex
Mary Ann Sims, age 62, born Old Brentford, was visiting William KING (blacksmith bn 1800 Greenford Middlesex) at Rainham, Essex in 1871; in 1891 a Mary A Simms, age 83, born Brentford was lodging with William Anthony; other sightings of what may be the same Mary Ann Sims: in 1851, 39, born Ealing (marital condition not stated, no occupation recorded) was visiting her aunt Ann Sims, age 60, proprietor of houses, Half Acre, Brentford; baptism of Mary Ann dau of John and Sarah Sims at Ealing 11 Jan 1808
Cecilia Fanny BOWMAN, age 15, was a servant to Charles William Cook and his wife Mary Ann nee Anthony in 1911; her birth was registered at Bishop Stortford in 1895, mother formerly named DERHAM - no link to Anthony known
Dellina BOWMAN was the niece of George Anthony in Colorado, 1900
Are they just coincidences? I think so, but when I get a spare hour or two I will check further.

Page published September 2012; last updated March 2022